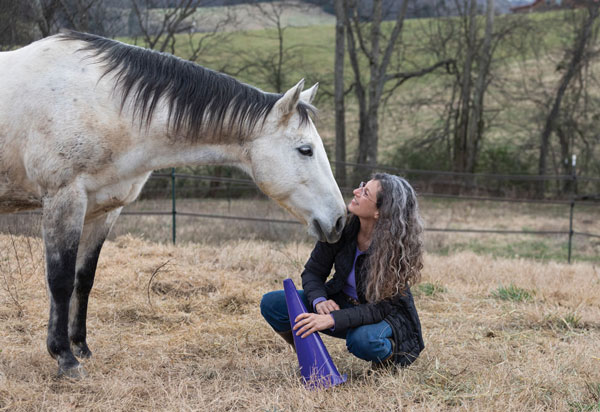 I never thought in a million years I would open an equine sanctuary in my mid-50s and that I would have a sudden realization that led to a change in horse training tactics. I have been an equine professional for over 35 years; in the beginning, I was a traditional trainer who made horses behave and perform by using force, intimidation, and implements like nose chains, bits, draw reins, and side reins to get the desired results. I chased horses in the round pen until they became submissive and dealt with unwanted behaviors swiftly and punishingly.
Turning Point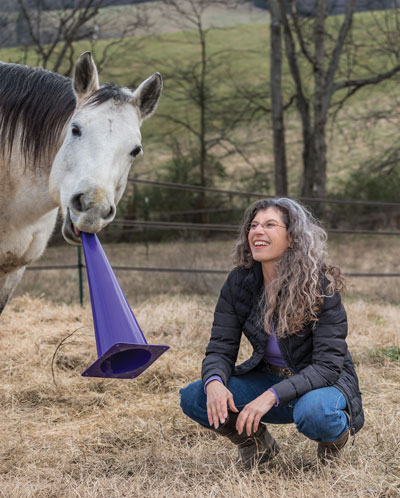 When I worked with horses that reared, bit, kicked out, or were otherwise disobedient, it never occurred to me that there was an underlying physical or emotional cause for their behavior. I thought the horse was "being a jerk." I never considered that he was afraid, confused, trying to protect himself, or having (what I now know to be) an entirely reflexive reaction to distress.
One day I was working with a particular horse who was highly reactive. He was constantly tense and high-headed. His eyes were wide and searching for "boogeymen." He would spook, bolt, and run into me. I used my usual "knock it off or there will be trouble" approach, but it didn't work. The horse only became more upset and difficult to handle.
This was the first time that yanking, hitting, chasing, and backing a horse didn't work for me. It was confounding, but it was also a very pivotal moment on my journey. I think this was the first time I recognized that a horse was acting out because he was truly afraid and not because he was an idiot or disrespectful. I came up with a plan to give him a sense of safety and show him how to relax. That change in my approach and behavior transformed his behavior for the better immediately.
It was in that moment I realized I was teaching horses to be more compliant or perform better but doing nothing to improve their quality of life. I was making them fit into our world with very little consideration to the psychological and physical consequences. Looking back now, I know that I was actually doing them harm. For a horse lover like me, that was and still is a very difficult pill to swallow.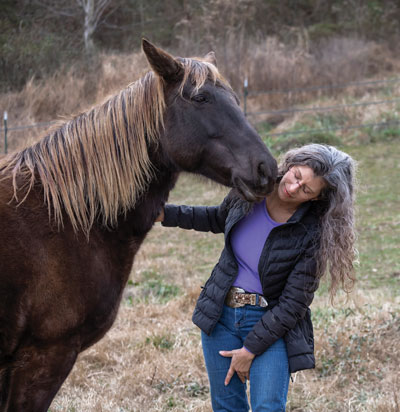 The More You Know
That experience, and those that followed, have given me a deeper level of sensitivity and empathy for what horses experience and feel. As a result, these horses have motivated me to become a more well-rounded and educated horse person; I have spent decades learning how I could be a better person for the horses in my life.
I have learned about equine emotional systems, neurological responses, and physiology. I see and understand the impact we have, both good and bad, on the minds and bodies of these highly sensitive and intelligent creatures. It's a sad reality that the cause of the suffering, trauma, and abuse most horses suffer is for our convenience—the result of making them "safe, successful, or more valuable" to us.
This growing awareness inspired me to learn all I can about compassionate care and physically and emotionally beneficial training techniques. This transition to welfare-centered horse training tactics has been a positive and life-changing experience for the horses I work with and their owners. It has transformed my life in immeasurably wonderful ways as well.
The Next Step
I am frequently asked to work with horses with severe behavior issues. Every creature has its limits. When the body and mind are under pressure for more than brief periods of time, there will be emotional and physical fallout. That can manifest as PTSD, general anxiety, extreme reactivity, depression, soft-tissue damage, systemic inflammation, chronic hoof problems—and more specifically, rearing, biting, kicking, refusing to cooperate, et cetera.
In some of these cases, restoring the body and mind is a process that can take months or years. This can be a very difficult situation for some owners to find themselves in: owning a horse that needs specialized training, care, and long-term rehabilitation.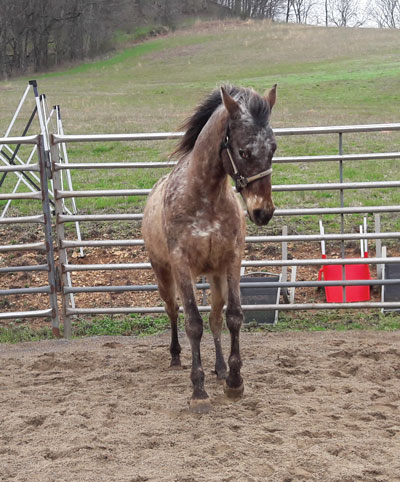 Sometimes the right decision for the owner is to let the horse go, a solution that comes with serious consequences for the horse, such as being shuffled from one owner to the next, none of whom are equipped to handle his issues. There's also a high probability the horse will suffer more trauma and abuse, end up at an auction, or worse.
This isn't a scenario I was comfortable with, so whenever it's possible to do so, my life and business partner, Bruce, and I take in these horses and others who need rehabilitation and a safe place to live. We provide them with enriching housing, balance their diet, and use reinforcement training and compassionate communication to ease their worries and reduce their need to be aggressive or fearful. Our goal is to give each horse whatever support he needs for his mind and body to heal.
Becoming a Sanctuary
As the number of horses we took in climbed, we decided we wanted to give more. We felt the best way to do just that was to become a sanctuary and file for non-profit status. In February of 2021, we became a registered 501(c)(3) called Pure Joy Horse Haven. It has given us an opportunity that we couldn't be more grateful for.
We get to help horses who were thought to be unsalvageable and beyond help, like Carson (western-trained show horse: PTSD, panic attacks, explosive behavior), PJ (unknown history: skin issues, painful/damaged feet, deliberately ran at us to spin around and kick at our heads with both hind feet), Fox (barrel raced as a 2-year-old, washed out and taken to auction at four: SI and hip issues, compromised hooves, biting), and Halo (ridden as a long yearling, starved: lunged at us with ears pinned, bit, kicked, became overstimulated very quickly, reared straight up when touched). Because of the severity of their problems, some of these horses were considered candidates for euthanasia before they were surrendered to us.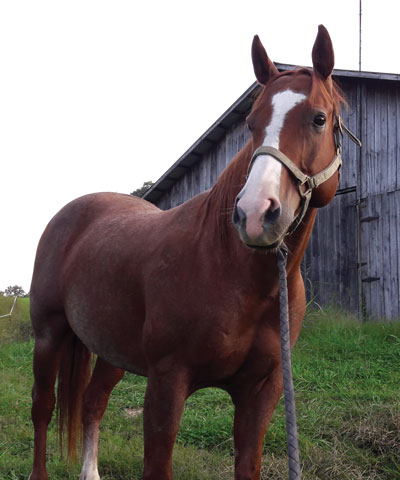 Restoring these horses and ensuring they have an excellent quality of life for the rest of their days is the most rewarding thing I have ever done, but I will always want to do more, like eradicate equine abuse and trauma. I am doing this by changing the conversation about horse-human relationships and teaching everyone who is willing to listen how welfare-based care and training tactics will benefit them and their horses.
We spread the word at our clinics, online classes, and free seminars on behavior, care, and training that we offer at our monthly "Gathering at the Sanctuary" events. Everything I do is with hope that someday there will be no need for sanctuaries like ours; that all horses will receive the care and treatment they need, be cherished for their own merits, and be fully and deeply appreciated for the gifts they give us.
This article about a change in horse training tactics appeared in the January/February 2022 issue of Horse Illustrated magazine. Click here to subscribe!