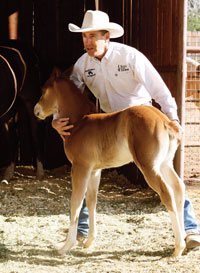 Photo: Cheryl Winters
Richard Winters, a longtime clinician and 2009 champion of the Road to the Horse colt-starting competition, believes a foal should be comfortable while standing tied by the time he's a weanling, but this should be taught in steps. Before being tied, the foal should know how to lead and yield well in both directions.
"When teaching young horses, you want to remove as many variables as possible," says Winters. "Break things down into small steps so it makes more sense to them."
For the initial tying lessons, Winters uses an extra-long lead rope and loops it around a secure post or through a tie-ring on the stall wall. Then he steps back and just holds the end of the rope without tying it. "This way, the foal's frame of reference is the place where he's standing instead of me," he says. "I step around him, pet him and let him learn where his new frame of reference is."
Winters will do this as many times as necessary. It gives you a good idea of how the foal will react once you finally do tie him. It's a positive sign if he backs against the rope and then moves forward from the pressure on his own. If he struggles, sits back on the rope and panics, this tells you he needs more practice with yielding to pressure. It's not safe to tie a young horse that is acting this way.
"If a foal is fighting a lot, you many not be making it clear what you're asking," Winters says.
Tying a horse takes away his only defense, which is to flee. It's a lesson that may take time to learn, especially with a young horse. Don't leave the foal tied where you can't see him, and always tie a quick-release knot. To keep the rope from getting too snug, make two loops around the hitching post rail or tie-ring, and then tie your release knot. This will help keep the knot from binding, and thus make it easier to undo.
Winters recommends tying so that the knot is no lower than the foal's nose level. This way, he can still move around. Also, the higher you tie, the less inclined the foal will be to pull back.
"Low and long is a recipe for disaster," cautions Winters. "It's better to err on the side of altitude than to tie too low."
Read more on training and caring for foals >>