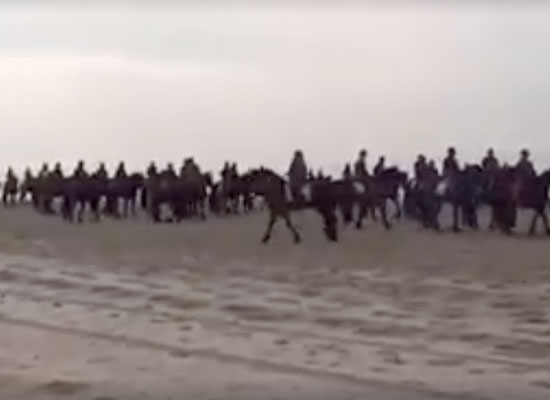 Who doesn't love the dramatic, long-maned Friesian horse? The breed's regal appearance is the stuff of myth and legend brought to life in the modern age. Strict studbook standards require horses to be black with no white (except a small star, in some cases). Along with the horses' muscular build, full mane and tail, and trademark feathering on the lower legs, the standard coloring means that when you get a group of Friesians together, it's a bit like looking at a sea of clones. Beautiful, breathtaking clones.
In this video from the Mega Strandrit Friese Paarden 2015 ("2015 Mega Friesian Horse Beach Ride," per Google translate), 371 Friesian horses and their riders went took to the beach in the Dutch town of Callantsoog, creating a veritable ocean of Friesians. I bet there was a lot of brushing sand out of feathers after that ride.
371 Friesian horses took part in a ride at the beach.371 cavalli Frisoni in gita sulla spiaggia!


Posted by La pagina del Cavallo Frisone on Thursday, September 17, 2015
See past Featured Videos >>
Like this video? Here are others you'll love.