You want to have an awesome Jack-O-Lantern for your front porch this Halloween, but who has the time? Once you've selected the perfect pumpkin, you have to cut it open, pull out the guts, come up with a unique design, and then carve it without making any errant slices (on the pumpkin or your finger) or putting too much pressure on it, causing the face to cave in. One mistake and you've got to find a new pumpkin and start all over again.
I'm exhausted just thinking about it.
Instead, why not employ the services of Saber, a Mini horse who is more than willing to create a one-of-a-kind decoration for your home? His modern-art pumpkin designs are sure to be a conversation piece on Halloween day.
Related: Pumpkin Treats for Horses >>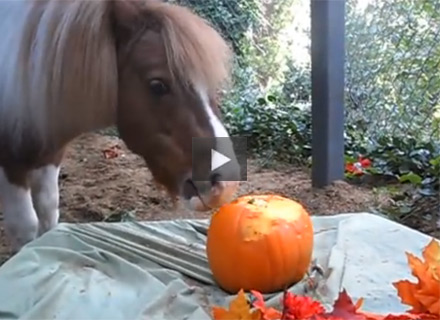 See past Featured Videos >>
Like this video? Here are others you'll love.