We all think we own the best looking horse in the world, but Stacy Nazario might have a better claim than the rest of us. Her Friesian stallion, Frederik the Great, has been named by the internet at large as the "World's Most Handsome Horse." That honor earned Frederick an invite to this week's Central Park Horse Show, and since they were in town, The Late Show host Stephen Colbert invited Nazario and Frederick to be a guest on the show.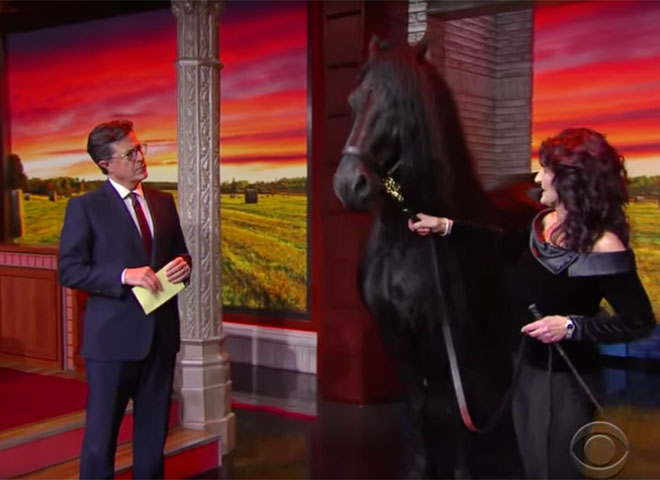 L-R: Stephen Colbert; Frederik the Great, the World's Most Handsome Horse; Stacy Nazario.
(Of course, for all his talk about being afraid, Colbert is an old pro with horses, as we know from his dressage lessons a few years back on his previous late night show.)
This isn't the first time Frederick has scored some attention on late-night TV. Late Late Show host James Corden devoted a sizeable chunk of his monologue to the photogenic equine back in May. (The Frederick bit starts around 0:45.)
Keep being you, Frederick, and have fun in New York!
See past Featured Videos >>
Like this video? Here are others you'll love.