The American Horse Council's Unwanted Horse Coalition (UHC) estimates that there are about 170,000 unwanted horses in the United States. Rescue organizations and adoptive families dedicate their lives to providing a safety net for homeless horses of every size, color and breed.
Here, we meet four happy, healthy horses who—with help from their devoted rescuers—escaped neglect and the possibility of slaughter and will live out their lives in greener pastures.
The Discarded Racehorse
AJ Nugget, an 8-year-old Thoroughbred gelding rescued by Pure Thoughts Horse Rescue in Loxahatchee, Fla. (www.pthr.org), was adopted by Martha Bouza of Ft. Lauderdale, Fla.
About AJ: Like many racehorses that don't win at the racetrack, AJ Nugget found himself purchased by a meat buyer. He was awaiting transportation to slaughter in Mexico when a group of good Samaritans bought the emaciated, wounded horse and sent him to Pure Thoughts Horse Rescue. Even the shipper didn't think he would live.
"I'm a retired physician and I've been riding since I was 3 years old," says Bouza. "I met AJ while volunteering at Pure Thoughts. When I first saw him, he was skin and bones. This horse had gone through hell. I promised him that he'd never go through that again. I donated funds for his care and helped [Pure Thoughts founders Jennifer Swanson and Brad Gaver] heal his wounds over the following year."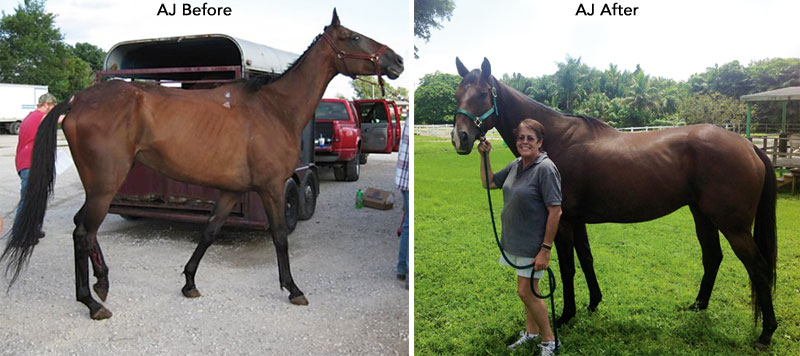 Rescue challenges: In addition to his physical challenges, AJ had to learn to trust people again after his ordeal," says Bouza. "He was very nervous. With the extent of his injuries, a lot of rescues would have turned him down. But he felt safe at Pure Thoughts. Jennifer and Brad rehabbed and retrained him. Now he knows he'll always be safe with me."
Life after adoption: "After two years at home with me, AJ is healthy and happy," says Bouza. "He even won grand champion at a local hunter show recently. He's schooled twice a week and spends most of his time turned out with three friends in a big paddock. I call him the king. He's the kindest horse I've ever met."
---
Near Death
Zodiac, a 10-year-old Thoroughbred gelding, was rescued by Days End Farm Horse Rescue in Woodbine, Md., and adopted by Jean and Jeff McKay of Gaithersburg, Md.
About Zodiac: A winning racehorse under the name Rhythmic Moves, Zodiac earned more than $200,000 during his racing career but was retired after injuring his right front leg. In September 2010, animal control officers impounded Zodiac and seven other horses (one of which later died) from a farm because of their emaciated state. He was near death for the first few weeks after his arrival at Days End Farm, which considers Zodiac to be the most critically ill horse taken in during its 21-year history.
"I grew up with horses and have volunteered off and on at Days End since 2004, when I adopted my first horse, Classy, from them," says Jean. "For months, I fed Zodiac, groomed him and walked him around the farm every weekend."
Rescue challenges: "Zodiac arrived emaciated, with just about every bone visible," says Jean. "He was so badly starved that he had been eating blue stone footing to survive. At Days End, he had to wear a grazing muzzle to keep him from eating sawdust in his stall. He was so weak that he couldn't stand. He had to be put in a sling for nine weeks, requiring around-the-clock attention and care. He had other serious problems, too, like ulcers in both eyes, bacterial infections in his legs and severe dehydration requiring intravenous fluids 24 hours a day. Gradually he became stronger and healthier, transitioning to one hour a day out of the sling, then to brief walks outside, then turnout little by little."
Life after adoption: "As soon as he stepped off the trailer at our home, Zodiac knew he was home," says Jean. "He has a fused fetlock joint with a steel plate in his right front leg, so he'll never be rideable. But he still lives life with a lot of zest. He loves to entice his pasturemates, Classy and Willow, to race. I keep him busy with ground-training exercises to increase his suppleness and to maintain his manners. His only job description is providing me with unlimited happiness."
---
From Unwanted to Pampered Pet
Chino, an 11-year-old Paint Horse gelding, was rescued by Days End Farm Horse Rescue in Woodbine, Md., and adopted by Mary and Emily Benton of Linthicum, Md.
About Chino: Chino arrived at Days End in 2009 as an emaciated neglect case from Caroline County, Md. He was in so much pain that after getting off the trailer, he didn't seem to notice his new surroundings and wouldn't stop grinding his teeth.
Rescue challenges: While being treated for colic, Chino ended up in the emergency clinic for intensive care.
About Mary and Emily: "At 14 years old, my daughter Emily asked if she could adopt a rescue as her forever horse," says Mary. "We already had two rescue horses from Days End, Butterball and Diego. Emily didn't mind the extra training, patience and time that a rescue horse would require."
Life after adoption: "It was a memorable day for our family when Chino came home," says Mary. "It was a surprise for Emily, and it didn't take long for them to build a strong bond. Whenever she goes out of his sight, he searches for her with eyes and ears and seems to smile the moment she reappears.
"Emily and Chino (his show name is 'Nekyia') have participated in clinics and dressage shows, and earned a fourth place ribbon at the Fair Hill International Horse Trials," Mary continues. "Chino is simply a dream when it comes to being level-headed. He is extremely patient and willing in everything he does.
"Emily and Chino enjoy hanging out, training and trail riding. She is looking forward to many years of having her best friend by her side, experiencing a love that is a privilege and honor.
---
A Symbol of Hope
Hope, a 3-year-old Thoroughbred filly, was rescued by Horse Plus Humane Society in Bangor, Calif. (www.horsehumane.org), and adopted by Laurie Sibbitt of Clayton, Calif.
About Hope: At about 8 months old, Hope arrived at Horse Plus from a slaughter feedlot in Patterson, Calif., with a group of 24 wormy, starving youngsters. Her thick winter coat hid her protruding bones. The meat buyer said the horses were from an Indian reservation in Oregon.
"Hope had a special twinkle in her eye that won all of our staff over," says Tawnee Preisner, founder of Horse Plus. "It was heart-wrenching knowing that if we hadn't saved these babies, they would have been brutally killed in a Mexican slaughterhouse."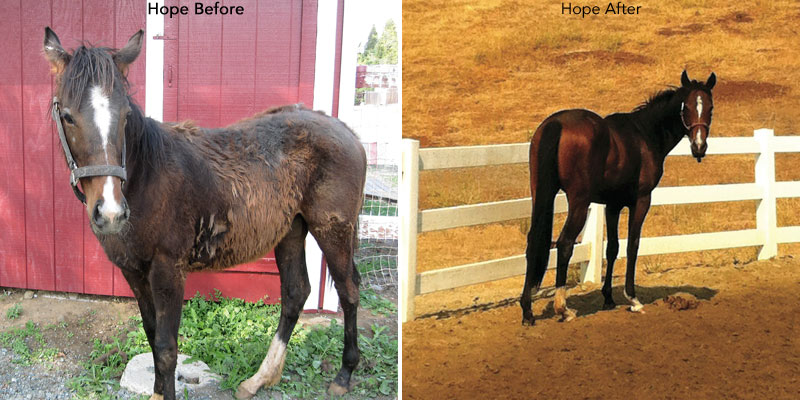 Rescue challenges: Hope went from a scared, starving baby suffering from pneumonia and an umbilical hernia to a healthy youngster full of life and vitality. "When her winter coat shed out, she had some really bad hair days," says Preisner. "But inside she was feeling good. Her adoptive mom met her on one of those bad hair days but loved her anyway."
About Laurie: "I rode horses as a child and got into it again when my daughter started trail riding," says Sibbitt. "I saw a news segment about a large group of babies rescued from slaughter and followed their recovery on the Horse Plus website. There was a picture of the babies unloading from the truck when they first arrived. Hope was the first off, looking stunned.
"My husband, who has been with me through rescuing dogs, goats, cats and birds, and fostering eight kids, told me to do what I needed to do," continues Sibbitt. "The next day, I drove four hours to meet Hope. She was matted, scared and hiding behind a tree looking at me."
Life after adoption: "Hope came home in April 2012," says Sibbitt. "We had a big welcoming party. Since then, every morning when I step out on the back deck, Hope nickers to me from the pasture. She is a neighborhood favorite. Kids drop by to give her carrots all the time. I'm training her to be a therapy animal. When Hope came home, I whispered to her that she was here to stay and that she never had to become a talented or great horse, just a happy one."
Find out more about adopting and caring for rescue horses at HorseChannel.com/Rescue.
Read advice for working with rescued horses >>
A freelance writer and children's author based in Washington, D.C., Kitson Jazynka contributes regularly to Horse Illustrated and blogs at HorseChannel.com/OverTheFence. Her horses enjoy the good life in nearby Potomac, Md.
---
This article originally appeared in the January 2014 issue of Horse Illustrated magazine. Click here to subscribe!