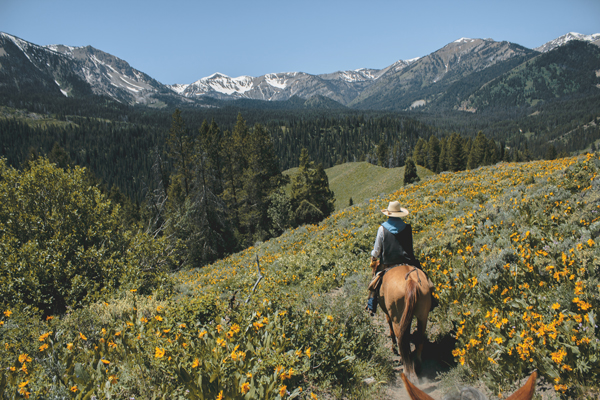 America's national parks are considered the country's jewels, and with good reason. They represent the most unique and stunning natural treasures in the United States. For equestrians, the absolute best way to experience a national park is from the back of a horse. After all, most national parks were first explored on horseback more than a century ago, and the rugged terrain and dense forests of these amazing places lend themselves to riding.
Among the 62 national parks in the U.S., the following are particularly easy to see by horseback. These parks not only provide stunning scenery and a plethora of wildlife, they also accommodate people who want to ride. Each park allows equestrians to bring their own horses and provides amenities and trail maps to help enhance the experience. For those who can't bring their own mounts, stables in or adjacent to these parks provide guided horseback tours of the parks.
If you are lucky enough to live close to one of these parks and can bring your own horse, be sure to take advantage of this opportunity. Or simply plan a vacation and book a guided riding tour for your visit. You are guaranteed an experience you'll never forget.
Grand Tetons National Park
The pride of Wyoming, Grand Tetons National Park is known for its stunning mountains, pristine lakes and alpine forests. Grand Teton, the peak that gave the park its name, reaches 13,776 feet high, making it the highest mountain in the park. Considered an almost pristine ecosystem, the park is home to species of flora and fauna that have existed in the area since prehistoric times.
Two hundred miles of trails provide a lure for equestrians, who can take advantage of three different stock concessioners from late spring to early fall, including one that provides a complete dude ranch experience. You can also bring your own mount and camp in several backcountry stock camp locations.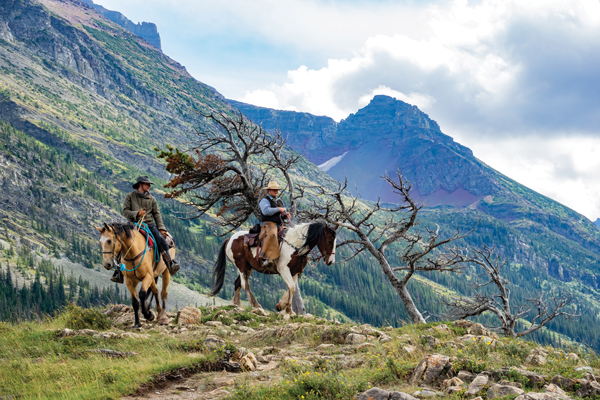 Glacier National Park
This majestic park in northwestern Montana is known as the "Crown of the Continent" for its pristine forests, alpine meadows, rugged mountains and spectacular lakes. Encompassing more than one million acres and stretching across the border to Canada, Glacier National Park is known for its many lakes and plants and animal species.
The park has more than 700 miles of trials open to both hikers and equestrians. Guided rides on outfitter horses are available during the spring, summer and fall at the Many Glacier, Lake McDonald and Apgar sections of the park.
You can bring your own horse to ride on dirt park roads or backcountry trails, and horse camping is also allowed in a number of campgrounds in the backcountry.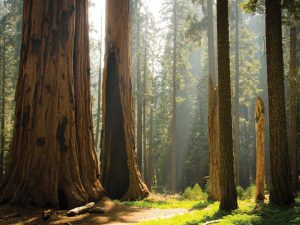 Sequoia & Kings Canyon National Parks
These twin parks in central California rest at the southern end of the majestic Sierra Nevada Mountains. Sequoia National Park is famous for its giant sequoia trees, with some individual trees estimated to be as old as 3,000 years. Adjacent Kings Canyon National Park is known for its rugged glacier-carved valley more than a mile deep, along with the raging Kings River.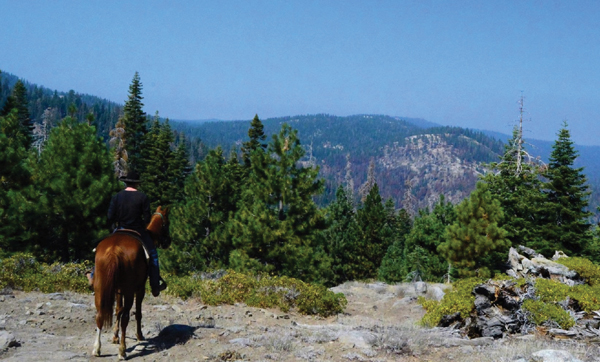 Both national parks offer horseback riders stunning views of high peaks and tall trees on guided horseback rides at Grant Grove Stables and Cedar Grove Pack Station, both in Kings Canyon. Routes traveled include views of famous sequoias and trails along the Kings River.
You can also bring your own horse to the park for riding on the hundreds of miles of trails. Camping overnight with stock requires a wilderness permit.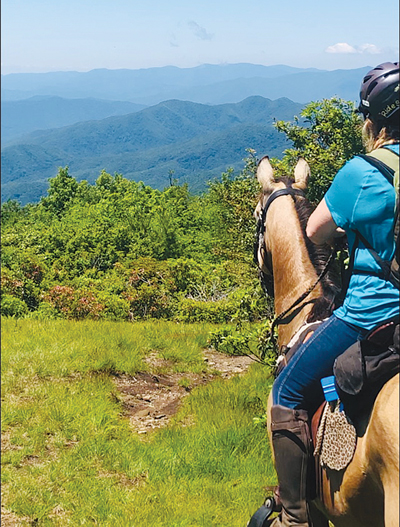 Great Smoky Mountains National Park
Great Smoky Mountains National Park covers more than half a million acres and encompasses parts of both North Carolina and Tennessee. The Great Smoky Mountains and part of the Blue Ridge Mountains—which stretch from Pennsylvania to Georgia—make up a large part of the park, which contains the highest mountains in eastern North America. Known for its old growth forests that predate European settlement of the region, the park is rife with wildlife, including many species of birds, fish, reptiles, amphibians and mammals.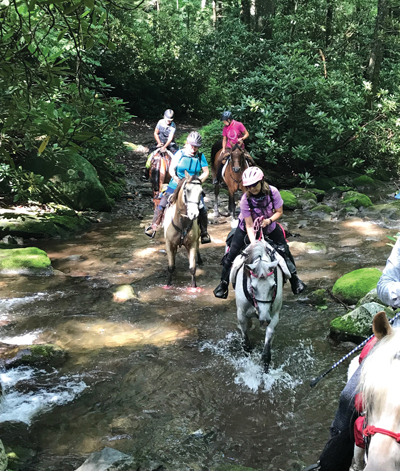 The park has 550 miles of trails open to horses, and four concessioners within the park provide guided rides from mid-March through November. For horse owners wanting to bring their own mounts and stay overnight, five drive-in horse camps provide access to backcountry horse trails in the park from April through October.
Bryce Canyon National Park
The red rocks, pink cliffs and endless vistas of Utah's Bryce Canyon National Park is a trail rider's paradise. Geological structures called hoodoos (also called tent rocks, fairy chimneys, or earth pyramids), formed by the freezing and thawing of water within the rocks, provide spectacular views to visitors. Stretching as high as 200 feet into the sky, the hoodoos surround riders along the park trails.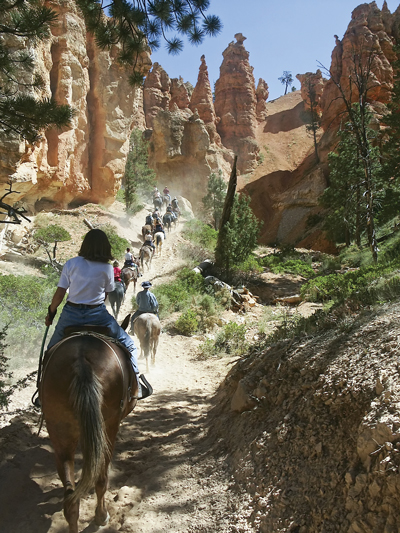 Park concessionaire Canyon Trail Rides provides guided two- to three-hour rides into natural amphitheaters along the eastern side of the park from April through October. The Bryce Horse Trail Route accommodates equestrians who bring their own horses and includes trailer parking and a day corral.
This article about horseback riding in the national parks appeared in the August 2020 issue of Horse Illustrated magazine. Click here to subscribe!