Eight years ago, after losing a job through no fault of her own­ (the Cleveland-based record label she worked for ran out of money), Raquel Lynn created her dream job one blog post at a time which led to Horses and Heels. With a knack for interior decorating, beautiful photographs and inventive recipes, the Paint Horse-loving barrel racer Raquel has garnered legions of fans of her modern western-glam lifestyle.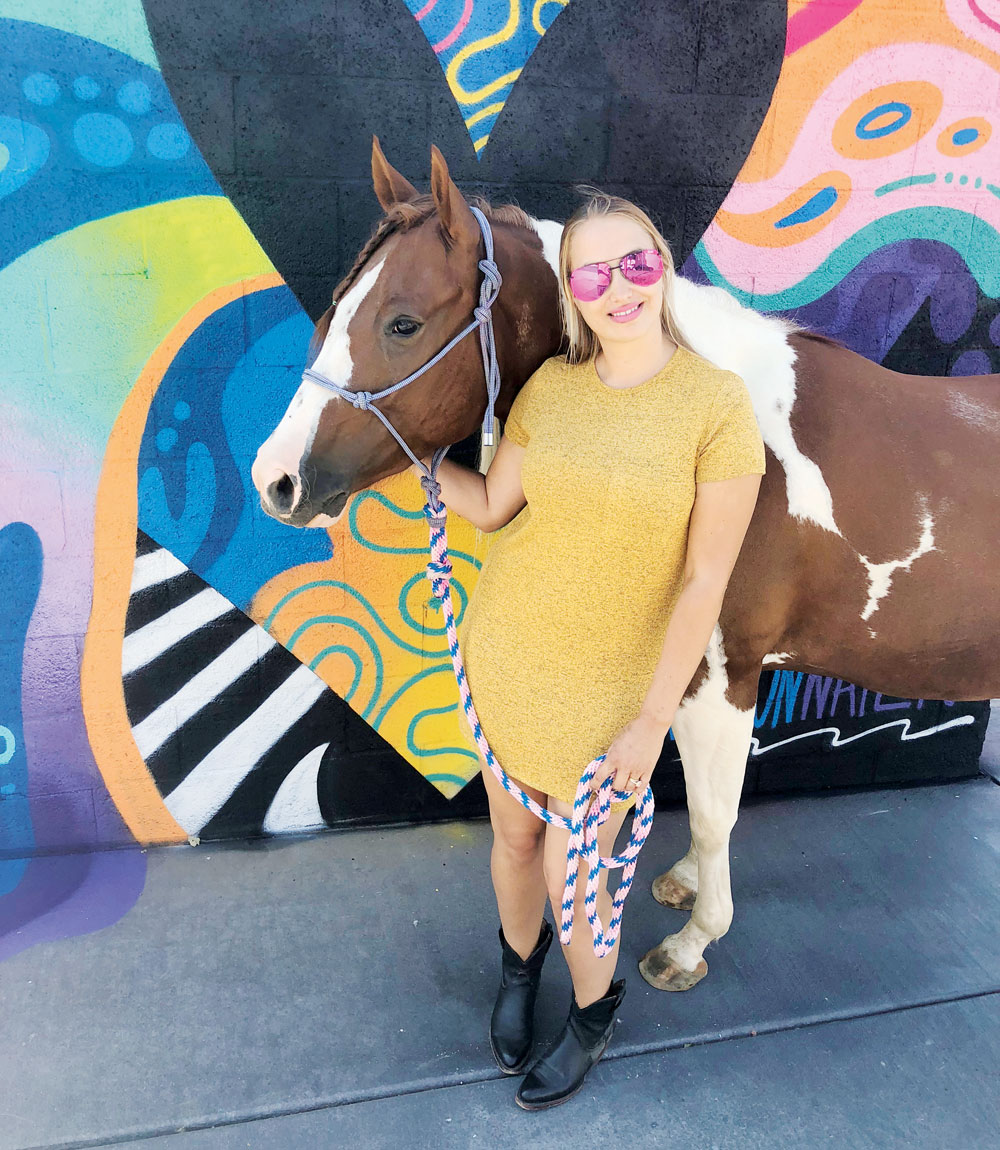 Raquel's disappointing job loss sprouted an idea. "I ran social media for all the bands, the studio and the record label that went under. That's where I got my social media bug from. Everything failed and I was really sad because I had put a lot of work into it, so I decided I wanted to do that for myself."
Pioneering the Blogosphere
Raquel shared her idea with her sister and a couple of friends. Together they came up with the name Horses and Heels.
"My inspiration was The Pioneer Woman [Ree Drummond]," says Raquel. "That was the first blog I'd ever seen, and I thought her site was amazing. I said, 'I need to do this!' So I got out a notebook and started drawing what I wanted my website to look like. I kind of thought of it as my online scrapbook."
Raquel taught herself how to blog, Googling as she went. At the time, there were fewer resources available—it was like blogging in the Stone Age, she says.
Raquel's Midwestern work ethic and persistence paid off. Three years into her blogging journey, she was able to quit her desk job as an assistant at an investment firm to pursue her blogging passion full-time. Today readers flock to her site to read about Raquel's recipes, horse-themed DIY projects, home décor and curated shopping pages. Her recipe "The Best Brussels Sprouts" has had over a million views and continues to drive Pinterest traffic to her site. Another popular post is "DIY: Paper Maché Cow Skull."
Horsesandheels.com's "Stable Style" category grew so popular that Raquel launched a sister website, Stablestyle.net, which focuses on barn tours and tack rooms. Stable Style draws an international audience of horse lovers eager to peruse barns ranging from quaint two-stall stables to luxury equestrian estates.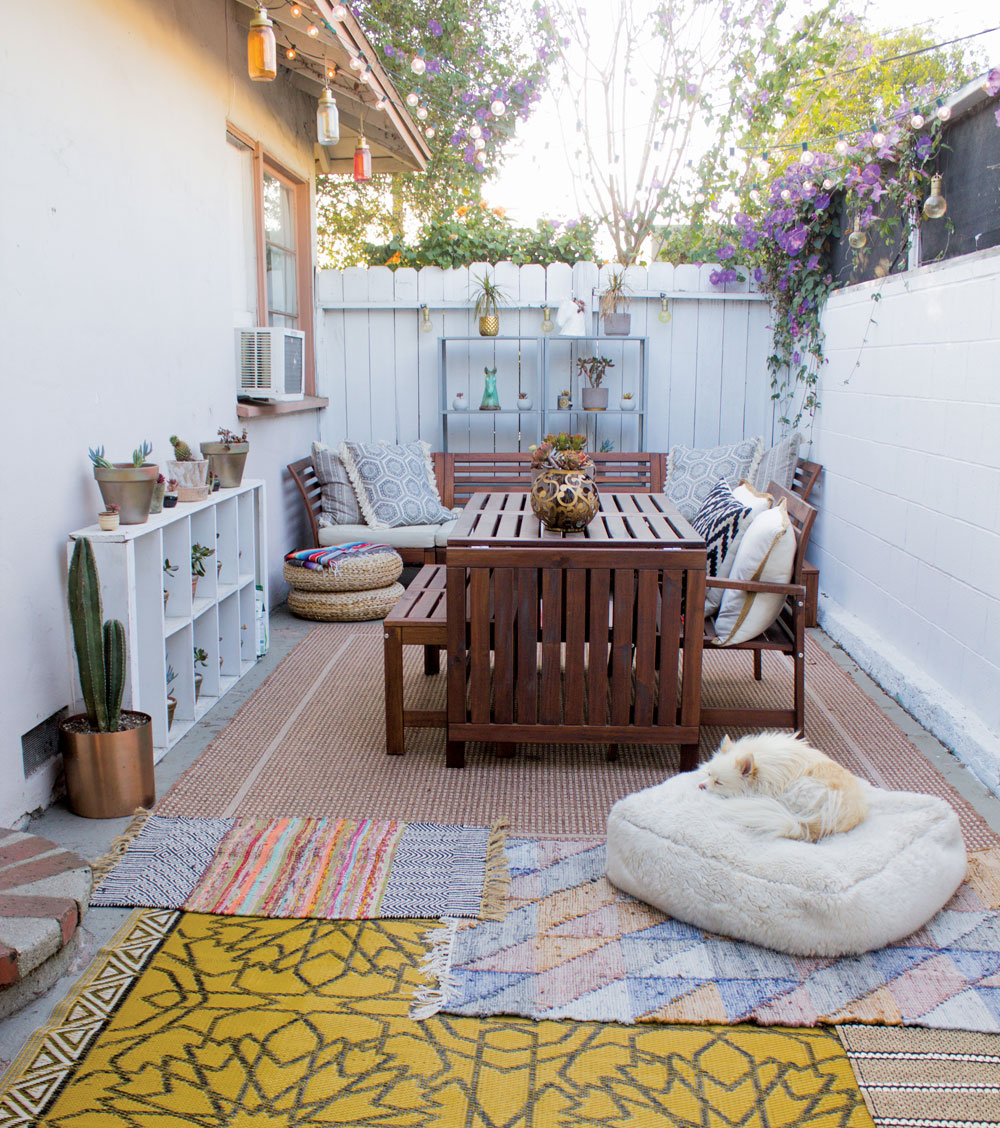 Horse and Home
In addition to learning successful social media strategies at the record label, there was one other job perk. Raquel met her husband, Adam Korbesmeyer, when they were both interns. The couple married and headed west to Los Angeles as Adam pursued his career in music production and engineering.
Raquel decorated their L.A. apartment with a cactus and serape motif, and a popular interior design website called Apartment Therapy featured their home. Meanwhile, a friend alerted Raquel to a house for rent near the Los Angeles Equestrian Center in the Rancho equestrian neighborhood. There was a stall in the backyard and it was close to trails and a public arena; next to the empty stall was a garage that would make a perfect recording studio.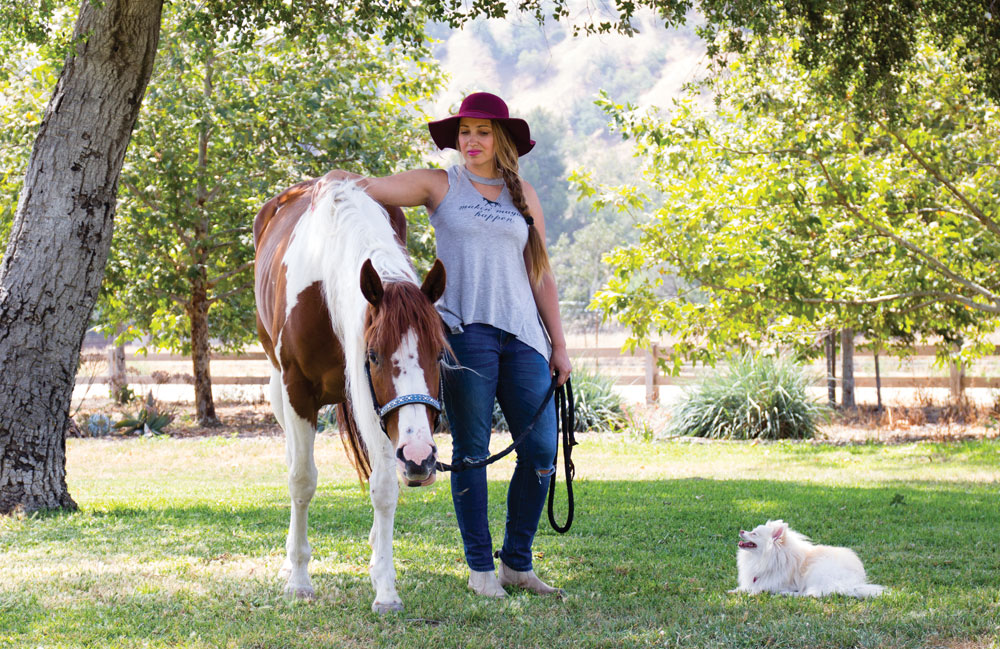 After moving to the horse-friendly rental, Raquel bought her Paint Horse, Fira, as a greenbroke 3-year-old filly in the spring of 2017. Raquel has trained Fira to cruise city streets and navigate the mountain trails of Griffith Park. Recently they have started foundation training for barrel racing with the goal of competing at the 1D level.
"I want to start her slowly and I'm in no hurry to push her. I hope to have her running by the spring. I can say that Fira has a lot of natural talent. She's agile and quick in the round pen and has a lot of potential."
Today, Raquel has L.A.'s most enviable office view and commute: From her desk, she can glimpse Fira nibbling hay in her 25×30-foot pen. Unlike most Angelinos, Raquel spends more time in the saddle than on the freeways.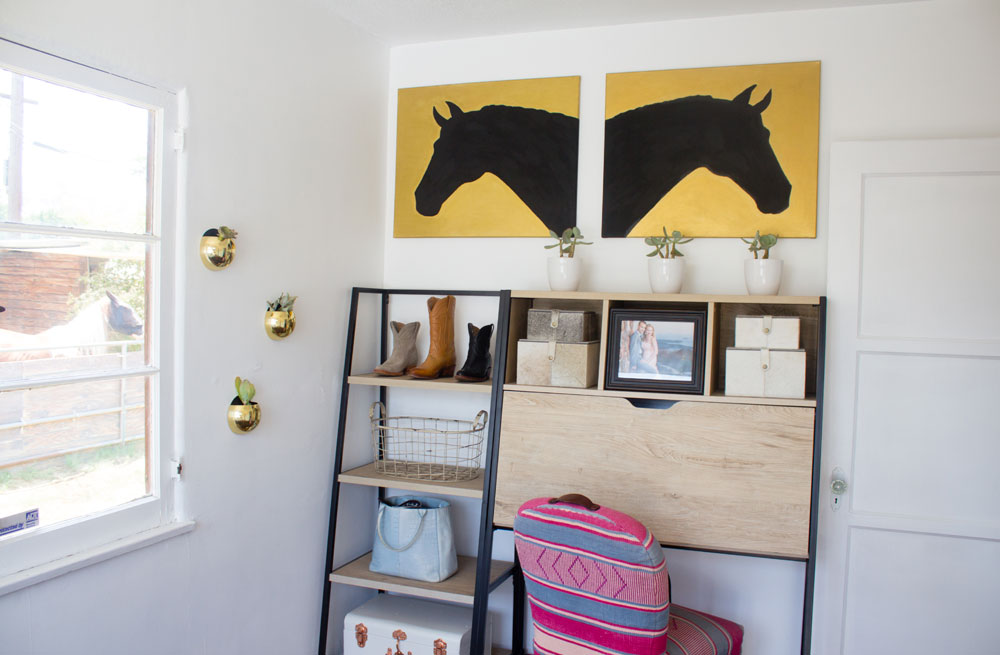 The Benefits of Blogging
Blogging has enriched Raquel's life beyond her two profitable sites.
"I've met a ton of awesome horse girls. I met most of my friends in L.A. on Instagram, which is weird because I don't know where I'd have friends from otherwise."
Raquel has recently launched a coaching service to help equestrian bloggers and brands grow their sites and social media. "I would love to host coaching sessions at the house and DIY gatherings where people come in, have a project and a sangria and make a fun craft together. I will always have a blog no matter what happens. I just love doing it."
And for that, her loyal followers looking for new recipes or cowboy boots are grateful.
---
This article originally appeared in the December 2018 issue of Horse Illustrated magazine. Click here to subscribe!