Christina Handley lives on a working farm in Ontario with her husband Boyd, their three Belgian horses and their dog, Dingo.
Handley is a full time freelance photographer with a career spanning over 12 years. She started her professional photography career in 1997 and has since had her work featured in various catalogs and magazines, including
Horse Illustrated
, as well as calendars and product advertisements.
Christina's affinity for the camera started at a young age and developed as a result of her parents' hobby. "They loved taking pictures of family and travel, so there were always a lot of photos around the house," she says. "Taking pictures was a big part of our life."
Christina has also always loved horses, and combining her two passions was a natural occurence. The freedom to be creative is what she enjoys most about being an equine photographer.
"I view the world around me as a photograph" says Handley. Everything I see, I imagine as a photo. I also enjoy meeting new people, being outdoors and traveling."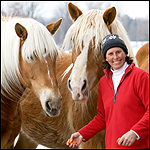 Spending time outside and taking photos of horses allows Christina to use her favorite techniques for capturing the best images: natural lighting and selective focus.
She is currently working to teach others about equine photography through her online classes at www.LearnToTakePhotos.com
Read Christina's blog, Horses in Focus >>