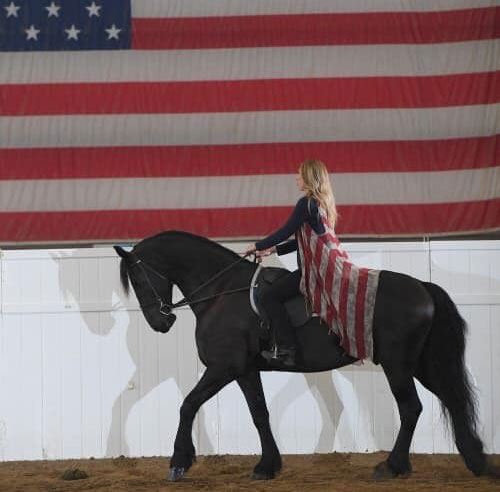 The International Friesian Show Horse Association (IFSHA) hosted their 15th annual World and Grand National Championships in Springfield, Ohio, at the Champions Center in October, with 141 purebred and part-bred Friesians from all over the country competing.
What once started as a two-day show in California has grown into an almost week-long event that hosts the Friesian Horse Association of North American (FHANA) IKFPS Mare Show East on Wednesday evening and a FHANA KFPS Keuring hosted by the Ohio Valley Friesian Association on Tuesday, October 2.
This year's judges included an esteemed panel for the entire show. The judges for the two-day dressage event was the Honorable Debbie Rodriguez, of Williamsburg, Va., and the Honorable Melissa I. Boyd, of Fenton, Mich., judging the Driven Dressage and Cones Division. The panel for the halter and rail classes were judged by the Grace Greenlee of North Carolina, the Karen Homer-Brown of Kentucky, and the Stephanie Snyder of Oregon. All of these judges have had an illustrious equine career.
The Friesian world acts much like a family and less like a competition. New members are welcomed in with open arms and existing members continuously are there to support each other and new members. "We had a wonderful time competing against the best competitors and horses this year at the IFSHA World Show," said Lauren Riehle, a new board member of IFSHA. "We look forward to attending next year's event! The camaraderie, competition, and horses were amazing. It's always fun to spend time with your horse and friends."
This year's show has had some amazing first-time experiences, including some of the largest junior exhibitor classes in the history of the organization. The show also had a tie for high-point purebred Friesian between two amazing horses, Riatta IA, owned by Cindy Davis, and Sjaantje, owned by Gail Aumiller. Sjaantje was also awarded the Anita Mellott High-Point Perpetual Trophy for Driving. The part-bred Friesian high-point horse was Harper JR, owned by Riehle. These are just a few examples of some of the stunning horses that came to compete.
The IFSHA National and World Championships has no shortage of amazing moments.
Show manager Sandra Jacob talks about one amazing moment that she was able to witness. "A special memory for many of us as we watched a young boy receive a horse to be his own," she said. "He thought this would be his last ride on a horse that would then be going back to its owner. Not a dry eye in the arena!"
However, that was not the end of the incredible moments that came from that week.
For the past six years, IFSHA has partnered with the All Glory Project and founder Elizabeth Shatner to raise money for our military and their families. This year IFSHA hosted a "Trainers Challenge Ride" and the Exhibitors Honor Ride to raise funds for the project. Trainers entered in a challenge class to raise funds for the All Glory Project. USEF graciously offered to match donations from spectators up to $2,500, which was one challenge that Victoria Gillenwater and Pam Gardner could not pass up. They led the way for IFSHA members and show spectators to meet and beat the challenge!
"IFSHA congratulates all of its champions and exhibitors for an outstanding 2019 show," said Jacob. "This exciting event could not be possible without the dedication of exhibitors, judges, staff and their amazing equine partner, the Friesian horse."
Further Reading