The leadership of the Intercollegiate Horse Show Association (IHSA) announced the first inductees for the IHSA Hall of Fame. IHSA Hall of Fame candidates include people, horses and teams. IHSA has more than 400 member college and universities involved in intercollegiate equestrian competition competing individually and on teams in hunter seat equitation, Western horsemanship and reining. Criteria for selection includes outstanding competitive achievement, exceptional contributions to the IHSA, success or significant impact in equestrian sport or the equestrian industry and any other honors. An induction ceremony will be held during the IHSA board meeting on Saturday, January 4, in Orlando, Fla.
"We are so proud to announce this first group of inductees into the IHSA Hall of Fame," said Peter Cashman, interim IHSA executive director. "We honor these legendary leaders for the impact they've had on collegiate and mainstream equestrian sports and for the good of the industry."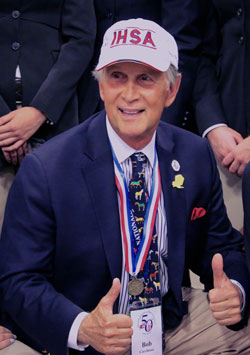 Robert E. "Bob: Cacchione
Cacchione, from Harrison, N.Y., and now Fairfield, Conn., founded the IHSA as the first official collegiate riding and competition organization in 1967. With as many as 250,000 men and women that have participated in the IHSA, he has made a profound impact on the equestrian world. Cacchione was just age 18 and a student at Fairleigh Dickinson University in Teaneck, N.J., when he launched the program. He has made the organization his life's work and passion. He served as IHSA executive director for more than 52 years. The organization now has more than 400 participating colleges and universities and 10,000 members.
Because the IHSA offers all levels of competition, from beginner through advanced, it gives college students a way to learn to how to ride,. Therefore, IHSA has made a significant contribution to the grassroots development of the equestrian sports.
In addition to joining the IHSA Hall of Fame, Cacchione has been recognized for his commitment to college riding with the IHSA Lifetime Achievement Award, the United States Hunter Jumper Association (USHJA) Presidents Distinguished Service Award, U.S. Equestrian/EQUUS Foundation Humanitarian Award, a Doctor of Humane Letters from Centenary College, and the American Horse Publications Equine Industry Vision Award, sponsored by Zoetis. He also serves as vice chairman of the Gentlemen's Committee of the National Horse Show at the Kentucky Horse Park. He retired from the executive director position in September 2019 and continues to promote the IHSA and serve as founder emeritus.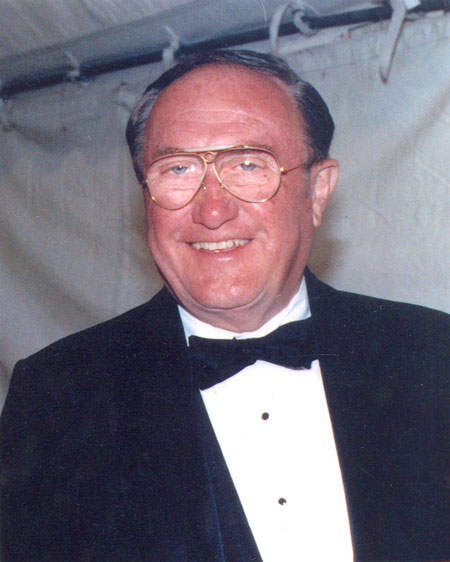 John H. "Jack" Fritz (1925-2012)
Fritz was originally from Rockford, Ill., and later from Gladstone, N.J. Fritz was the equestrian coach of Fairleigh Dickinson University at the Madison campus, one of two inaugural teams that competed at the first IHSA horse show in 1967. He served as an adviser and mentor to Cacchione in the early days of the IHSA. Fritz founded several key equestrian organizations, including the United States Combined Training Association (USCTA, now the United States Eventing Association, or USDF) and the United States Dressage Federation (USDF).
Fritz was a member of the United States Equestrian Team (USET) board of directors since the early 1960s, serving as USET vice president for administration and the chief executive officer from 1974 to 1989. He served on various committees of the American Horse Shows Association (now the United States Equestrian Federation, or USEF/U.S. Equestrian) and was a sustaining member of the United States Pony Club (USPC) since 1955. He was named a USPC governor in 1960 and in 1961 became a national examiner, a role he held for 30 years. He was elected president in 1981. Fritz dedicated his life to equestrian sports, promoting the IHSA and the greater horse industry.
Sally Batton
Sally Batton of Canton, Ohio, coached and taught at Centenary University before accepting the position as head coach of the Dartmouth College Equestrian Team. Batton coached the Dartmouth team for 29 seasons and has coached at the collegiate level for 35 years. She led the Dartmouth equestrian team to five Ivy League titles in 1997, 2007, 2010, 2014 and 2016. Batton also sent numerous Dartmouth riders to IHSA National Championships.
Batton served on the IHSA board of directors from 1984-2017, first as a regional president, then chair of several committees, and she served as IHSA National Steward from 2001 to 2017. In 2008, Batton was named the American Riding Instructors Association (ARIA) Instructor of the Year and is an ARIA Certified Level III hunter seat trainer and a USHJA certified trainer. Batton was awarded the IHSA Lifetime Achievement Award in 2013. She retired in 2019 and plans to continue teaching and working with the Athletic Equestrian League she founded in 2010.
Cindy Ford
Originally from Albany, N.Y., Ford coached at Skidmore College in Saratoga Springs from 1988 to 2019. She is the winningest coach in the IHSA, earning eight IHSA national team championships. Ford guided her first team to a repeat national championship in 1991 and then proceeded to win national titles in 1995, 1996, 1999, 2010, 2013 and 2018. Ford was honored by her peers with the IHSA Lifetime Achievement Award in 2011. Her 1991, 1995 and 1999 teams were inducted into the Skidmore Athletics Hall of Fame along with Courtney Phibbs, who in 1997, became one of her most decorated and successful riders. In 2019, Ford announced her retirement. She proceeded to lead her team to an unbeaten regular season, won regional and zone championships and finished fourth at IHSA Nationals.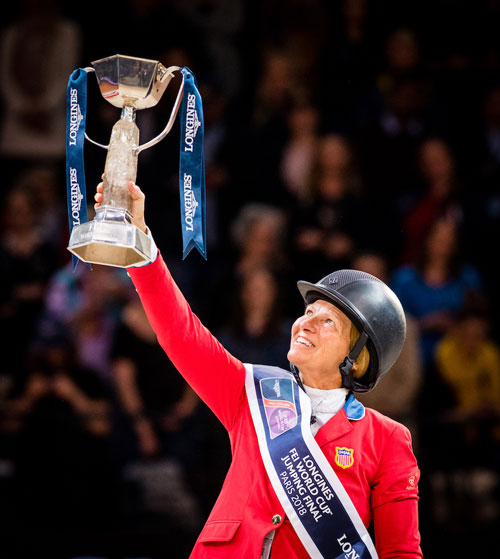 Elizabeth "Beezie" Madden
Madden, originally from Milwaukee, Wisc., was the 1984 IHSA Cacchione Cup winner as a member of the Southern Seminary team. She launched her grand prix show jumping career in 1985. She was the first woman to achieve $1 million in earnings in show jumping. Madden is an Individual Olympic Bronze medalist and was a member of Team Gold medals at the 2004 and 2008 Olympic Games, where she rode Authentic. She was also a member of the U.S Silver-medal team in 2016 with Cortes 'C.'
In 2013, Madden won the FEI World Cup Finals in Gothenburg, Sweden, aboard Simon. Madden followed up that win with a repeat in 2018 with Breitling LS. She became the first rider to win the $1 Million AIG HITS Grand Prix in all three locations offered in 2019 with her win with Darry Lou.
Madden is one of the greatest riders in U.S. history and continues to deliver consistent wins. In September, she notched a second win of the CP International Grand Prix, earning the victory gallop of the coveted $1 million event with Darry Lou. Madden, who is now based out of her farm in Cazenovia, N.Y., is a four-time recipient of the USEF Equestrian of the Year award.
Cindy Morehead
Cindy Morehead, from Milford, N.H., joined the Findlay University equestrian program upon its inception in 1977 and served as the IHSA team coach from 2005 to 2017. Morehead led the Findlay Western team to four national titles (2005, 2007, 2009 and 2010). She also led the Oilers to four reserve national championships, coached four American Quarter Horse Association (AQHA) national high-point riders, won 13 regional team championships, 12 semi-final titles and coached 13 regional high-point riders. She coached 29 of her riders to capture national titles during her tenure with the team. In 2018, the University of Findlay presented Morehead with the Lifetime Achievement Award. She is a part of the Oilers Athletic Hall of Fame to honor outstanding individuals who have attained an extremely high level of success in their industry, sport or profession. She is also a long-standing director of the Ohio Quarter Horse Association. Morehead is a well-respected clinician and judge.
J.T. Tallon (1953-2015)
Born in Phoenixville, Penn., and later moved to Lexington, Va., J.T. Tallon coached the Southern Seminary and Randolph Macon Women's College teams. With his leadership, he held the longest winning streak in IHSA history. As an assistant coach for Southern Seminary, the team won for four back-to-back national championships and, as the head coach and equestrian director for Southern Seminary, won the team title four times. Tallon was well-known throughout the Virginia horse community as an enthusiastic teacher and competition judge. He retired from Randolph-Macon in 2011 and died in an automobile accident in 2015. In 2016, Tallon was posthumously awarded the IHSA Pioneer Award for his contributions to collegiate riding.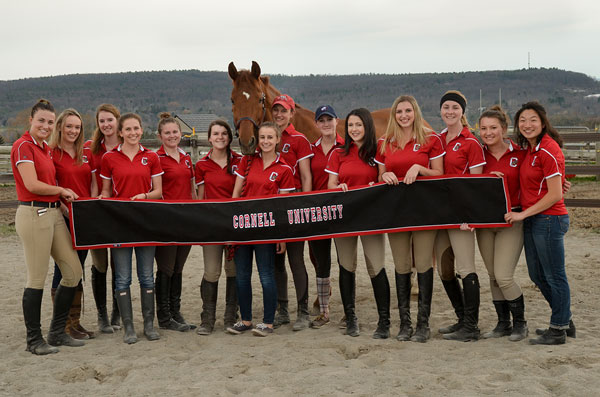 Clifford
Clifford, also known as "the big red horse," was a member of the Cornell University team. From 2004 to 2010, the 1996 chestnut gelding was every IHSA rider's favorite draw. Donated by a client of Gary Duffy, he partnered with various IHSA members to win many national titles, including two USEF Cacchione Cup wins. He competed in nine IHSA National Championships, more than 30 IHSA regional and regular season shows in flat and jumping classes by riders of every level. Clifford was the recipient of multiple National Hunter Seat Horse of the Year awards.
All of these inductees make fitting additions to the IHSA Hall of Fame.
About the IHSA
The Intercollegiate Horse Shows Association (IHSA) welcomes men and women of all riding levels and offers individual and team competition in hunter seat equitation, Western horsemanship and reining at more than 400 member colleges and universities. Membership in IHSA means that college students can participate in horse shows regardless of their experience or financial status. Students compete at eight levels from beginner through advanced with suitable provided horses, eliminating the expense of horse ownership.
Founded in 1967 by Bob Cacchione, it is the oldest and largest intercollegiate equestrian organization with 10,000 members in 47 states and Canada. IHSA college and university team participation is represented through a variety of programs, including varsity athletics, academic departments and club sports. IHSA offers valuable hands-on experience and professional development in multiple facets of the equine industry. Many IHSA teams participate in service projects, giving back to their communities. Through the IHSA, students enhance their college experience and develop the tools that help build successful careers.
For more information about IHSA and the IHSA Hall of Fame, go to IHSAinc.com or contact media@IHSAinc.com.