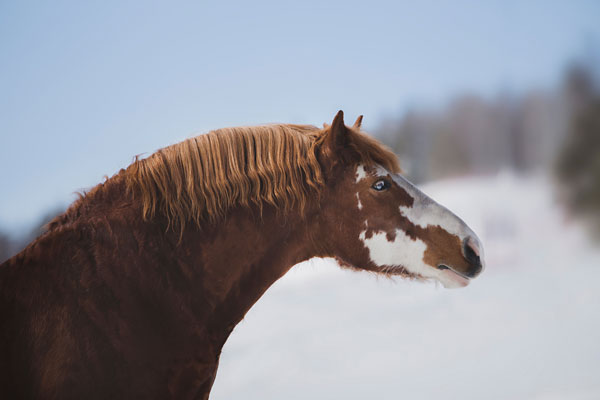 The relationship between iron levels and insulin sensitivity has long been recognized and studied in humans and other animals, but largely ignored in the equine population, including in horses with equine metabolic syndrome (EMS). With the knowledge that elevated circulating insulin is the direct and most common cause of laminitis associated with equine metabolic disorders, the association between equine insulin and iron dysregulation needs further investigation.
Eleanor Kellon, VMD, and Kathleen Gustafson, PhD, of the Equine Cushing's and Insulin Resistance Group (ECIR) performed a retrospective analysis of lab results maintained in the group's database and data from the only controlled feeding study in horses. The ECIR Group is the largest field-trial database for
Pituitary Pars Intermedia Dysfunction
(PPID) and EMS in the world and provides the latest research, diagnosis, and treatment information, in addition to dietary recommendations for horses with these conditions.
The latter study was specifically designed to substitute horses as a model for captive black rhinos, a cousin of the horse, because the researchers recognized the relationship between metabolic disease and iron overload in rhinos.
Equine Metabolic Syndrome and Iron Levels
All animals from the ECIR database had abnormally elevated insulin (hyperinsulinemia). Ferritin, a measure of body iron stores, also exceeded the published reference range in all animals, and there was a tendency for iron levels to increase with age. Likewise, data from the previously published report showed that ferritin was significantly elevated in the group with confirmed hyperinsulinemia when compared to the group with a normal insulin response.
Kellon and Gustafson suggest that these results indicate possible similar interactions between hyperinsulinemia and body iron burden in the horse and that iron may be a modifiable risk factor for hyperinsulinemia. They emphasize that iron is unlikely to be a primary causal factor, but that the interaction is worth scientific investigation in controlled studies. Studies investigating the bidirectional relationship between iron and hyperinsulinemia in horses are extraordinarily limited, despite considerable scientific inquiry in other species. The goal should be to increase awareness of the potential for iron overload in horses with hyperinsulinemia and stimulate further study.
The full study, "Possible Dysmetabolic Hyperferritinemia in Hyperinsulinemic Horses," can be found online.
About the Equine Cushing's and Insulin Resistance Group
The mission of the ECIR Group Inc. is to improve the welfare of equines with metabolic disorders via a unique interface between basic research and real-life clinical experience. Prevention of laminitis is the ultimate goal. The ECIR Group serves the scientific community, practicing clinicians, and owners by focusing on investigations most likely to quickly, immediately, and significantly benefit the welfare of the horse.
For more information, please visit www.ecirhorse.org.