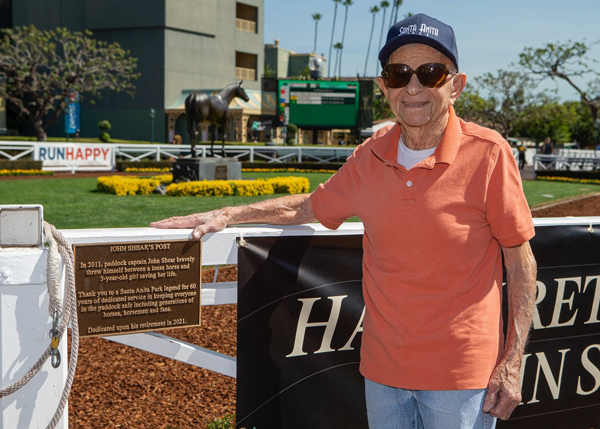 On the day Santa Anita unveiled a plaque commemorating six decades of dedicated service to its recently retired 100-year-old paddock captain, John Shear, the track has also announced that it will further honor him by renaming the Santana Mile the "John Shear Mile."
For older horses, the $75,000 John Shear Mile will be run on Sunday, April 10, 2022.
Employed by Santa Anita since 1961, Shear, who retired this past June, gained national recognition when on March 12, 2011, he sustained life threatening injuries as he threw himself between an onrushing loose horse and a 5-year-old girl just outside Santa Anita's Seabiscuit Walking Ring.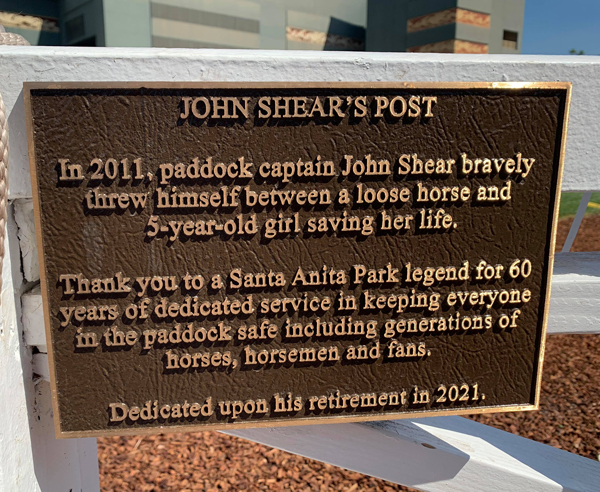 "John Shear is a legend among all of us here at Santa Anita, fans, jockeys, horsemen and employees," said Chris Merz, Santa Anita's Director of Racing and Racing Secretary. "We are proud to rename this race in his honor and to help share his legacy of kindness, compassion and dedication to the well-being of our sport with many generations of future racegoers."
Orphaned at a young age in his native England, Shear aspired to be a jockey as a young man but emigrated to Canada as an exercise rider who later worked as an assistant trainer. Asked in the fall of 1954 if he'd like to accompany a group of horses from Vancouver, B.C., to Santa Anita, Shear leapt at the chance and the rest as could be said, is history.
"I was exercising horses for a guy in Vancouver, and he asked me if I'd like to go with him to Santa Anita that fall," said Shear in an interview prior to his 99th birthday in January 2020. "I said 'Sure,' and as soon as I stepped off that van in the stable area here, I said 'Lord, this is where I want to be.' The place was so incredibly beautiful, and I've never gotten tired of it."
A diminutive 5'4″, Shear checks in at about 115 pounds. "I'm gonna get to 120," he quipped in the paddock ceremony in which he posed with many fellow employees, fans and Hall of Fame trainer Richard Mandella.
With birthday number 101 looming on Jan. 17, Shear, who still participates in a daily exercise regimen that includes push-ups, will certainly hope to be on hand to present the John Shear Mile trophy on April 10.