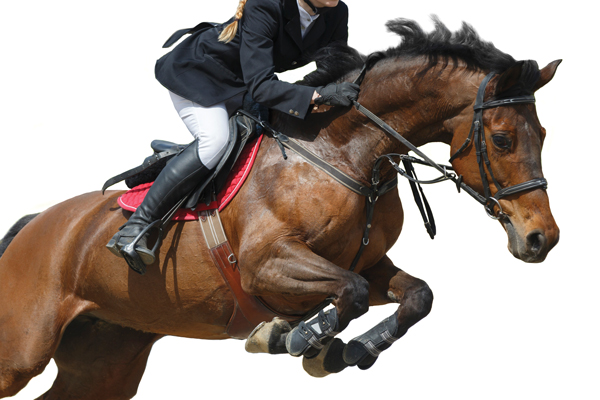 I'm sure you've heard the old adage, "Don't judge a book by its cover." And yet it's so easy to be dazzled by a glossy coat, white stockings or a noble-looking head. Over the years, however, I've learned not to value a horse based solely on size or conformation, but more according to its heart and spirit. One of my early experiences with this truth started with a leap of faith in the jumper ring during a jumping ride of a lifetime.
Star-Crossed
When I was an energetic teenager, I exercised horses for a local trainer in exchange for riding lessons. These were valuable show horses that I could only dream of owning myself. Early one June, however, I was informed that my sole assignment for the entire summer was to ride and care for a little mare named Star. I was less than thrilled.
Star was a plain bay except for an irregular dot just below her forelock. She belonged to a military officer who was serving overseas, and the horse was his pride and joy.
According to Star's résumé, she was an athletic jumper, but she was remarkably small—maybe 15 hands when due for the farrier. Plus, her frame was incredibly narrow. My long, thin legs dangled helplessly below the girth.
And owing to her supposed breeding (a haphazard mix of Saddlebred, Welsh Pony and something else), her gaits could morph from a flamboyant trot into a scrambled canter if she became overly excited. Needless to say, I was less than enthusiastic when my trainer excitedly shared that I was to ride Star in the upcoming county fair horse show.
"She's a very talented jumper," my trainer enthused. "You'll have so much fun!"
I wasn't so sure. I had envisioned myself borrowing one of the elegant horses in the barn for a few classes. Now I would be angling for a ribbon aboard Star?
Super Star
I had only a few opportunities to jump Star before the fair. During these lessons, our flat work was less than ideal (due to her upright conformation she was hard to get on the bit and round), but she was indeed a dream to jump. She no longer felt like an overgrown pony; she was a gazelle.
When the county fair arrived, my trainer entered Star and me in several events. This was long before jumper classes were classified according to meter height. Instead, they had intriguing names like Five-Bar and Gambler's Choice, the latter being my favorite.
Similar in theme to a gymkhana class, Gambler's Choice is an array of jumps scattered around the show ring, and each jump has a point value. The bigger and scarier the jump, the more points you get for clearing it. There isn't any particular course. Rather, each rider chooses their own path, taking as many jumps as possible within the allotted time.
While gathered at the back gate alongside the other competitors, I plotted a speedy tour through the Gambler's Choice, complete with plenty of bold moves. My concentration was interrupted when one rider looked at Star with a peculiar expression and then bluntly asked me, "What kind of a horse is that?"
Figuring there were so many ways to answer, I decided to remain silent. When the gate opened, I nudged Star forward and we started on course. Once in gear, Star blazed through the timers and we began our wild ride.
Jumping Ride of my Life
Honest and brave, she left the ground whenever and wherever I placed her, taking the jumps from varying spots and odd angles. Not only was she nimble, she was fast, too. Equestrians on the rail and spectators in the grandstand cheered us on enthusiastically.
That only emboldened Star further, and although the wind howling past us roared in my ears and caused my eyes to water, I didn't mind. Star was my little secret weapon, and the two of us were beating the odds in Gambler's Choice.
Our total number of points eclipsed all the other competitors, and Star waltzed back to the barn with a big blue ribbon clipped to her bridle. I, of course, was bursting with pride thanks to my jumping ride of a lifetime.
Over the years I've ridden and loved other horses that were generally considered less than perfect in size, pedigree or conformation, and ultimately each one proved its value and worth. It's always good to have a refresher course on not judging a horse on its looks alone. You never know when you might discover a new and unexpected star.
This article on a jumping ride of a lifetime originally appeared in the September 2019 issue of Horse Illustrated magazine. Click here to subscribe!
Further Reading