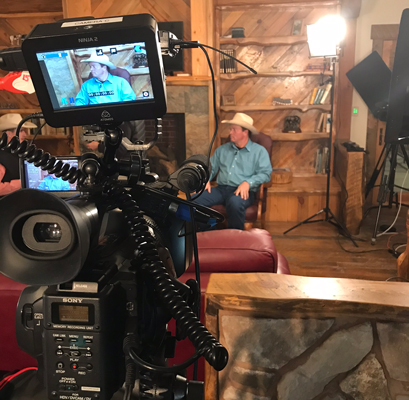 High Horse Video Productions has completed initial location shooting of Season 17 of the RFD-TV series, "Ken McNabb: Discovering the Horseman Within." This season was shot in Douglas, Wyo., at the incredible Powderhorn Ranch, site of the annual Diamond/McNabb Horse Sale each June.
Ken McNabb addressed such subjects as ideal horse conformation, exercises for flying lead changes, and an exciting look at training a team to drive, among other subjects on his next TV season. McNabb was also in the middle of his January apprentice intensive, where aspiring horse trainers come from all across the country to study and apply their skills in hopes of achieving McNabb's master level of certification. High Horse had a chance to speak with each of them on camera as they discussed how much the program has helped them as they learn to deal with everything from starting a colt to refinement or dealing with problem horses.
Season 18 will profile McNabb's newest addition of trail education coming in the fall of 2020. Can you imagine a 4 day getaway riding out to the wilderness of Wyoming and coming back each night to amazing meals and accommodations? His first two offerings sold out in less than a week. As an accomplished rider, cameraperson Dianne Killen will ride out with the groups and capture the amazing scenery and growth of each rider. Season 18 will air in late September 2020.
The series airs on RFDTV and The Cowboy Channel on DISH and DIRECTV as well as many cable networks. Check local listings for times.
Based in Colorado, High Horse Video Productions has been producing quality broadcast and educational products since 2004. Since then they have provided over 300 episodes for RFD-TV programming as well as nearly 100 hours of educational videos. In addition to Ken McNabb Horsemanship, High Horse Video has produced for Parelli Natural Horsemanship, Craig Cameron Horsemanship and many others. The company has also produced online educational videos for Cisco, the technology giant. With equine and corporate clients from coast to coast, the company's high-quality multi-camera work combined with their extensive knowledge of horses keeps them in demand.
Keep up with the company's adventures and check out the location photos on the High Horse Video Productions Facebook page.
Further Reading