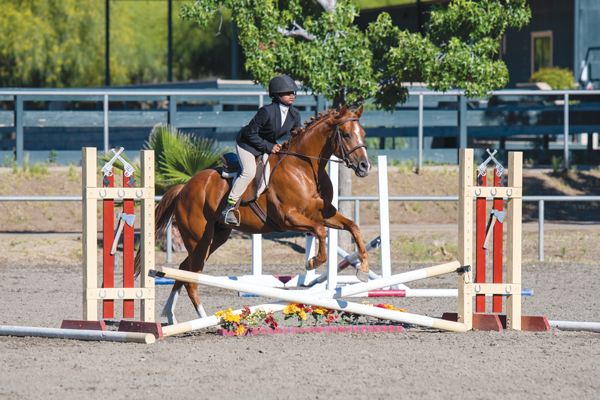 Kids helping horses is an amazing thing to see from today's youth. There are many great horse welfare organizations, rescues and adoption groups out there working hard on behalf of at-risk horses and horses in transition. Here are some things you can do to help them out.
Donate

Donations are an easy way to help. Start by picking an organization that appeals to you, then do some research to find out what they need. Most will list ways to help and how to donate on their website. Some horse adoption and rescue groups even have a specific wish list of items, from fly spray to feed or fencing supplies.
Many kids choose to regularly save a percentage of their allowance or money they earn to donate to charity. Some kids request donations for their chosen organizations instead of birthday gifts.
You could also hold a fundraiser, like a bake sale, lemonade stand or car wash to raise money for your favorite equine charity. Kids have even started businesses making their own products or crafts, then donate some of the proceeds.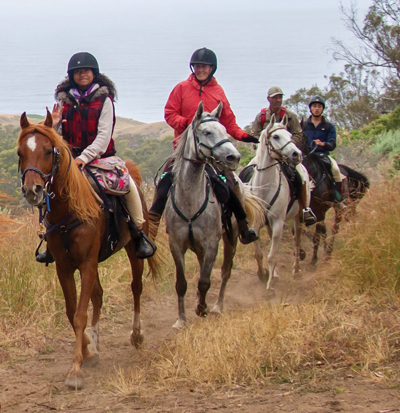 Spread the Word About Kids Helping Horses
Educating the community about horses in need is another way to help. If you're on social media, many groups appreciate help spreading the word about their adoptable horses, fundraisers, or other important messages about equine welfare.
Word of mouth is also very powerful. If you adopted a horse, share your success story and tell others how you found him! Even small steps like wearing a T-shirt or sporting a logo on your saddle pad help create awareness.
Volunteer
Check out your local horse rescues for volunteer opportunities. Some have a minimum age requirement, but it still might be possible to volunteer if a parent is there with you.
If you volunteer, you're responsible to show up as scheduled. The organization—and the horses it helps—count on you to be there. Volunteering is sometimes hard work. If you're assigned a not-so-glamorous task, like cleaning stalls, remember that every job is important.
Helping horses in transition can be a great way to learn about horse care and training, especially if you don't have a horse of your own.
Emily Shank, now 18, volunteers at Heart of Phoenix Equine Rescue in West Virginia.
"Working with rescue horses before you adopt is the best way to get an idea of what it's like to care for one," says Emily. Even if you're not able to adopt, she says working around the horses is a great way to really connect with them.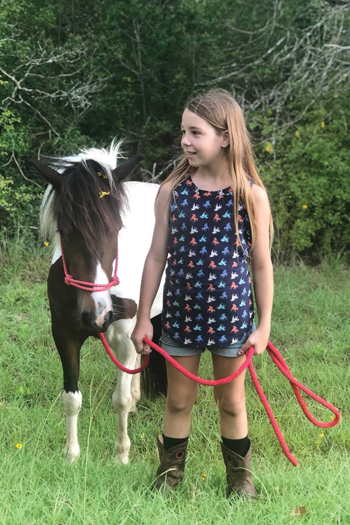 "Each horse you're around has a different story and personality, so be sure to stay open-minded," she says. "Some of them may be grumpy or scared. Bond with them, and try to realize where they're coming from."
"Every horse deserves a second chance," says Suraya Fuller, age 11. Suraya has been volunteering with Bluebonnet Equine Humane Society in Texas for four years. She and her family foster horses for the rescue, and Suraya says she loves watching them get adopted to good homes.
"Volunteering gives me something fun to do," she says.
"Once one horse gets adopted, you can foster a new horse. I always get to have a horse here to play with – it's like having a new horse every few months."
Suraya has participated in the Bluebonnet Rescue Horse Training Challenge, where she placed first last year and will be competing for a second time this year in October.
"When horses are trained and able to be handled on the ground, it makes them more adoptable," she explains. Suraya has also learned new skills from participating in the training challenge. "Working with rescue horses teaches you patience because these horses come from different backgrounds, so sometimes you have to find new ways of training them."
Caila Spears, 12, is a volunteer for Love This Horse Equine Rescue, a group in California that specializes in helping and rehoming Arabian horses. Caila rides horses for them during training sessions and on the trail. She earns lessons in return and also competes with the rescue's adoptable horses at local hunter/jumper shows and endurance rides to help increase their chances of getting adopted.
Caila tells the story of riding a horse named Rahim in a 25-mile endurance riding competition. She was the youngest rider there, and it was her birthday. They did well in the competition, so Caila was proud of that, but she accomplished something even more impressive than completing the 25-mile ride.
"A lady saw Rahim's photos and videos and knew that he was going to be a good horse for her," says Caila, reporting that the woman wound up adopting him. "It was the best birthday ever!"
Adopt
If you're looking for a horse of your own, don't forget to consider adoptable horses in your search. There are many wonderful horses up for adoption that would make great kids' horses. You can find adoptable horse listings at www.myrighthorse.org.
Caila got to know her horse Monkey while she was volunteering for Love This Horse Equine Rescue.
"Monkey got his name because he was silly and sometimes difficult," she says. "We bonded and I fell in love with him, and he fell in love with me. I knew that he was supposed to be my horse. I asked if I could make payments for his adoption fee. I started to save my money from doing chores and in the end, he was mine!"
Suraya and her family also fell in love with a couple of the horses they were fostering, and wound up adopting them. "We have adopted two horses from Bluebonnet Equine Humane Society, and they have been our best friends," says Suraya. "We've done trail rides, playdays and barrel races on them."
Emily discovered her horse Tucson at the Appalachian Trainer Face Off, an event sponsored by Heart of Phoenix rescue that pairs adoptable horses with trainers for 100 days, leading up to a competition showcase and adoption fair.
She and her family adopted Tucson in 2018. He was still pretty green and needed more training, but Emily was willing to put in the work.
"After a whole year, we're still learning," she says. "But it's the little accomplishments every day that make it all worth it. Once he realized that I truly cared, he has given me his all. There will never be another horse like Tucson. He is the perfect horse for me."
A big advantage to horse adoption is that you can learn about the ani- mal's health, temperament and training in order to make a good match for both of you.
The horses have usually received a lot of veterinary care to make sure they are healthy enough to be adopted. And when you adopt one, you are actually helping two by mak- ing room for the organization to take in another horse in need.
"Every horse has his own story," says Caila. "Many end up at the rescue because their owners are sick or can't take care of them. Some were abused, like my horse. But all of them are amazing and deserve a home."
Speaking Up to Help Horses
If you see a horse that looks like it's suffering from neglect, what should you do? We get this question from concerned readers quite often, so Young Rider asked the experts at the American Society for the Prevention of Cruelty to Animals (www.aspca.org) for some advice.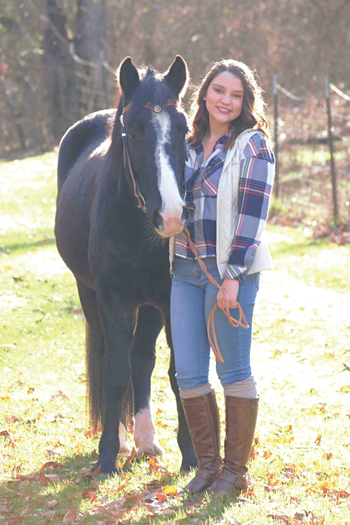 What to Look For
Every state has laws about basic standards of care for horses and other domestic animals. It varies by state, but the requirements usually include access to nutritious food, clean water, proper shelter and necessary veterinary care.
While there is no one telltale sign of neglect or cru- elty, some things to look out for include horses that appear to be severely underweight, that do not have access to proper shelter, or that are suffering from untreated injuries.
What to Do
If you think a horse might be in need of help, here are some tips from the ASPCA.
Do: Tell an Adult
If you suspect an animal is being abused or neglected, please speak up and tell an adult. The adult should then report any suspicions of cruelty to a local law enforcement agency, humane organization or animal control agency.
Do: Take Good Notes
Put together a written statement of what you observed, giving dates and approximate times whenever possible, to provide to law enforcement. Stick with facts and clear information.
Don't: Put Yourself in Danger
Do not enter another person's property without permission, and always be very cautious around unfamiliar animals who may be frightened or in pain.

This article about kids helping horses originally appeared in the November/December 2019 issue of Young Rider magazine. Click here to subscribe!