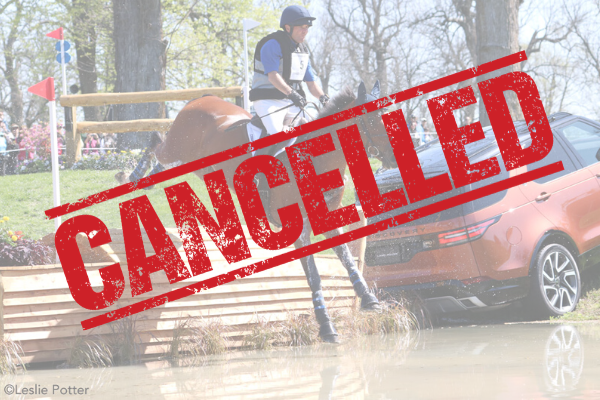 Equestrian Events Inc. (EEI) is cancelling the 2020 Land Rover Kentucky Three-Day Event presented by MARS Equestrian and the Kentucky CSI3* Invitational Grand Prix presented by Hagyard Equine Medical Institute. The events had been scheduled for April 23-26 at the Kentucky Horse Park.
"This marks the first cancellation in the event's 42-year history, but the worldwide health crisis and concerns about the spread of the COVID-19 make this the only decision possible," said Lee Carter, EEI Executive Director. "This is incredibly disappointing to everyone on so many levels, but the health and wellbeing of everyone—spectators, volunteers, athletes, staff and officials—is our number one priority, and given the current situation, there really is no choice."
"Sporting events and large public gatherings are being called off all across the country, and it is with deep regret, and with the highest concern for all our patrons, that we take this step," said Mike Cooper, EEI President. "With the recommendation by the CDC to cancel or postpone events with guests for the next eight weeks, it became apparent that this was the only acceptable course of action."
If you purchased tickets to the now-cancelled Land Rover Kentucky Three-Day Event or the Kentucky CSI3* Invitational Grand Prix, refund information will be emailed to you soon, according to EEI.
Read more about the impact on the horse industry and catch a list of impacted events and statements from organizations about COVID-19 at www.horseillustrated.com/coronavirus-impact-horse-industry.