Samantha shares the gold nuggets of knowledge learned in a four-day clinic with Bernie Traurig.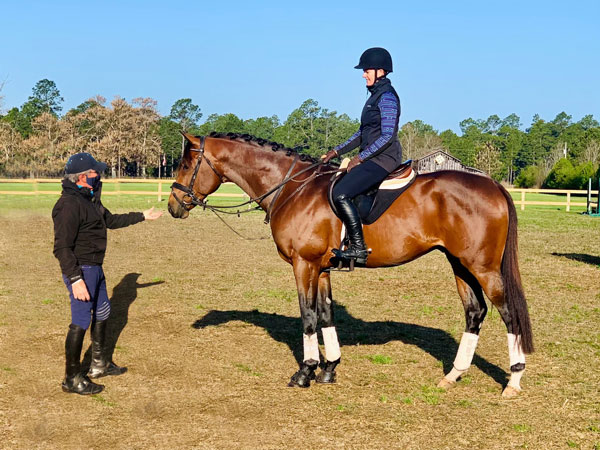 If you've ever ridden in a clinic—or even just thought about it—there are few names better known than Bernie Traurig. And for good reason: After winning the Maclay Medal Finals at age 16, he went on to reach the very top of not one, but three sports: show jumping, eventing and dressage. He now travels the country as a top clinician, sharing his knowledge of over 50 years of riding and training techniques.
I had the pleasure of both participating in and auditing Bernie Traurig's clinic that took place the first weekend of April at Morning Line Farm in Southern Pines, N.C. Bernie gave two days of private lessons on Thursday and Friday and then two days of progressive group lessons in height sections on Saturday and Sunday.
Days One and Two
The private sessions during the first two days helped him to zero in on which issues the riders most needed help with so that the group sessions ran smoothly. Not every rider was able to join for the private sessions, but already having established a rapport with at least half of the riders in each group helped the group lessons to move more quickly and smoothly.
Each group session lasted two hours, and Bernie was sure to make use of everyone's time very effectively. All participants wore earpieces tuned into Bernie's microphone, which made it possible for all directions and explanations to be given while actively riding.
Bernie encourages a workmanlike, get-down-to-business attitude, and holds riders accountable for their use of time. If a rider isn't ready to begin an exercise directly after the previous rider, or if they make a simple mistake, such as not following instructions of whether to turn right or left, he says, "Tick-tock!" As a riding instructor myself, I appreciate his attitude toward efficient time usage for maximum learning.
Because he did such an excellent job managing the group's time, each group was able to accomplish quite a bit each day. He took time to work with each rider individually within the group and would send a rider back through a specific part of the exercise to highlight a certain skill he was teaching them. Once he saw the changes made that he was trying to produce, he would be instantly ready to switch gears to the next person.
Days Three and Four
Saturday was mostly smaller jumps while participants became familiar with Mr. Traurig's expectations for each horse and rider if they hadn't already done so in a private session.
Sunday turned to larger jumps and coursework. Bernie consistently checked in with the riders, asking if they thought jump heights looked comfortable for their horse or if they felt their horse was still fresh enough to do one more course.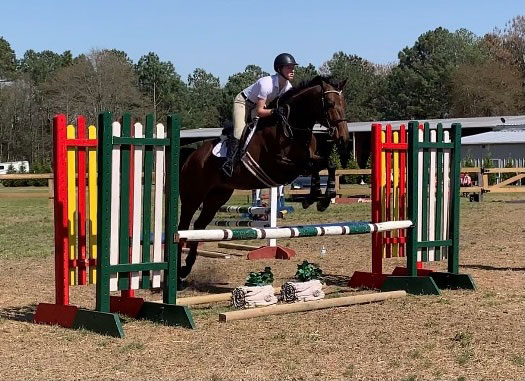 Another aspect that helped to keep the clinic moving was Bernie's belief that flatwork for the jumping horse is often best done over fences. Once the horse is physically warmed up, you can typically begin to collect, extend, ride transitions, or incorporate movements such as turn on the forehand, turn on the haunches, and shoulder-in (just to name a few), all with the intention of preparing the horse to jump.
His viewpoint is that horse and rider will benefit more if you proceed to exercises with poles and/or small jumps immediately following the warmup, so you're facing the exact same circumstances and course questions as you will at higher fence heights. This was one of my personal favorite takeaway concepts, and so far, it has greatly increased my horse's interest in flatwork and in jumping smaller jumps accurately.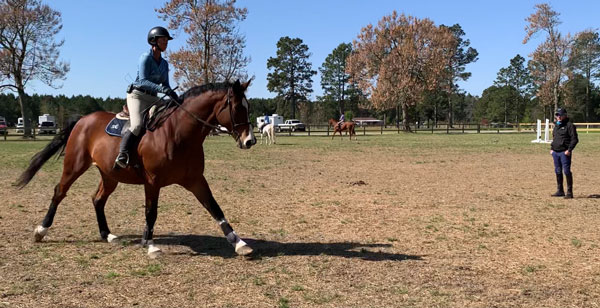 Thoroughbred Fever
Bernie is a huge fan of the Thoroughbred breed and has started the nonprofit organization Wellspring Thoroughbreds, which focuses on acquiring and showcasing the best of the breed to demonstrate what Thoroughbreds are capable of in their new careers, and then offering the horses for an affordable adoption fee.
His work with Thoroughbreds is well known to the public, meaning that many clinic attendees were mounted on green Thoroughbreds, excited to get Bernie's advice.
Clear Communication
Although I leased a seasoned horse for the clinic (thank you, St. Andrew's Equestrian!), through auditing the entire day Saturday, I was able to get a feel of Bernie's system for green horses, which can also be applied to situations with seasoned horses where they don't seem to "get it."
Bernie is a big advocate of the opening rein, especially for horses that don't completely understand the leg aid. He also emphasized the use of a bracing forward leg in downward transitions, which keeps the rider's leg off the horse to prevent an accidental cue for additional forward motion.
If a green horse stopped at a jump in the clinic, he encouraged the horse to touch the jump with its nose, then circle back and try again without punishment. Nearly every time, the horse would happily jump upon the second attempt.
Bernie Traurig was very encouraging to the participants, no matter the rider's age or experience. All riders were held to a high standard that I know he felt all of us could reach. I flew home excited to try out his methods on my personal horse and to relay his teachings to my students.