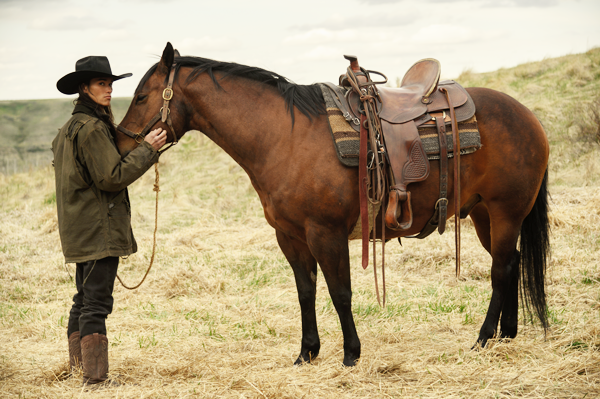 Most little boys grow up playing cowboys, especially when they grow up on a ranch. So, when actor Booboo Stewart was offered the role of a native loner in the newest Neo-Western thriller movie, Let Him Go, it was a full-circle moment.
You may have seen Stewart battling mythological creatures as part of the
Twilight
saga and
X-Men: Days of Future Past
. In
Let Him Go
, Stewart plays Peter Dragswolf, a lone young man who is a survivor of the Indian Residential Schools, a real program established in the United States with the aim to assimilate Native American children into American culture. The main characters, George and Margaret Blackledge, played by Academy Award winners Kevin Costner and Diane Lane, are out to find their only grandchild and widowed daughter-in-law and rescue them both from a dangerous family living off-grid in the Dakotas. Stewart's character befriends the Blackledges, even though he's wary of companionship.
"(Peter's) past is one of extreme hardships," explains Stewart. "Because of all he's been through, he's excluded himself and lives on the outskirts of town."
Stewart did a lot of research into the residential schools, which were active from the late 1800s to the 1980s in order to get in touch with his character and to understand his isolated lifestyle. Working alongside horses wasn't much of a stretch for the actor, thanks to a childhood spent on his family's ranch.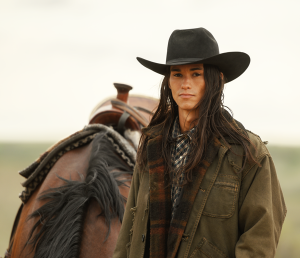 The 26-year-old actor was born Nils Allen Stewart, Jr., in California. His dad, Nils Allen Stewart, Sr., is a professional stuntman, and his younger sister, Trent Heaven "Fivel", is also an actress. Stewart teamed up with Fivel and another sister, Maegan, to form the Disney hip-hop/pop group TSC (The Stewart Clan). The family, along with mom Renee, spends a lot of time together on the ranch still.
"It's such a blessing to have grown up playing in the dirt…" he says. "Having the ranch to get away from the city life makes a great balance."
One particular horse has a special place in Booboo's heart. "His name is RimRock," says Stewart. "He's definitely one of the sweetest horses."
Stewart continues to talk about how the Paint gelding is a truly gentle horse, sharing the pair's special connection. "He has taught me so much about patience and how to communicate without words."
Stewart was honing his horsemanship he used for the movie Let Him Go for years, growing up on horseback when he wasn't in the studio. "I definitely showed the most horsemanship in this film than I have before," says Stewart. "But I feel like I have so much more to show. I'd love to have the opportunity to ride throughout an entire film and do a military or Western film."
The experience of working alongside a pair of screenplay legends like Costner and Lane can make any young actor's knees shake. "I definitely had a lot of nerves going into the shoot," Stewart admits. "They are such legends."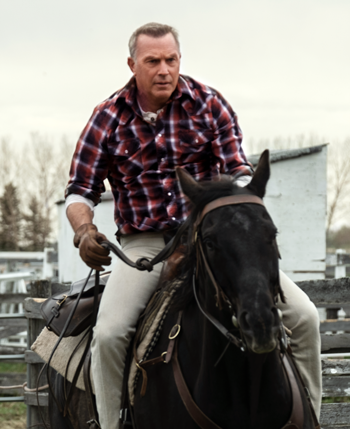 Stewart took the opportunity of working with the pair to soak up as much knowledge and experience he could, spending time between movie shoots for Let Him Go getting to know Costner and watching the cast perform when he wasn't on camera.
"Costner is amazing," says Stewart. "He's so kind, extremely generous and listens to everyone. He's someone I really admire."
Stewart is already back on set working on more projects, but he appreciates having the family ranch to find refuge when the hours are long. "Getting out on the trail is like pressing a reset button—it's just so relaxing," he says.
When asked if he had a dream horse he'd love to own, Stewart laughs and shows his devotion to RimRock. "I really love my guy," he says. "I'd feel bad talking about another horse behind his back."
View this post on Instagram