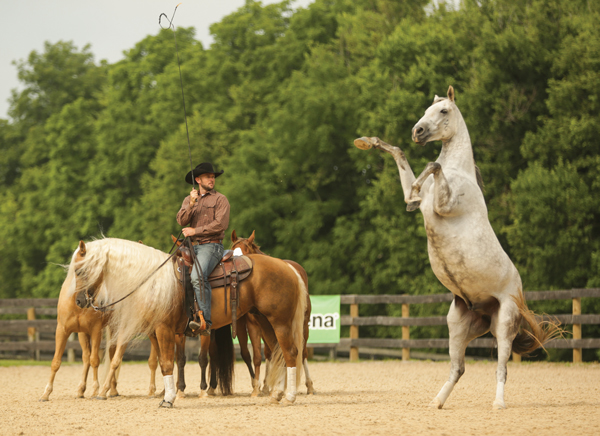 Partnership with your horse, fun with friends, the opportunity to showcase your skills: the International Liberty Horse Association (ILHA), a new organization dedicated to liberty training, now offers opportunities to liberty fans worldwide.
From Roman riding bareback to jumping without tack, liberty training brings horse and trainer together with a special connection, whether individually or with other horses, ridden or on the ground.
Creating a Showcase
Formed by trainers Dan and Elizabeth James with the mission of celebrating liberty horses and their people, ILHA offers an organized venue to promote liberty training through recognized shows with tiered levels, competition rules, and an emphasis on safety coupled with creative expression.
"The idea behind the association was threefold: both Dan James and Dan Steers [of Double Dan Horsemanship] do liberty clinics, and people come back every year," explains ILHA CEO, Elizabeth James, Ph.D. "Everyone is excited to show what they have achieved with their horses over the year; this is almost as big a highlight as progressing on from the clinic itself. We see people put a lot of time into it. They are talented, their horses are talented, and the clinic [was] the only place they [could] showcase it."
Elizabeth, a Retired Racehorse Project (RRP) Thoroughbred Makeover contestant, realized trainers preparing Mustangs and Thoroughbreds for makeover events often include liberty in their performance. These equestrians didn't have a public venue to school their act beforehand as other disciplines would, such as going to a schooling show to practice a dressage test or ride a full hunter course.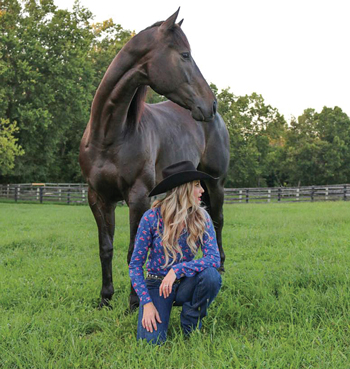 Camaraderie in Training
The final catalyst in deciding to found the organization occurred, Elizabeth says, when Dan was a member of the Australian reining team at the 2018 World Equestrian Games in Tryon, N.C.
"The camaraderie between the participants and getting to compete at that level doesn't exist for the trainers who do liberty," says Elizabeth. "There are exhibitions and clinics, but there isn't anywhere for them to compete and be recognized for their hard work and talent in liberty."
Like all good horse training, liberty work incorporates a systematic, step-by-step approach.
"I've always considered liberty to look more like a discipline," says Dan. "It's very similar to other disciplines in that you're developing a foundation, and from that foundation build up through the different levels of tasks. A good liberty horse is really just a well-disciplined, well-broke, patient, easy horse to be around."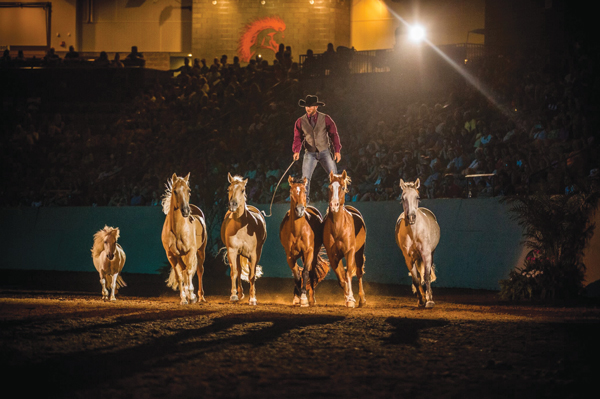 Cross-Training Benefits
To that end, liberty training may also greatly benefit horses working in other fields.
"There are multiple benefits, especially in the sport horse and performance horse world," says Dan. "We get sent horses for dressage, jumping, racing, and reining that may have other issues. The liberty goes into a deeper level of thinking for the horse because he has to do it at liberty, so it's much less mechanical. Teaching them to be liberty horses addresses a multitude of problems that we see that happen in the performance world."
Many horse owners are drawn to liberty work to strengthen their bond with their horse while enjoying new avenues.
"What I think is exciting about liberty is that not everyone who owns a horse wants to ride or can ride, but they are looking for something more to develop the relationship with their horse," says Elizabeth. In addition, Dan explains
liberty training is truly open to all sizes, breeds, and ages, unlike many other disciplines.
"In liberty, you have a lot more opportunity, regardless of the type of horse you have," he says.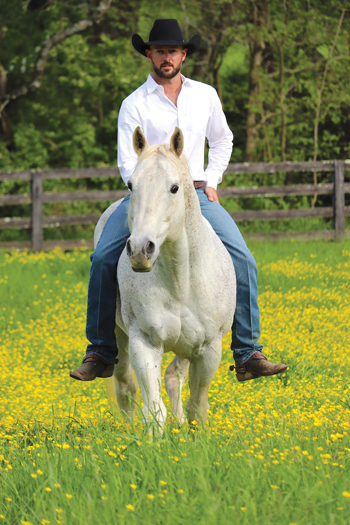 Competitive Classes
The ILHA will offer its first competition, the International Liberty Horse Championship, Oct. 18-20, 2019, at the Kentucky Horse Park.
"What we are looking to do is to bring all styles, techniques, and trainers together," explains Elizabeth. "We want to offer a platform for people to showcase their horses and have a goal to work toward. The idea is to be all-inclusive, from beginner to professional. We offer levels from leadline to working one liberty horse, working one liberty horse off another horse, working a team, bareback and bridleless, bridleless for people that don't want to ride bareback, and obstacles."
Going forward, the ILHA will begin coordinating online competitions, as well as support for others to put on their own event.
"We've had people in France, Canada, Australia, and Sweden contact us wanting to host competitions," says Elizabeth. "Once we get the format ironed out this year, there will be international shows available."
This article about liberty training originally appeared in the October 2019 issue of Horse Illustrated magazine. Click here to subscribe!