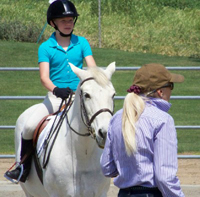 Amanda and Siegen
Four horses and riders from Cornerstone, Sue's stable, entered last Sunday's huntseat equitation clinic. Two of the riders were young girls I'd been teaching: Veronica and Siegen. Another rider was my longtime pal, Debbie. The fourth rider was BJ Bullman, a good friend who helps out at Sue's place. The clinic was split into three 90-minute sessions, and our quartet of riders rode in the intermediate and advanced sessions.
The clinic was held at an equestrian park about 20 miles away. The clinician was
Meg Schulman
, a USEF "R" judge who has judged numerous huntseat medal finals. Though her reputation warrants a certain sense of awe, she has a very warm, approachable personality. That helped make her the perfect choice for a clinic.
I hauled two of the horses: Oliver, the big bay warmblood I sometimes ride, and Amanda, the oversized silver-gray pony. However, before I got to the actual clinic, I had a little adventure. On Saturday evening Ron and I drove the truck and trailer to a nearby gas station to put a little air in the trailer tires. I knew something was wrong when I heard Ron curse loudly. That uncharacteristic outburst was followed by the unmistakable sound of whooshing air. The valve stem had broken and the tire was going flat! That realization forced us to drive like bandits through town, searching in vain for a tire shop that was still open on a Saturday night. One by one we pulled up to the driveway of a tire shop, only to see that the bay doors were pulled tight and the lobby lights dimmed. Then Ron would pull the trailer back into the street and head toward the next potential savior.
How he knew where every tire store within a five-mile radius was located I don't know, but I decided it was A Man Thing.
Our last chance was at the far end of town: a Goodyear dealer. Fortune smiled upon us! Not only was the shop still open, but the lone mechanic on duty owned a Quarter Horse, so he had some sympathy for our plight. He jacked up the trailer and put a new valve stem in the tire—for free, mind you—and then we were on our way home.
I was hoping that incident didn't forebode a bad clinic. It didn't.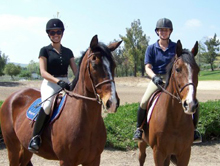 BJ and Veronica
There was a nice turnout for the event. Several barns in the area brought horses, and it was very pleasant to chitchat between sessions with other professionals. We talked mostly about how the economy was decimating the horse show scene at all levels, from the AA-rated winter circuits on both coasts to the small schooling shows. On the brighter side, we acknowledged that a clinic like Meg's provided a chance for riders to polish their skills so that when they did have money for a horse show, they'd be prepared to compete.
So, how did everyone do? I'd say that each rider came away with several things to work on. It was Debbie, however, who provided the day's entertainment. She's an older (*cough*) adult rider who is gutsy and rarely backs down from a challenge. Keep that in mind. Toward the end of Debbie's session, Meg gestured to a line of jumps in front of the grandstand. She explained that the line could be ridden in either five or six strides, depending on the horse's pace and length of stride.
My sister Jill, Sue and I were sitting together when we saw Debbie pick up the pace on Rainy as she headed to the line.
"Oh no," we all said in unison, "she's going for the five!"
Debbie and Rainy both made it through the line in five strides, but not without a death defying moment. When Rainy landed after the second jump Debbie ended up out of the tack, clinging to his neck! We were half afraid to watch, but much like the proverbial train wreck, we couldn't look away. Would she stay on? Would she let go and slide to the ground? Would she land on either of her knees, both of which were recently replaced with titanium artificial joints?
You could literally feel the collective sigh of relief when Debbie was able to scoot herself back in place without tumbling to the ground.
Meg simply said, "Would you like to try that again?"
Debbie said quietly, "Yeah. But I think I'll do it in six strides."
Meg said dryly, "I think that's a good idea."
So Debbie and Rainy took the line again with much less gusto, doing it in six strides. Safely.
By the end of the day, I was worn out. And I hadn't even ridden in the clinic! But I felt like I had, vicariously. Since my riding accident, I don't jump much. It's not that my heart isn't in it; I'm just not physically capable of jumping the bigger, more technical courses. So maybe as some sort of coping mechanism I've developed the ability to sort of ride along with someone else. I can almost feel the horse patting the ground with each galloping stride. I sense the laced reins in my hands. When the horse leaves the ground to take the jump, I relive the sensation of getting a horse to the perfect take-off spot, and then taking flight. I do miss it.
Because I was feeling a little melancholy at the end of the clinic, I was glad that Debbie rode with me in the truck on the way back. It's always nice to have company when you're hauling horses. Since Debbie and I had shown horses together for a decade or more, we reminisced. We laughed about some of our horse show escapades, and spoke fondly of the horses we'd shown. By the time we got to Josie, one of several memorable Appaloosas that'd trotted in and out of our lives, we were nearly home. I knew that I had a couple of sleek Paint geldings waiting for me, and somehow that made me feel a whole lot better.
Back to Life With Horses