There's a rather trite old saying that horses we love "leave hoof prints on our hearts." I'm not sure about that, but the horses I've owned and ridden certainly left behind a lot of photographs. At least that's what I realized once I began sifting through the pictures that were framed on my office wall and tucked within the pages of a scrapbook.
This adventure in reminiscing began when one of my editors at
Horse Illustrated
, Lesley Ward, shared some old photos of her and her past horses gallivanting over jumps and cross country courses. We emailed comments back and forth about the once ubiquitous
rust breeches
and the old style of helmets that were nothing more than plastic shells covered with a thin layer of velvet.
What's particular interesting about reminiscing over old photographs—at least from a horse lover's point of view—is that with one glance you can recall each horse's unique qualities. You remember its quirky habits, its enduring traits and the way the reins felt in your hands when you galloped. With these melancholy sentiments in full bloom, here's a look at just a few of my former four-legged friends: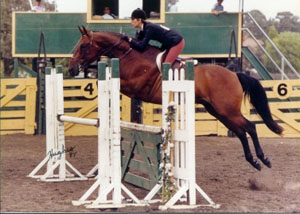 Perhaps the best horse I ever rode belonged to my sister. Baba Yaga (the name of a Russian character from folklore and classical music) was a 17-hand Quarter horse. He had a sweet yet mischievous disposition. Over the years my sister and I won countless equitation and hunter classes on him. In this photo (notice the rust breeches and the skimpy helmet, circa 1984) I'm riding in a 3'6" amateur-owner hunter class. Good ol' Baba Yaga. He dependably won enough prize money to pay for his show expenses.
Rust breeches again! But this time they're an item of casual attire. I was competing here at a summer playday in a jumper class. This is Hammie, one of the warmbloods my family and I raised. Hammie loved competing and he was blessed with great jumping style. He had an exuberant, expressive disposition. He was the only horse I ever rode in a gag bit, but he went remarkably well in it.
I had to include this photo of Hammie. Though he was a blast to ride in the jumper division, he began showing as a baby green hunter, where he was quite successful. Here he's competing with me at Del Mar. I love his expression and his obvious enthusiasm in this picture. He was a joy to ride.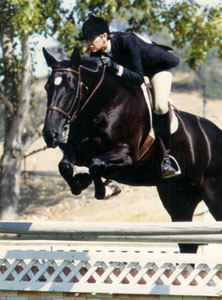 This black mare was named Syracuse. She was an obscure warmblood from Canada. My sister spied her at a sport horse auction and told me to bid on her. I was aghast, because the mare had a plain head and big ears. Fortunately, my sister was persistent, because Syracuse ended up being a consistent winner for me in the amateur-owner hunter division. She was a beautiful mover and a very athletic jumper, which caused the judges to look past her less than stunning profile.
Probably the prettiest—or at least the flashiest—horse I ever owned was this one. Nicknamed "Spot" for obvious reasons, she was a very hot, sensitive, spooky warmblood-Thoroughbred cross that I raised. Yet despite her flighty temperament, both my sister and I showed her in jumpers and medal classes and I don't think she ever refused any jump, regardless of how scary it was. Here we are at a small charity benefit show. I won a silver belt buckle in this class, which I still have. It's a tangible token of all of my memories on horseback. Ah, reminiscing! Thank goodness for photographs.
Back to Life with Horses.