As horse lovers, we spend much of our time teetering on the brink between joy and heartache. Our equine companions bring us much joy, yet they're so fragile that they're always on the verge of injury or illness. That's why, I believe, we're understandably emotional about topics like horse tripping and what I've come to call The Great Slaughter Debate. We're already aware that spending a life with horses leads to very few happy endings. Why make things worse by wantonly exposing horses to potential maiming, abuse and distress?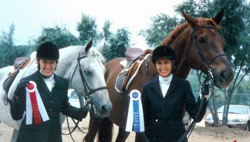 As evidence, take a look at this snapshot. It was taken over a decade ago, before I earned a few wrinkles on my face and when my hair was some color that I've long since abandoned. That's my cousin, Erin, on the left. She's holding the reins of Tudor, a gray gelding that one of my hunter-jumper friends had given me. Tudor was a freebie because he was past his prime as an A-circuit show horse. But he made a fabulous mount for a novice. Erin had a blast learning to ride on him. I'm alongside Jazz, a huge chestnut that my sister had rescued from the last stop before the slaughterhouse. No one wanted Jazz because despite his gorgeous physique and lovely jumping style he had an utterly rotten disposition. Somehow we came to an agreement with him, because we won all sorts of prizes on him. In this particular Kodak moment, Erin and I were celebrating the fact that we'd placed right next to each other in a jumping class aboard the retiree and the reprobate that were salvaged from the rubbish heap.
A few years later, both Tudor and Jazz were gone. Tudor was euthanized because his rampant melanomas had metastasized throughout his abdomen. Jazz developed uncontrollable Cushings and foundered in three out of four feet. It wasn't pleasant saying farewell to these two old guys. But at least I know I was there, patting them until the end, so they weren't alone or scared when they breathed their last. In fact, I recall stroking Tudor's silver forelock before the vet injected him, and thanking him for his loyal service and a job well done.
See how bittersweet life can be when you love horses? There truly are no happy endings. Ultimately, if you love a horse long enough, you have to give them a pat on the forehead and say good-bye until your spirits reunite again. How anyone could deem it suitable or acceptable to put such creatures in the position of being harmed or psychologically shattered because we "humans" deem it appropriate is beyond my imagination.
I'll take the slaughter issue first. I accept that in some parts of the world the consumption of horsemeat is rather ho-hum. In parts of Europe, for example, the horse flesh is displayed right next to the chuck roast. (At least that's what I've been told. For the record, I'm pretty much a confirmed vegetarian). My problem with re-instituting horse slaughter in the United States is the manner in which a horse ends up at the butcher's counter. If you could guarantee me that every horse—whether it's a former stakes winner from the racetrack or a scruffy grade horse from a rental string—was humanely euthanized with the same amount of dignity and grace as my horses have been, then I might rethink the whole slaughter issue. After all, what eventually happens to my horse's carcass once its spirit has left its body doesn't really matter to me. Yet the factory setting of the typical slaughterhouse, and the hourly wage employees who populate those settings, almost precludes that the manner in which horses are shipped to the slaughter plant and dispatched on the killing floor will never be equal to the solemn, private service we award our horses when they're euthanized by a skilled veterinarian at home. And that's why I'm anti-slaughter.
As for the whole horse tripping discussion… I am hesitant to even bring up the topic since an earlier posting on my blog ages ago continues to elicit remarks. Don't believe me? See for yourself: Don't Trip Over the Battlefield.
I'm going to make four points about horse tripping and then label it finished as far as I'm concerned:
It is a non-sequitur to equate the "sport" of horse tripping with any other equestrian sport. Let's take show jumping as an example. An entire industry—from protective leg wear, joint supplements and scientifically researched arena footing—exists to ensure the welfare of horses used in show jumping. Rules governing the sport require vets and stewards to guard against the misuse of medications and the over-schooling of the horses. Judges have the authority to ban a competitor who spanks their horse with a crop one too many times. Finally, the goal of show jumping is to showcase the talent of the animal, brought to fruition only through years of training. Can the same be said for the so-called "sport" of horse tripping? What is its goal? I believe it's to showcase the dexterity of the rope-wielding charro as he deftly yanks the legs out from under a galloping horse. Next, is there an industry formulated to safeguard the welfare of the horses selected as the trippees? Are their legs wrapped, their joints injected, their scrapes and bruises doctored? If they're the least bit sore or stiff, are they prevented from being tripped again? Do the officials at these horse tripping affairs castigate the charros doing the tripping if they appear to be too rough when they fling a horse to the ground? I believe the answer to these questions is, "No."
The argument that banning horse tripping is "racist" is ridiculous. So what if the practice harkens back to Mexican ranching culture? I don't much care. Bullfighting and cockfighting have cultural ties as well, and there are laws against those practices in America, too. Our country may be slow to act in some instances, but for the most part we're an animal-loving bunch of enlightened folks. Many states have taken steps to outlaw horse tripping at Mexican-style rodeos. My state, California, is one of them. Currently, a bill is sitting on the desk of Arizona's governor, awaiting a signature, which will prevent horse tripping in that state. Ole!
I'll grant that there probably have been some instances where roping a horse around its legs in an emergency situation might indeed be the last resort to prevent an even worse tragedy. But why continually re-enact this hypothetical situation? Isn't there a way to maintain or demonstrate this skill without actually using a real, live horse? For example, I own a shotgun and a handgun. I am quite capable of loading and firing both weapons and actually hitting anyone who is messing with my horses or threatening me. But I am not going to rent inmates from the nearby prison for target practice. Instead, I go to the shooting range and plunk away at paper targets.
The Professional Rodeo Cowboys Association has banned any manner of horse tripping for sport or entertainment. And many decades ago the American Humane Society enacted rules against the tripping of horses in films and television. Both of these organizations know far more about the nastiness of horse tripping than me. If they say it's bad, then their word is good enough for me.
So there you go. Those are my final words on slaughter and horse tripping. I encourage you to leave your comments by clicking on Submit a Comment below. But if you're pro-slaughter or pro-horse tripping and you simply want to rant, get your own blog. This one's mine. Life is too short to spend it debating ugly issues. When it comes to spending a life with horses, I'd rather spend my time in search of nice, happy endings for me and my four-legged friends.
Back to Life with Horses.