You probably see the title and think I went on some bizarre Extreme Makeover, lassoing all the cowboys in town and forcing them into a bath and a shave. Nope. The cowboy I'm referring to is the creamy palomino youngster that is the offspring of my mother's Trakehner-Oldenburg mare. I like to think that my sister Jill "enabled" my mother to breed the mare—nicknamed April—although I do take some responsibility for caving in at the last second, giving my blessing so long as April was bred to a stallion that wasn't too huge or too warmbloody. In other words, the resulting foal needed to be something that would (hopefully) be an all-around, useful riding horse. It needn't be a sport horse. It just needed to be a decent…. horse. And thus we ended up with Cowboy, whose daddy was a cremello AQHA all-around stallion from the much-ballyhooed Zippo Pine Bar line.
Unfortunately, Cowboy lost his cuteness and descended into the Yearling Uglies this spring. Ugh. I could hardly bear to look at him. He was all legs and angular joints, and his neck suddenly seemed to be sprouting straight up in the air like a flagpole.
Then something happened. He began to transform. He put on a little weight and his outline softened. His head and neck began to fit his body. His butt got rounder. Jill and I looked at Cowboy and didn't recoil in despair. There might be hope, after all! Thus we decided to put some effort into cleaning up Cowboy.
I started with the mane. Once it was brushed out, it became evident that Cowboy had perfected the art of growing hair. His mane was a lovely, platinum blond. For a moment I considered all the beautiful horse hair bracelets his mane might make if only allowed to grow a little longer. Oh, the crafters would go crazy with gobs of his creamy-white mane!
But then that thought passed and I whacked most of it into a blunt cut with a pair of scissors.
With his mane about six-inches long, I started in with what Jill and I call the Mane Blade Thingy. It looks like a pocket knife, but it's actually has a rounded tip and a serrated edge, much like a hefty clipper blade. It's great for shortening a mane without actually yanking out the hair. Plus it leaves a nice, natural, blended look to the ends of the hair. No one would ever know that I cheated by cutting off a bunch of mane with the scissors.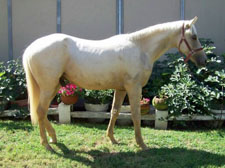 After Jill and I "convinced" Cowboy that yes, indeed, he did want to have his whiskers clipped (it's been a while since his last shave, so I can't blame him for his initial objection), we stood back and admired him. Wow! What a difference a little bit of cosmetic attention makes! Who knew that an attractive young fellow lurked beneath all that hair? Maybe Cowboy will end up as an all-around, open show competition horse just like his dad, after all.
Back to Life with Horses.