There are rain showers in the long range forecast, but lately the weather out here has been near 80 degrees. That means that I have the luxury of doing horsey chores that typical winter weather would prevent.
Recently I fired up my heavy-duty clippers and body shaved both Wally and Joey. While they're "only" recreational riding horses, I am used to having my horses separated from their shaggy coats during the winter months. I know that's because I rode in the show ring for several decades, where hairy horses are a rare sight. My eye is simply used to seeing sleek horses all year long. But even more so, I body shave Wally and Joey because the natural environment of Southern California is a desert. As proof, I refer back to my comment about the 80-degree temps we're enjoying in mid-January. While Wally and Joey probably don't grow the same density of winter coats as, say, the horses in Minnesota, they nonetheless end up hot and sweaty and plain ol' yucky after a workout if they aren't body shaved. It's like me putting on a heavy fur coat and running a few laps around the block in 80-degree weather.
Of course, the trade-off is that I have to blanket the two red and white geldings each night, but that's not much of a problem. After all, I'm out there saying goodnight, anyway.
When it came to body shaving Wally, he stood like a rock, despite his nefarious temperament. He generally doesn't enjoy being messed with. But I think he interprets body shaving as one long, vibrating massage. When I finished with Wally, he looked stunning. Honestly. Faint dapples were visible across his back and he was a yummy caramel color with hints of metallic gold and copper.
Joey, on the other hand, ended up the color of an old pumpkin. Or squash. And because he fidgeted non-stop, continually turning his head as if to ask me, "What's ya' doin'?" my body shaving job on him ended up looking far from professional. I was almost apologetic. I saw so many clipper marks and ruffled tufts of hair that he looked more like a high-low shag carpet than a well-bred APHA three-year-old. For a couple of hours I contemplated hiding him from public view until his coat grew out. Fortunately, I gathered up my confidence and conquered the mess (mostly) by using my small, battery-operated clippers, blending away the borders between coiffure and calamity.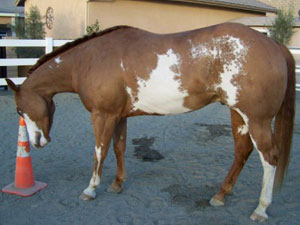 Even with the newer and improved body shaving job, I still wonder just what poor little Joey thinks of me and my clipping skills. For example, in this snapshot of Joey he seems to be finding solace by playing with his cone, while pondering, "Why did my mom give me such a dorky looking haircut?"
Across town at my parents' place, fondly referred to as El Ranchito, I started introducing Cowboy to the bridle and surcingle. He is now officially two-years-old, and my philosophy of starting babies is to get them acquainted with their future career early on. If undertaken with patience and consistency, I believe it helps develop a good work ethic in a young horse.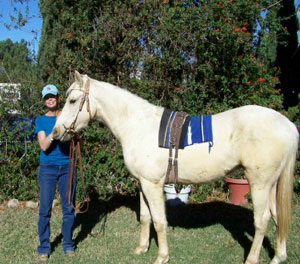 Please don't misunderstand me. I do not believe in breaking and continuously riding leggy, growthy two-year-olds. It can damage joints, strain tendons and create a sour attitude.
Instead, I like to build on a foundation, step-by-step. In Cowboy's life, that began soon after he was weaned. This way, each time I present something new, he greets it as yet another interaction with Auntie Cindy. There's little or no rebellion, only curiosity, like, "Well, this is interesting. I wonder what we're going to do now!"
On the Cowboy Kindergarten Flow Chart, his progress thus far has gone something like this:
1. Lead, turn and back up with slight pressure from the lead rope. Comprehend the command to "come ahead."
2. Stand quietly. Allow feet to be picked up and cleaned. Stand quietly while the farrier trims hooves.
3. Learn to tie up and stand patiently while groomed.
4. Get accustomed to the clippers.
5. Learn to accept longe line and longe whip as learning tools; learn to longe for very brief periods of time, responding to voice commands.
6. Walk, trot and canter alongside lead pony while out on trails. Be introduced to various sights and sounds of the trails, including traffic, unfamiliar horses and assorted livestock.
7. Load and haul quietly in the trailer, both with another horse and alone.
8. Haul to unfamiliar sites and behave in new surroundings.
9. Spend time away from home, at least several nights in a row, in unfamiliar surroundings.
10. Get accustomed to being tacked up, and wear the equipment while supervised for prescribed periods of time. This process began with just a fluffy bareback pad and has progressed to a surcingle and Navajo saddle blanket, plus a bridle with a full-cheek, soft rubber snaffle bit.
And that's pretty much where Cowboy is now. It's been quite uneventful. I really enjoy his inquisitive nature and his overall "ho-hum" attitude about the next step in his education.
Since we're officially in a drought—and it is indeed winter, even here—I fully expect the rains to start up again and a cold snap to settle in. That will mean my mundane horsey chores and activities will come to a halt until springtime. Wally and Joey will be safe from my clipper-wielding hands, and Cowboy will get to hang out and grow up some more until school starts again.
Back to Life with Horses