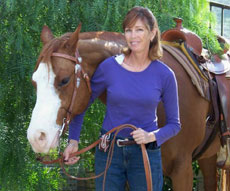 As you probably know by now, I'm a recovering Bling Queen. I was forced to keep my penchant for bright, shiny objects in check for decades while I competed on the hunter circuit, where the only thing that sparkled was my horse's d-ring snaffle. But once I became fairly immersed in western riding I was introduced to a world where little, faceted aurora borealis crystals were glued and riveted onto everything, from belts and buckles to cowgirl t-shirts and spur straps. The constant onslaught of prismatic rainbows soon wore me down, and I admittedly went crazy, buying up gobs of horsey stuff bedazzled with glitz.
Eventually, about the time I purchased a ball cap slathered with enough crystals to blind a jet pilot, my senses reached the point of satiation. I have officially seen and accumulated enough bling. I'm done.
The same sort of thing happened with me and Snickers bars years ago. I was infatuated with the gooey, nutty candy bars until one Halloween when a friend dared me to eat an entire bag of the "fun sized" Snickers meant for trick-or-treaters. I made it about two-thirds of the way through until I had tasted enough nougat to last me a lifetime.
That's pretty much where I stand with crystals. I am quite literally fed up with them and their flickering kisses of fiery orange and winsome lavender.
My acquired distaste for crystals came to a head recently. For Christmas, Ron bought me (and Wally) a new headstall and reins made from caramel colored harness leather. It was utterly devoid of any fancy touches, except for some cream colored stitching. As part of the gift, Ron allowed me to personalize the headstall with conchos and buckles of my choosing. I picked out a pair of antiqued silver-toned heart conchos for the browband. Then I added buckles that matched, only they featured a little floral design. It was just enough pizzazz to make the working class headstall look special. I loved it!
My trail riding buddies were all quite smitten with the new bridle, too. And then one of them innocently offered to "bling it up" by adding crystals to the conchos and buckles.
She was trying to be sweet, but I about fell out of my saddle. "Uhm, no," I said, trying not to offend her. "You have to remember that I'm… I'm…"
That I'm what? A recovering Bling Queen? Dare I admit to my western-riding cowgirl pals that I'd sworn off all that glitters?
I fumbled around for the right words, stuttering as I went, and finally—I hope—conveyed the message that while I appreciated her talents wielding crystals and jewelry glue, I preferred to keep my new bridle just the way it was, plain and simple, with just a hint of sweetness. Very un-Snickers like.
Back to Life with Horses