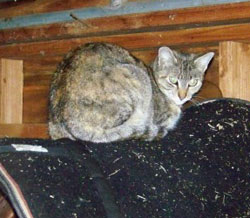 She might not look deadly, but my parents' barn cat is a trained assassin. With questionable eating habits, I might add.
A life spent with horses generally includes living a life with an assortment of other animals. There are barn cats and barn dogs, as well as goats, roosters, donkeys and Tinkerbelle-sized ponies that serve as mascots around the stable. On the periphery, however, are the outliers, those beasties that are not particularly welcomed at the barn but who take up residence nonetheless. They're the hangers-on, like your vaguely familiar, distant relatives who show up for the family Christmas party yet remain in town come St. Patrick's Day. I'm talking about mice, opossums, skunks, raccoons, gophers and squirrels, without any implied offense to my cousin's cousin, Ralphie.
If this were the much-fabled "peaceable kingdom" I'd embrace all the little furry varmints that skitter across my tackroom floor or nestle inside my hay bales. But quite frankly, I don't appreciate my expensive wool Navajo saddle blankets serving as a bedroom suite or my tack soap sponges being nibbled on for breakfast. Plus, some critters can carry diseases that are potentially deadly to my horses. EPM, anyone?
I wish I could just post a multi-lingual sign, complete with visual aids, that conveys a warning to keep out of my backyard barn… or else. But I have yet to discover a universal translator for all species of rodents and fuzzy nocturnal scavengers. So I've taken the non-lethal route as best I can. I plugged up all entrances to my tackroom and make sure I close the door as I come and go, lest I inadvertently invite a mouse (or twelve) inside. Twice a day I sweep the mats beneath my horses' feeders, so scraps of carrots, grain and pellets don't lure unwanted visitors. I keep the lids tightly sealed on my pellet and grain bins. Our household trash is stored separately from the stable area, and we never leave anything edible outdoors and uncovered. I learned this rule while picnicking. If you don't put away the leftover coleslaw, you get bears in your campground. Ergo, if you don't keep your trash cans covered and separate from the horses, you get raccoons, skunks and opossums rummaging around your barn.
I have to admit, however, that my greatest ploy in keeping varmints at bay comes through employing the tactics of Nature vs. Nature. Our hillside is planted with native grasses, shrubs and trees, which has attracted owls, roadrunners and hawks. They do a fine job of patrolling. I've seen numerous hawks perched on fence posts, eating a freshly nabbed lunch with its bare hands. I mean talons. More than one species of non-poisonous snake has slithered past the hitching post, on its way to lunch with some mice, if you catch my drift. And then there is the elusive black and white feral cat that roams around our property. I use my best barn-kitty voice, so as not to scare him/her off when we cross paths. My intentions are to use a humane trap to capture him/her so I can take him/her to the vet for a check-up and to be neutered or spayed (whatever the case may be), but we're not quite at that point yet. Yet I think I'm gaining his/her trust, because lately the stealthy pinto kitty has been leaving me little gifts. I believe they're remnants of the previous night's tasty meal. The other morning I found a perfectly intact gopher head—suitable for mounting on the wall above my fireplace, if I were so inclined—on the top of my block wall, just above my muck cart. Apparently that's the only part of a gopher not considered a delicacy on a feral barn kitty's menu.
As I've shared before, the barn kitty that has attached itself to my parents' place was once extremely wild, too. But she is now quite tame, to the point that she invites herself in to the house and traipses around the paddocks and stalls as if she owns the place. She, too, leaves behind afterthoughts of her hunting endeavors. One empty stall in my parents' barn is referred to as the "Barn Kitty Bistro." It's not unusual to find a set of little squirrel feet and a little squirrel tail in the corner. The rest of the squirrel? Oh, that is far too divine a meal to waste!
Of course, the ultimate irony is that there is plenty of civilized cat food freely available. But it apparently doesn't hold the same gustatory delight.
I know these revelations may be a little too coarse or perhaps gross for some animal lovers. But the reality is that if you're going to have horses they're liable to attract some unwanted guests. I'm not going to be packing poison down holes or plinking shots at scurrying mischief makers, but I am going to continue to put my horses' welfare first by taking preventative measures as well as allowing the natural food chain to function. In the meantime, I'm just saying, in as many ways possible: Varmints, Beware!
Back to Life with Horses