As horse lovers we collect extraneous animals along with our equines. One such animal at my parents' place (affectionately referred to as "El Ranchito") is a pygmy goat named Gabby. She's not a beautiful creature, even by goat standards: Her wiry, stucco tan coat is outlined in black, and her yellow eyes seem exceedingly large for her angular face. With the calluses on the front of her knees she reminds me of a tawdry little woman in cheap, fishnet stockings. Yet we all love her.
Gabby came to El Ranchito nearly a decade ago. My mother's wonderful Trakehner mare died tragically a few hours after foaling. Because we didn't have any other foals that year the newborn bay filly needed a companion. Since goats have earned a reputation for being excellent barn buddies to race horses and show horses alike, we asked around town and found a local pygmy goat breeder who just happened to have a young female available. Since she was a real loudmouth, we named her Gabby.
Gabby and the filly grew up together. In fact, when the filly went to her keuring to be inspected and branded, Gabby went along, too. When the filly was led at the walk and trot in-hand, demonstrating her conformation and movement to the German jury, Gabby strutted her stuff as well. Of course, that elicited some good humored remarks from the otherwise stoic inspectors, who wanted us to know that the little goat had a lot of suspension to her trot.
As the filly matured into a mare, Gabby became a family pet. My father built her a cozy, secure goat pen complete with a ramp and a sundeck. That facility proved to be only a part-time residence, as Gabby's favorite activity remains butting her goat face into every family gathering and dinner party. Since her sundeck overlooks the patio, she usually invites herself to each function, bleating and licking her prehensile lips until someone passes her a tortilla chip or cupcake. Unfortunately, as Gabby has aged—she's a dozen years old now—her overall health is slowly declining. A recurring problem with her is pyometria, which is a uterine infection. Also she's prone to wildly fluctuating hormones. Both conditions can happen in some female goats that are not kept bred. When it's breeding time according to Nature's calendar, Gabby's body assumes it's preggers. She even develops an engorged milk bag and swollen teats.
This must all be wishful thinking on Gabby's part, because she has never been a Mom. Perhaps it's a sign of pygmy goat senility, but she has adopted a family of squirrels who frequently visit her pen and sometimes eat alongside her. She speaks to them in soft, purring Goatspeak and licks their backs while they nibble on Goat Chow. I'm not kidding. (Pun intended).
Gabby's first infection, which occurred several years ago, was nearly fatal. A wizened goat vet from the next county over worked his magic and saved Gabby's life. But then he retired. When it happened again, another goat vet from even further away worked her wonders and Gabby recovered. But we all began to realize that vets who specialized in goats were a rare breed, indeed. So when this latest bout of hormones run amok seemed to be leading to yet another infection, we decided to summon Jennifer, our horse vet. During her schooling she'd worked on goats and sheep and she was comfortable handling them. She arrived at El Ranchito with some literature for us to read about Gabby's problem and armed with a couple of syringes full of medication. Of course, this was not good news from Gabby's point of view. Due to her past experiences she is not particularly fond of veterinarians.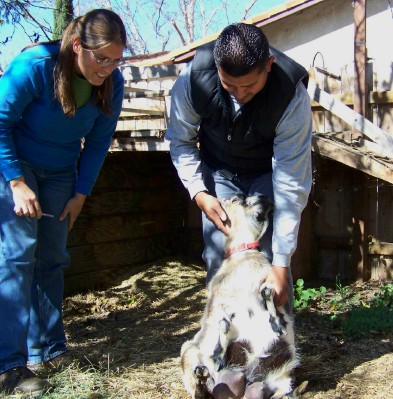 So the first thing Jennifer had to do was get Gabby to cooperate. I figured we'd have to wrangle Gabby to the ground and restrain her, but Jennifer had another idea. She instructed Mark to take a hold of Gabby's collar and gently set her on her butt, so that she was leaning against his lower body. Amazingly, once Gabby was perched in this position, looking like a terrier begging for a bone, she relaxed. It was as if she were hypnotized. Mentally she'd gone to Happy Goat Land.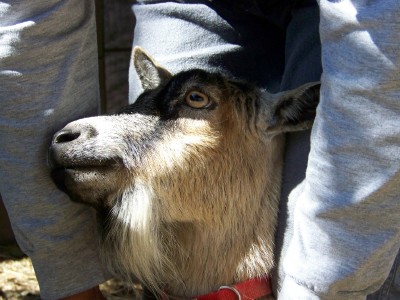 Jennifer gave Gabby a steroid to help decrease the inflammation in her swollen bag and then administered a dose of powerful antibiotics. Then, to help alleviate some of the pressure—which surely must've been painful—Jennifer began to milk Gabby. At first the efforts were non-productive. Gabby's teats seemed plugged or blocked. But then… success! Once the milk flow began it seemed endless. Though the milk was thin and watery, unsuitable for any use, it was prodigious in its amount. Jennifer remarked that the milk did not appear in any way to be tainted with blood or pus, which meant that Gabby wasn't also suffering from a bacterial mastitis.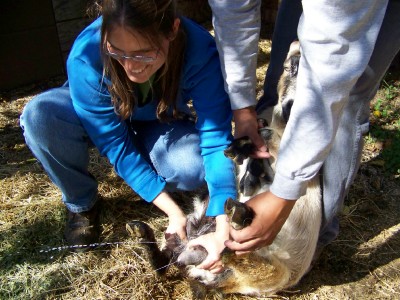 Truly, Gabby seemed relieved afterwards. And so were we! Jennifer returned for a follow-up appointment to check on Gabby and administer another dose of antibiotics. With her milk bag deflated and her pyometra infection cleared, Gabby now seems back to normal. Though she might not have any more foals to babysit, she's still a beloved member of our herd. And that's deserving of an occasional visit from the goat whisperer.
Back to Life with Horses