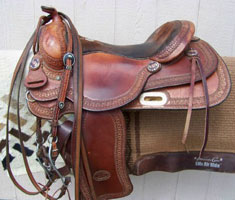 Have you noticed that life—with horses and otherwise—doesn't always go as planned? I had settled into the comfortable fantasy of living with my two Paint geldings, Wally and Joey, until they met a peaceful ending twenty years or so from now. So much for dreams.
Don't get concerned. Neither of my "boys" passed away. But one of them is gone. And it happened very suddenly.
Two weeks ago my life with horses was merrily on course. Then my husband Ron got some alarming news from his doctor. He was going to need surgery, and it was going to have a rather lengthy recovery period. Surprise! The whole experience felt rather surreal, especially when one of the nurses casually related that she had a grulla mare she showed in cutting with Bob Avila. It was like both of my worlds colliding in one swirling mess.
After much contemplation, I made the decision to sell one of my horses. It was the most reasonable option. Because of this surgery, Ron will have to cut back on his work hours for a while. Having one less horse to feed and shoe would ease the strain on our budget. It will also allow me more time to care for Ron. Honestly, despite my obsession with riding and barn chores, I actually do want to look after my husband. Ron has been an extremely supportive partner. Besides my riding accident, which left me in chronic pain and some disability in my right arm, he has also helped me through a decade-long struggle with a bone infection and a miscalculated brain surgery that temporarily paralyzed one side of my face. Plus he indulges my wacky love of horses. How can I not be there totally, unconditionally, for him?
My dilemma, however, was deciding which horse to let go. Wally the Wonder horse, whose tough demeanor was mostly bluff, and masked the fact that he was a bold, keen horse under saddle? Or sweet-tempered Joey who greeted each day like it was a birthday party?
It ended up being Joey. The woman I'd bought him from a year ago had always regretted selling him. She had bred and raised him and shown him in halter classes. Last summer she'd stopped by my house and remarked how much she missed him.
"Please, Cindy, if you ever need to sell him, call me first. I'll buy him back," she said.
So called her. And she did buy him back.
I was supremely fortunate. It was like an answer to a prayer. Joey didn't have to go to a stranger. He went right back to his Original Mom. Trust me, I did pause and wonder how horse owners who didn't have a ready-made buyer found new homes for their horses, especially in this economy. What would a desperate seller do? How could they place their cute little horse when there are already so many unwanted horses out there?
Life with horses can really be tough sometimes. Now I can commiserate with horse lovers who have had to make the tough decision to sell a nice horse. Even though I know Joey went to a great home, it was difficult to see him being led away. I watched the way he happily sauntered to the ramp of the trailer, as if he were excited to be heading off on a new adventure. His apple-shaped rump shone like polished copper in the crisp sunlight and his sorrel tail sashayed like a wide ribbon banner. I closed the iron gate to my driveway and heard his hooves clip-clop across the asphalt one last time. And then I cried.
Back to Life with Horses