What woman doesn't enjoy shopping? When you combine that genetically ingrained compulsion with a passion for horses that can only lead to one place: The tack store. Even better for me, there's a huge consignment store called Thrifty Horse located a mere couple of blocks from my house. Since I've been a little down in the dumps lately, I decided that what my spirit needed was a trip to Thrifty Horse. I wasn't planning on buying anything. I just wanted to browse. I'm often amused and intrigued by the treasures I discover at this emporium of gently used and cast-off equestrian goodies. Here's a look at a few of the items that caught my eye.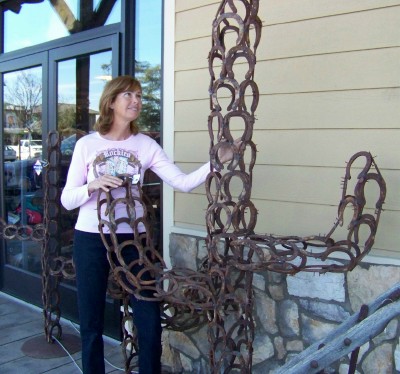 Quite literally planted outside the entrance was a collection of cactus, created from rusty horse shoes. Apparently there's an underground colony of cowboy craftsmen who cobble well worn horse shoes into art. I had no idea. Does this mean I can negotiate some kind of rebate if I recycle Wally's old shoes?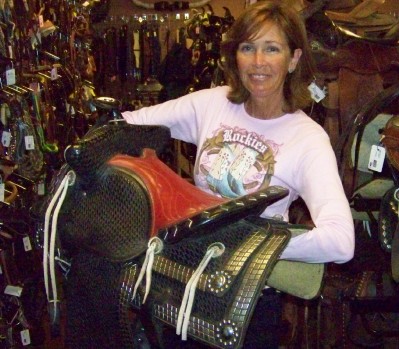 There are exquisite silver-laden parade saddles and then there is… this one. Maybe this is sort of a starter parade saddle, like one you'd use when you're forced to ride at the end of the parade, behind the final marching band.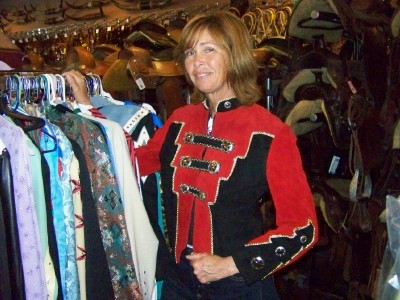 As someone who was forced to wear navy and tan for three decades on the hunter circuit, I love browsing through the colorful racks of used western show apparel. However, I wasn't too fond of this jacket, which seemed to match the parade saddle. But I think I finally solved the mystery of what became of Michael Jackson's old wardrobe from the early 1980's.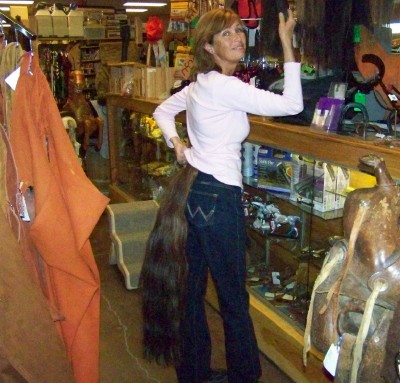 I couldn't resist trying on a tail. I chose one off the rack that came close to matching my own hair. I think I'm a dark sorrel with flaxen highlights. Truthfully, I like the concept of having my own tail. Either that or I saw "Avatar" one too many times.
My little horse shopping trip did the job. I felt much better by the time I left the store, especially after I cuddled for a moment with a big, floppy stuffed palomino. Yes, even for a grown woman, there's nothing like a hug from a horse lover's version of a teddy bear.
Back to Life with Horses