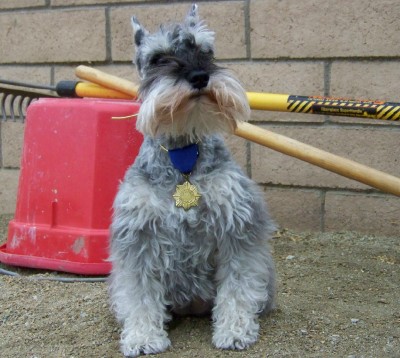 Fame, fortune and biscuits await the BEG gold medal winner in Critter Jumping.
The horse world is abuzz about WEG, the upcoming World Equestrian Games. But I'm never going to compete at a world class level in any horse sport, which leaves me feeling a little disconnected with WEG. So I decided to create my own version. I'm calling it BEG: The Barnyard Equestrian Games.
While I'm sure that many of you could come up with all sorts of competitions for BEG, here are the four I've designed:
Critter Jumping
Following a series of species-specific selection trials, BEG participants present their barnyard mascots in a show stopping jumping event. The course will consist of natural obstacles traditionally found in a barnyard: hay bales, crossed rake handles, upturned wheelbarrows, etc. Various divisions will be offered, including Canine, Feline, Miscellaneous Livestock, and Poultry. (Note: Miniature horses are considered "ringers" and are therefore not permitted in this competition). Jumping faults are incurred for knocking down obstacles, flying off course or attempting to herd other participants.
Feed Bucket Freestyle
In this event, which is choreographed to music, competitors combine their artistic, athletic and culinary skills to prepare a typical evening's offering of filled feed buckets. Competitors are expected to keep the scooping of pellets and grain in-sync with the tempo of the music. The Feed Bucket Freestyle is judged subjectively on grace, mannerisms and expediency as each competitor juggles similarly-hued rickety feed buckets while teetering precariously on a wooden hay pallet. In the dark.
Budget Busting
Inspired by the sport of reining, this event pairs horsewomen with their male Significant Others and then critiques their sense of communication and control….or lack thereof. Judges will position team members 20 yards apart. Then, at the ceremonial Dropping of the Debit Card, the horsewomen will summon their menfolk. Sprinting at top speed, the men are brought to a sliding stop when their female counterparts present them with the outstanding balance on their farrier bill. Bonus points will be awarded to the pair whose male teammate displays the most dramatic spin and whirl before bolting to the out-gate.
Cross Country Muck Carting
As the culminating highlight of BEG, competitors are required to push a fully loaded muck cart through an exhilarating course that wends its way around the barnyard and stable. The gravity-defying challenges include weaving around horses standing in crossties, avoiding being broadsided by the feed truck, dodging blood-sucking horseflies, and navigating a fearsome water hazard that simulates the real-life tragedy of accidentally going off and leaving the hose running in the back paddock. Faults will be incurred for exceeding the time allowed on course. In addition, there will be 4 faults added to the score for each ball of manure that tumbles off the muck cart.
See? Aren't these the type of competitions we can all enjoy? So let the Games… the Barnyard Equestrian Games… begin!
Back to Life with Horses