I finally got around to sorting through a stack of old horse photos. By putting them in chronological order I could relive much of my life with horses. Most of them are old horse show photos, which makes sense, because once I got hooked on competing I dedicated nearly every nickel and every day toward winning a blue ribbon. Naturally, each photograph—regardless of how faded or worn—brings back memories. I can recall each horse, complete with its own peculiarities, just as much as I can remember what color of ribbon (if any) I received that day.
I can also get some good laughs from the photographs. My, how styles have changed on the horse show circuit! With that in mind, allow me to be your trail guide as we all take a look at me, some of the horses I showed, and the clothes I wore when I first began competing, three decades ago. Yes, this is a flashback to the 1970s!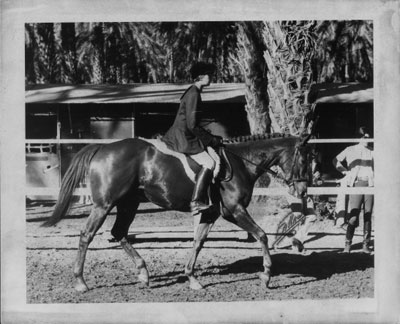 Photo #1: Here I am aboard a Thoroughbred gelding named Bubbles who belonged to my trainer. I'm showing at the original version of the famed A-rated Indio horse show. It's 1971 and hunt coats are cut long in the torso so they drape across your thigh. Exhibitor numbers are displayed on a large cardboard disk with a metal hanger that hooks into your collar. If your horse is cursed with a rough canter the number will flop and twist against your back like a pendulum on a malfunctioning clock. Sometimes, in a stiff wind, they take flight like a Frisbee, which is not a good thing in a flat class. Also note the saddle pad. Real sheepskin—I mean the entire hide—was in style, and extra fluffy was considered divine. Honestly, I remember it felt like I had a whole sheep squished underneath the saddle. And believe it or not, I won this equitation class!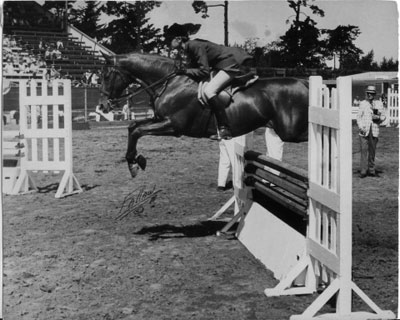 Photo #2: Later that same year I was riding a different Thoroughbred gelding that also belonged to my trainer. This elegant little horse's name was, appropriately, Sweetheart. This was a junior hunter class at the Sonoma County Fairgrounds in Northern California, another A-circuit show. Notice that there are real spectators in the grandstand. And they aren't all Horse Show Moms. People actually came out to watch a horse show. Imagine that! I also get a kick out of the tack my horse is wearing: a Tom Thumb Pelham plus a running martingale. Today, a running martingale is a big no-no in the hunter division. And a Pelham won't win you any bonus points with a judge today, either. But back then, tack styles were different. So were the jumps. Notice these aren't any modern day foo-foo obstacles that look like a florist went crazy with a construction worker. Nope, these were no-nonsense, mostly vertical jumps without any ground lines. To be successful in that era, our horses had to jump bravely from a forward gallop.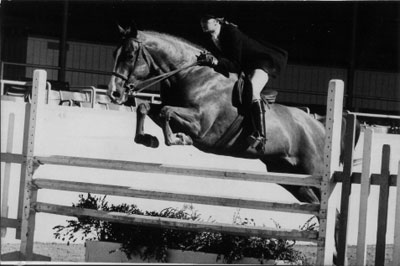 Photo #3: This photo is from the big Santa Barbara Thanksgiving show. I'm riding my own horse this time, a quirky AQHA gelding named Sunny. It was mid-November, so he's body shaved and slick. I'm riding in a special junior hunter stakes class. We were required to show in "livery," which is an outdated term for formal attire that resembles apparel worn on the hunt field. Like, right. I belonged to a real hunt club. Me and my chunky sorrel Quarter horse. But at any rate, you can see that instead of a choker I'm wearing a stock tie, and my hunt coat is solid black. Speaking of black, my black dress boots were an off-the-shelf brand called Marlborough. Like many other riders, off-the-shelf boots weren't tall enough for my long, narrow calves. The solution back then was to attach patent leather cuffs to the top of the boot. You could easily gain a whole 4-inches in height that way. Voila! My boots became magically taller.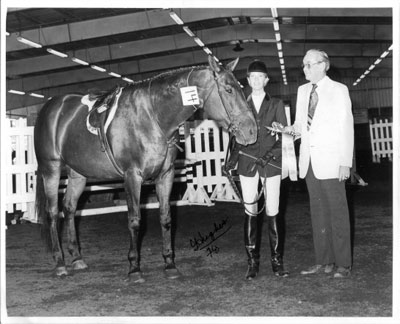 Photo #4: Horse show styles evolved by the time this picture was taken in 1978. As you can tell by my star struck grin I just won a large amateur-owner hunter class on my sister's wonderful AQHA gelding, Baba Yaga. This is the era of the velvet collared hunt coat. And miracle of miracles, I am wearing a pair of boots that actually fit my legs! And they don't have shiny patent leather tops! That's because I scrimped and saved to buy my first pair of custom boots, which by now were a Must Have item for anyone who was a serious equitation competitor. That's because there still weren't the wide range of heights and widths that are available at tack stores today. See how clean my boots are? See how the horse glistens? See how tidy my tack is? My attention to detail is to be admired, however, notice that my slipshod nature still comes through: I lost my original exhibitor number, so I hastily made a new one using some old piece of cardboard I found and a felt-tipped marker. Oh. And the reason the number (ugly as it is) is tied around the horse's neck is because in the rated hunter divisions you're required to lead your horse into the arena at the jog, so the judge can confirm that the horse is serviceably sound. So you tie the number to the horse's neck so it can be easily seen. I think my hideous, tacky homemade number makes a remarkable contrast to Baba Yaga's lovely braids. I guess I'm like a hillbilly at heart, even on the A-circuit.
See? Who says I can't make fun of myself! I encourage you to collect photographs as you spend your life with horses. Some day you'll browse through them and get a history lesson. And a few smiles.
Back to Life with Horses