Thanks to my job, I've been able to interview many well known personalities in the horse world. And now I'm going to use those interviewing skills to ask questions of the brawny Paint gelding that lives in my backyard. Why? Because my horse Wally is one of the most memorable personalities I've ever encountered. So in the role of a HorseChannel (HC) correspondent, I'm going to chat with Wally. You might be surprised at some of his personal insights.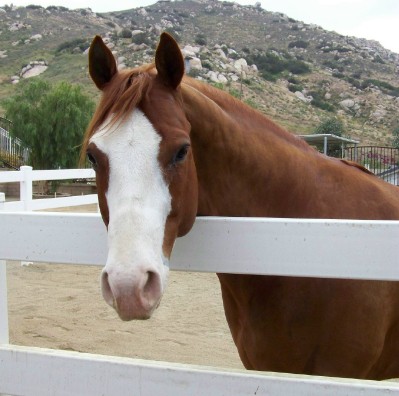 Wally sits down for an interview
HC: Thanks, Wally, for taking some time out of your busy schedule for this interview.
Wally: No problem. I'm finished with my breakfast and lunch won't be served for another hour. So I have some free time.
HC: How do you spend your free time?
Wally: I stand under the pepper tree in the far corner of my paddock and survey the neighborhood. I can see everything from up there. The trail. The arena. The annoying Chihuahua next door.
HC: So it's like watching TV.
Wally: Well, it's not like I'm up there watching "Oprah." But it is entertaining. Plus I have an unobstructed view of the backdoor of the house. No one can sneak outside without my notice. And then I beg for a carrot. I'm quite good at it. Would you like to see my rendition of, "Please, I Truly Need a Carrot!"?
HC: No thanks. But I have noticed that you've mentioned food several times. Is it fair to say you have a healthy appetite?
Wally: Oh, it's fair to say that my appetite is legendary.
HC: Is there any food you don't care for?
Wally: Orchard grass. It's highly over-rated.
HC: So you're a connoisseur of fine food.
Wally: That all depends on your definition of "fine food." For example, I do enjoy sampling the native vegetation on trail rides. I believe it adds to the overall experience. I've tasted wild sweet peas, buckwheat, sage, lupine. And last month I had a mouthful of wild mustard. That was quite tasty when paired with the drool from the sweet iron bit I had in my mouth at the time.
HC: That's quite impressive. Is there any food item you'd like to taste?
Wally: Small children. I hear they're delicious with carrots.
HC: Surely you're kidding.
Wally: Hey, I spent three years plodding around the show pen in the walk/jog division. You do that and then tell me how you feel about little kids.
HC: Apparently I struck a raw nerve.
Wally: Showing was not a pleasant experience for me.
HC: Because….?
Wally: Because there were too many rules. No grumping at the other geldings. No flirting with the mares in the line-up. No "pretend" kicking at the judge when you jog past. I saw where the Horse Show Train was heading and I wanted off.
HC: But you enjoy trail riding, right?
Wally: Sure. Each trip out is a new adventure.
HC: How nice that you found a different niche where you could excel.
Wally: Yeah, it was either adapt to trail riding or start a new career as a rodeo bronc.
HC: Are you serious?
Wally: Heck yes. In order to avoid the entire western pleasure division I perfected the Duck, Buck and Spin. It got to the point where all I had to do was drop my head between my knees and my rider would start to whimper and pull me up. Worked like magic every time.
HC: So you were ex-communicated from the show circuit because you refused to lope nicely. Did you honestly consider being a rodeo bronc?
Wally: I toyed with the idea. But I decided against it because I'd have to change my name to something more intimidating. Like Ruthless. Or Spine Buster. But all my stuff is already monogrammed with a giant "W." I wasn't going to spend another fortune at Barn, Bath and Beyond.
HC: Any other reason that compelled you to become a trail horse?
Wally: The food. I don't have to do a lot of hard work, but the food is great. Did I mention the carrots?
HC: Yes, you did. Numerous times. But let me ask you this: Is there any aspect of being a backyard trail horse that is not pleasant?
Wally: I'll tell you one. There's a definite drawback to having an owner who's good friends with a vet. It's just a little too convenient. I can always tell when there's some extra money floating around. It gets spent on vet care.
HC: A lot of horses would be envious.
Wally: Really? How envious are they of these two words: Sheath cleaning.
HC: Well, I can see that's a sensitive topic.
Wally: I'd like to maintain some shred of dignity. It's bad enough that every piece of tack I wear is adorned with either hearts or flowers. I have to hang my head in shame every time I pass that Andalusian stallion that lives down the street.
HC: Well, speaking of flowers, I happen to know you've gotten in trouble lately for munching on the plants in your backyard.
Wally: Hey, there's a snap for the gate latch. I'm not responsible if it's left off for, say, 16 seconds.
HC: So you let yourself out of your paddock?
Wally: It's a talent I have.
HC: Any other talents you have?
Wally: I have the ability to make a flake of hay disappear in less than ten minutes. And speaking of hay, I believe it's lunchtime. So I have to go. Seriously. I'm outta here.
HC: Alright, then. Thanks, Wally, for sharing some time with HorseChannel.
Back to Life with Horses