In another life I might have adopted a mustang. I'd do it in this life, but I have a $20,000 computer implanted in my body, welded to my spinal column. That sort of precludes me from dealing with an 800-pound feral animal. But that doesn't mean I can't look at mustangs. And dream.
So when the annual Extreme Mustang Makeover tour made its stop here in Norco this weekend, I decided to drop by and take some notes and photos. It was a real introduction into what it takes to gentle, break and train a BLM mustang. I learned a lot from interviewing many of the trainers who participated in the event. For those of you who aren't familiar with the Extreme Mustang Makeover, the trainers who are selected—based on their resume, experience and connection to the heritage of the American mustang—are assigned a mustang chosen by lottery. They then have 90 days (yes, only 90 days!) to train their horse and then demonstrate what they've accomplished before a jury of judges and, ultimately, a grandstand full of enthusiastic spectators. There's a cash prize for the trainer who gets the highest score and then all the mustangs are adopted via an on-site auction on the final day.
Here are some snapshots I took as I wandered around our town's equestrian park, the site of the Extreme Mustang Makeover. Earlier in the day, the horses had completed a rather arduous trail trial that circumnavigated the surrounding hillsides. Now they were relaxing, and I got to play, "Which mustang would I adopt?"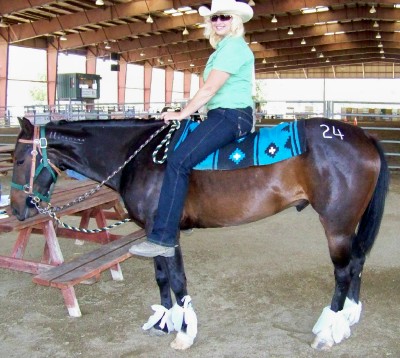 Near the concession stand I met Stryker. He was so calm that I thought he might be in line to get a lemonade. Those are indeed plastic grocery bags tied to each leg. His trainer, Linda, said she used them as de-sensitizing tools. Nifty idea but I think we should just quietly file that concept under "Don't Try This at Home with Your Horse."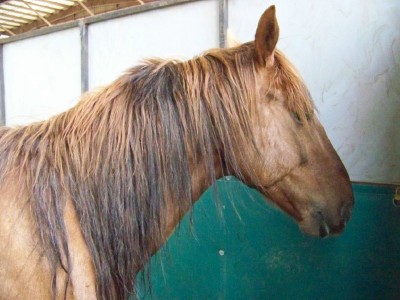 This stout gelding was really working the Big Hair angle. I really liked his overall look and his almost dun-like coloring. In fact, I think my own hair was once this color, a few bottles of dye ago.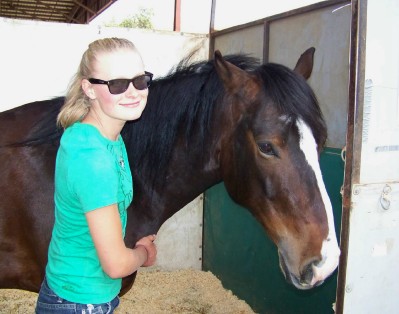 This blaze-faced bay was such a doll. The girl was grooming him for her uncle, the mustang's trainer. Unlike most of my horses, this one stood obediently while she mucked his stall. Are you reading this, Wally?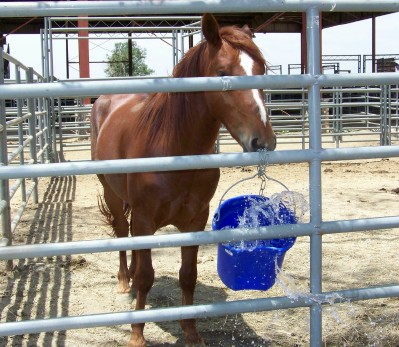 I'm not sure why this pretty red horse was relegated to one of the outside corrals. Gee, could it be because he repeatedly played "Let's Dump the Water Bucket"? He was quite a character. His overabundance of personality made him my choice for the perfect mustang for my sister, Jill. She always picks the kind of loopy, extra-creative horses.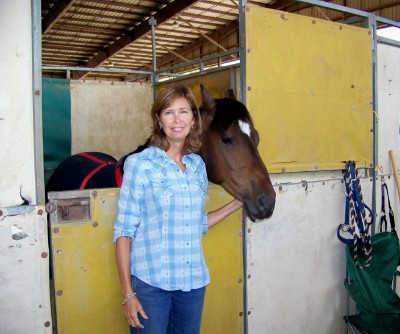 My choice for "Which Mustang Would I Adopt in Another Life" went to Yeager. He could be the fancy pony hunter I never got as a child. Aren't we the perfect match? By the looks of Yeager, I'm thinking either a Morgan or Welsh cob stallion was running wild on the plains of Nevada several decades ago.
Next time an Extreme Mustang Makeover comes to your region of the country, consider attending. You'll be amazed at what a feral horse can do with just three brief months of patient, consistent handling with an educated horse person. And who knows? You may come home with another horse!
Back to Life with Horses