Who among us hasn't collected a few horse figurines? I have a small herd that prances proudly along the shelf of my bookcase. Every now and then I wander through antique stores and garage sales to see if there's another little lovely I can add to my stable. And you know what I've discovered? There's a horse statuette for every taste. Don't believe me? Just take a look at just a few of the offerings I found on ebay: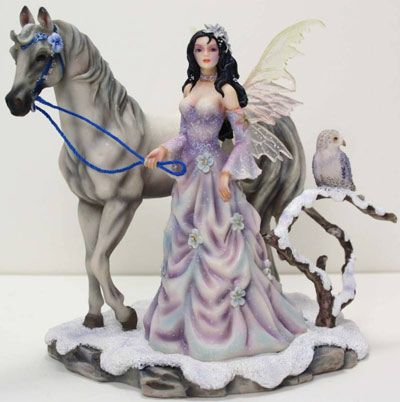 Isn't this magical! All of us who keep our inner fairy princess concealed beneath grimy jeans and slobber stained t-shirts will adore this piece of… art. Usually when it's wintertime I'm slogging around the barn in three layers of clothing. But this winged sprite is wearing her ball gown as she leads her horse to the mounting block. In the snow. I hope she doesn't get frostbite. By the way, I can't wait to see her sit the trot in that low-cut, strapless neckline.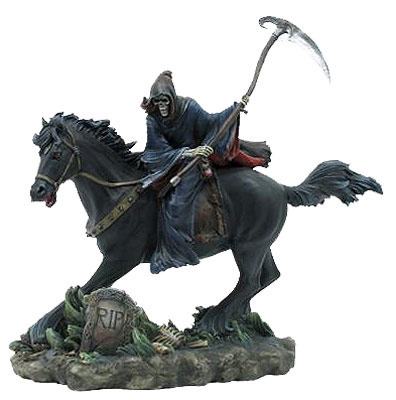 Ah, there's nothing more uplifting than a detailed rendering of The Grim Reaper on horseback. Who wouldn't want to have this figurine sitting on their nightstand? It's Death himself, galloping in your direction. And he's riding Black Beauty!
Okay, how many errors can you spot in this creation? Let's start with the horse. It's an anatomical calamity. The head and neck belong to a Dutch Warmblood and the body to a Welsh pony. Plus, the front legs are considerably longer than the hind ones. Maybe that's why the dogs are running away. They're frightened by Frankenhorse. Then take a look at the cross-dressing horse handler. Is she a western rider? Is she an English rider? She can't seem to decide, however, I like her boots. I saw a pair just like that at Macy's. Maybe she bought them on sale and that's why she looks really, really happy.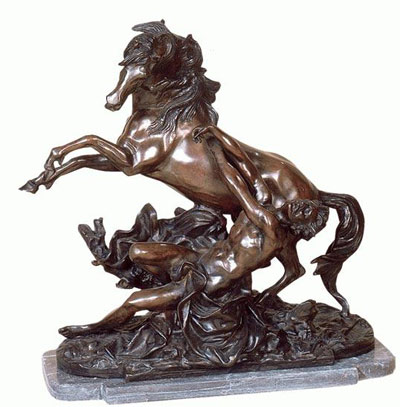 The supposed title of this figurine is "Rebelling Horse." Yup, I'd say he's rebelling. He's rebelling to the point of trampling the naked man who's trying to grab a hold of the mane and jump aboard. I like the way the horse is looking down at the guy. He's probably saying, "Dude, put some jeans on next time before you come out to the barn."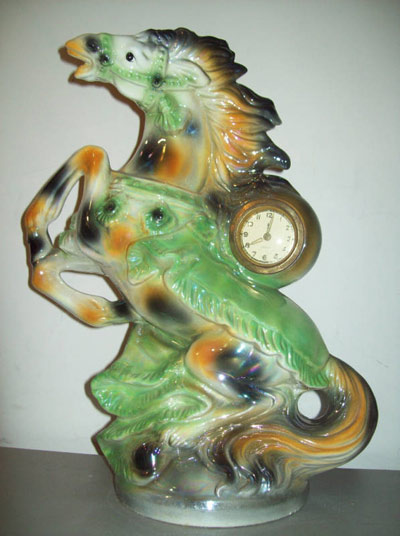 I saved the best for last. Here's what happens when someone is handed a blank horse figurine and they only have three colors of paint: orange, black and green. And they haven't a clue about real life horse colors. Either that or a plain ol' bay was just too boring. So now we have a polka-dot horse that looks like it just bolted out of the arena during a native costume class. Oh but look! It has a clock on its back! Well then, that touch of practicality makes it all so much better.
The poor horse. It's such a beloved image for artists that it ends up misconstrued in so many forms. Horrendous horse figurines are only one representation. Just hope none of them end up under the Christmas tree with your name on the gift tag.
Back to Life with Horses