Have you ever felt like your favorite horse has some of the characteristics of a cat or dog? If Wally has some cross-species connection it's with a cat. And that's not just because he uses the sandy corral portion of his inside-outside stall like a litter box. He's also aloof and perpetually pumped up with his own sense of grand importance. On the other hand, my sister's Thoroughbred, Topper, is much more like a dog. He'd climb in your lap if he could (believe me, he's tried), and he greets each day like a new adventure.
Think of the horse in your life. Is a cat or dog at the core of their soul? In other words, are you attached to a cat-horse or a dog-horse? If you aren't sure, read through my five categories of equine behavior. Note how each reveals a correlation to either feline or canine characteristics. Of course, this is all based on meticulous scientific study held to stringent research protocols. (Ha!).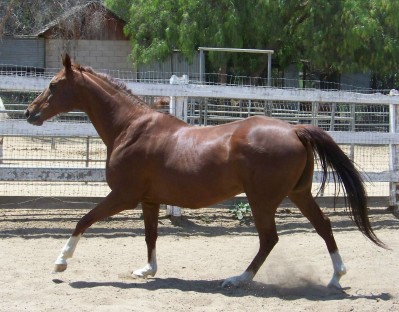 My sister's Thoroughbred, Topper, is a dog-horse. He begs for treats and loves to go for rides.
The Horse-Human Connection
Dog-Horse: Exhibits the desire to interact socially with humans. If ignored, the dog-horse will create leisure time activities. Examples of dog-horse games include Fetch the Halter off the Tack Hook and Chew It, Stall Hole Digging, and Shoe Tossing.
Cat-Horse: Maintains mental checklist of precisely when meals are served and the thoroughness of housekeeping staff. The cat-horse would gladly report incompetence on the part of the humans, but unsure of whom to contact (certain it's all a conspiracy).
Relationships with Other Horses
Dog-Horse: Has uncontrollable urge to sniff the nose of every horse encountered. Believes that nibbling the neck of an unfamiliar horse is a perfectly acceptable method of introduction. A diplomat at heart, the dog-horse just wants the entire pack of horses to get along.
Cat-Horse: Lives a rather solitary existence, primarily due to an unwavering belief in personal superiority. Simply put, the cat-horse believes there are no peers among the barnmates. However, the possibility of manipulating an unsuspecting pony is intriguing and worth of further study.
Mealtime Maneuvers
Dog-Horse: An all-you-can-eat barnyard buffet is the stuff of dreams to a dog-horse. The dog-horse will eagerly stick its muzzle into any container with a handle. Plus, if you're eating it, the dog-horse wants to take a bite out of it, too. When it comes to treats, the dog-horse is never too proud to beg. The prospect of an oatmeal cookie or crisp carrot can elicit a performance worthy of an Oscar.
Cat-Horse: All meals must pass the sniff test. The cat-horse can detect the odor of a crushed antibiotic tablet or a gram of Butazolidin regardless of how deeply you bury it in sweet feed. When it comes to treats, the cat-horse is extremely selective. The words "organic" and "gourmet" must appear on the package. Otherwise the cat-horse will require you to consume one of the treats first, just to prove they are indeed edible.
Attitude Toward Work
Dog-Horse: If possible, the dog-horse would grab its own bridle and get tacked up single-handedly. (Not possible due to that whole "horses have hooves and lack an opposable thumb" revelation). Always happy to learn new tricks, the dog-horse seeks only a pat on the neck and the words, "Good boy."
Cat-Horse: Seems perturbed when, once again, they're led to the hitching post to be tacked up. Like, didn't they just do this yesterday? Just to clarify their lack of enthusiasm, the cat-horse will exhale a loud sigh of annoyance whenever their rider commits an error.
Personal Activities Between Rides
Dog-Horse: Reviews the day's lesson in order to be better prepared for the next ride. Every now and then pauses to lick clean the corners of the feed bucket. The dog-horse finally falls to sleep and dreams of winning a blue ribbon at the next show.
Cat-Horse: Sleeps. Stretches. Sleeps again. Picks through the leftover hay for any tidbits suitable for its sophisticated palate. The cat-horse constantly schemes to get out of mundane tasks like riding lessons and horse shows. When no one's looking, the cat-horse attempts to master paranormal abilities like shape-shifting and becoming invisible.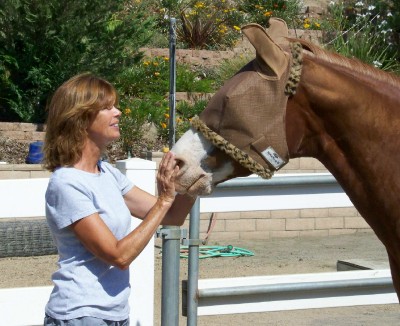 I love Wally, but he's definitely a cat-horse. Is it any wonder his fly mask has leopard print trim?
What do you think? Is your horse closer to meowing or barking rather than whinnying? Have some fun while you contemplate your answer. In the meantime, I have to go outside and scoop up Wally's litter box.
Back to Life with Horses