Maybe it's because the days are long and the mood is laidback, but summertime trail rides are the most memorable ones for Wally and me. Of course, I often end up encountering some kind of calamity that makes my rides in July and August more memorable. With that somewhat skewered point of view, here are some tips to help you and your horse have some unforgettable summertime rides.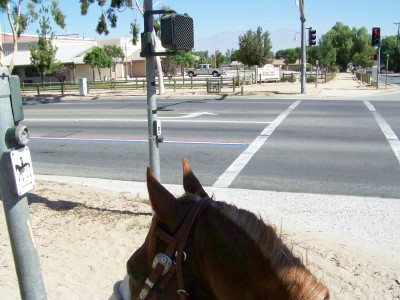 If your local network of trails takes you anywhere near traffic you'll need to get your horse accustomed to crossing the street. Some horses get a little antsy waiting for the "walk" signal. You can get a really unsettling feeling in your stomach if your horse is eager to bolt into the crosswalk just as an 18-wheeler roars through the intersection at 40 mph. Thankfully, Wally is in no hurry to step off the curb. In fact, I think he'd be perfectly happy to set up a lawn chair and just watch the cars zip past.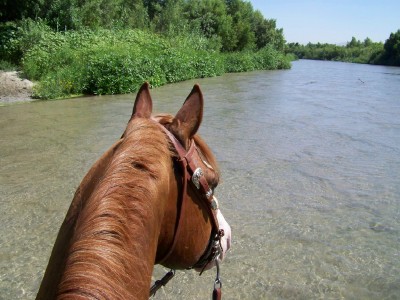 It's been my experience that when it comes to crossing bodies of water, horses fall into three categories. First there are the horses that get to the edge of a river and think, "Wow! Cool! Someone left the hose running. Let's have a pool party!" Then there are the horses who get to a river and think, "Oh no! Someone left the hose running! I think we should go back and tell someone because this is simply not right. Wait. What? You want me to wade into this? Are you serious? Well, okay…. But don't blame me if next month's water bill is extremely high." And then there's the third group of horses that stand firmly on the bank of the river and think, "Yikes! Someone left the hose running! It's probably because some catastrophe happened back at the barn and everyone's dead. This is a really bad sign. We need to leave immediately and run for our lives!"
(Wally is in the first category. He is a macho dude and has always trudged right into the water. If he were a person he'd wear Speedo trunks and perform extravagant dives into the pool just to impress all the girls.)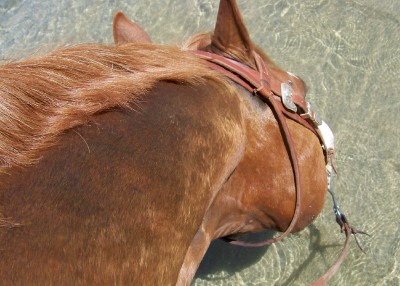 Besides the good old fashioned fun of splashing around in water, a summertime water crossing can refresh your horse. Here Wally enjoys the benefits. Not only does the cool water feel good on his legs, but he can sip from the river as it swirls around his feet. Of course, at about this time I'm starting to feel thirsty, too, but I'm not about to hop off and drink what amounts to Tadpole Tea. When I get home I'm going to reconsider buying that little saddle pack that comes with the plastic water bottle.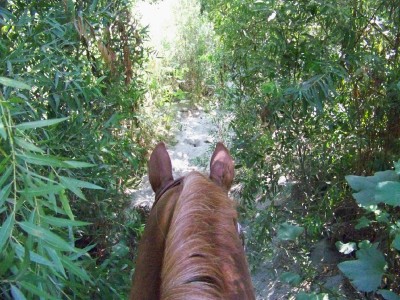 Riding down narrow trails that course through thick stands of foliage presents some challenges. First, it's nearly impossible to prevent your horse from sampling the vegetation, especially when it's right there, brushing against your horse's mouth. It may conjure up that helpless feeling you got when you were a kid and the pony you rode kept diving its head down into the grass. Second, if you're even slightly paranoid you can feel vulnerable, particularly if you're a woman riding alone. This is why I now carry a Taser with me if I'm riding in a secluded area by myself. It was either that or teach Wally some kung fu moves.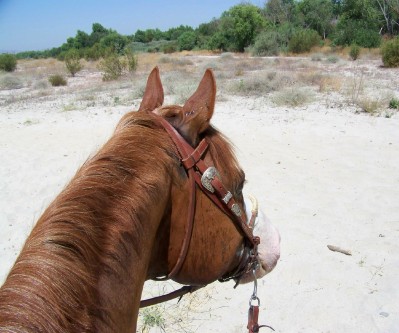 The terrain often changes on lengthy trail rides. Here, Wally surveys what's on the other side of the river. It's a sparse, desert-like panorama. The finely grained sand is deep and silvery white, and there's an intense glare from the summer sunshine. Luckily, before I saddled up I slathered so much SPF 50 sunscreen on my face and arms that I looked like I was applying clown make-up before I rubbed it in. Nonetheless, it's not an aesthetically pleasing setting. Wally agrees. In fact, he came up with an impromptu riddle. "Question: Why did the horse cross the river? Answer: I have no freakin' idea."
After a few minutes of plodding through warm sand, we turn back across the river and head home. Wally will get a bath and a special oatmeal-based body wash. Then I'll go inside and gulp down a glass of lemonade. It's not a bad way to spend a summer day, and these are the rides I'll recall most when the chilly weather of winter comes. I hope you have some memorable summertime rides, too!
Back to Life with Horses