Imagine your favorite celebrity, the one you'd secretly like to meet. Now think what it'd be like to receive a personal memento from them. That's what happened recently to my sister's horse, Topper. He got a crispy red apple from his one true love, the superstar race horse, Zenyatta.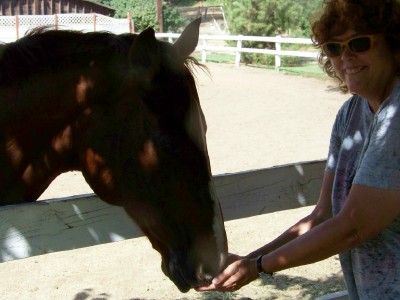 Who wants this apple more? Topper or my sister, Jill?
Maybe this story needs a little bit of an explanation.
About a year ago my sister, Jill, introduced me to the wonders of Zenyatta. I'm not much of a racing fan, but Zenyatta captivated me, too. She's a big brown mare that looks more like a warmblood showjumper than one of the greatest race horses of all time. It's no wonder that her handlers have nicknamed her The Queen. Plus Zenyatta has a quirky side to her personality. She always performs an off-kilter rendition of the tango on the way to the starting gate. How could I not love a horse like that?
Jill and I have sort of transferred our fascination to Topper. My sister's gelding, you see, is having a long distance love affair—or far flung fan devotion—with Zenyatta. We pretend he has her cell number on speed dial and that he texts her frequently. We also imagine that he has a poster of her image plastered on his stall wall. Yup, we're silly like that. The fact that Topper has the temperament of a comedian and seems to play along with our antics only embellishes our little game.
Zenyatta was at Hollywood Park, just outside Los Angeles, for a big race last weekend. Undefeated after 18 races, she was entered in a graded-stakes race. My sister and I had a bad case of Zenyatta Fever. We figured that Topper felt the same way, too. In our mind he was pacing around his stall, wondering what he'd wear to the after party following the race.
Then came the big coincidence.
Jill's husband, Grahame, is one of the premier sports writers for the Los Angeles Times. He was sent to Hollywood Park to interview John Shirreffs, Zenyatta's trainer, about her chances in Saturday's race. While there, Grahame mentioned that his wife owned an off-the-track Thoroughbred she'd trained into a jumper and now rode on the trails in a western saddle. That apparently impressed Sherriffs. Grahame came home with a special treat: a big, red apple straight from Zenyatta's personal supply.
Apparently apples are her go-to treat. Red Delicious, to be precise.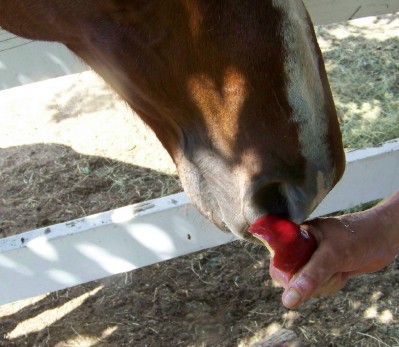 Hopefully Topper's love affair with Zenyatta will last longer than this apple.
And thus Topper got to crunch and munch on a fresh apple, courtesy of Zenyatta. "It's an edible love letter from my girl friend!" he seemed to say.
Yeah. Sure. At least it seemed that way to us.
Honestly, my sister seemed just as thrilled as her horse. To make the event even more memorable, Zenyatta won that race at Hollywood Park, maintaining her undefeated record. The Queen has just one more race, the Breeder's Cup, before her scheduled retirement. Then she gets to live a life of pampered indulgence as a Mom. Needless to say, I'm sure her retirement will include plenty of apples. (And phone calls from Topper).
Back to Life with Horses