I consider myself a lucky woman in that I have a husband who indulges my crazy life with horses. Nonetheless there are times when I wish my husband would just step away from the beasts and leave the horse handling to me. Why? Because I'm never quite sure what I'll discover the next time I wander out to the barn.
My husband, Ron, is a good guy. He feeds Wally every morning and cleans the poop out of the paddock. He doesn't have to do this. He wants to. At some point his physician will discover either a brain tumor or a psychiatric condition that is motivating this behavior, but in the meantime I'm thankful for it. I get to stay in bed a little longer.
The problem arises when Ron ventures beyond the edges of The Horse Husband Envelope and steps into my territory. Once Ron puts his spin on stable management and horse handling, things start to go wrong. For example, after he cleans the paddock he rakes it. Really, really carefully. I swear, the sand in Wally's turnout looks like the dressage court at WEG. If I happen to then go out and longe Wally before a ride, Ron will stand there and look crestfallen, as if I've just ruined his immaculately groomed sand sculpture.
Like many non-horsey men who are determined to expand their horse handling talents, Ron tries his own version of horse whispering with dubious results. In his attempt to soothe the savage beast that is Wally Cooped Up in the Barn Overnight During a Rainstorm, he began giving the horse a treat to make the whole haltering process easier. (Or less deadly, depending on your perspective). I was unaware of this practice. All I knew was that I was impressed with the way Ron was able to lead the jacked-up animal from barn to paddock in crisp, damp weather. Eventually I began to notice that every time I tried to halter Wally, he'd grab the noseband or the end of the lead rope faster than a starving crocodile. At first I thought that this was merely a resurrection of Wally's dismal ground manners, a problem I credited to his being gelded late and his general obnoxiousness. But then, one day while bemoaning Wally's backsliding behavior, Ron quipped that he "solved" that whole issue by just stuffing a carrot in Wally's mouth while haltering him.
Sigh. Needless to say, that incident resulted in us sitting down and me calmly explaining the age-old rule about not hand feeding horses that are already rabidly mouthy.
But just when I think I've got Ron trained to stay within the guidelines of basic horse husbandry, things take a turn for the worse. Recently I had an unexpected overnight stay in the hospital, which meant I had no choice but to hurriedly ramble off a list of horsey things for him to do at home. I tried my hardest to give him explicit instructions, yet I didn't want to give too many details for fear they'd be confusing. When I called him that night from my hospital room, he proudly told me how he'd completed all of his horse husband chores successfully, and that all was well in the barn.
When I got home the next day I rushed to the backyard, eager to see Wally. Ron was following behind me like my personal nurse, chattering on about how I needed to just relax and take it easy, that he had everything taken care of. Indeed, the paddock was raked as if prepped for Steffen Peters. But when I saw Wally I burst out laughing.

Although Ron has seen Wally wearing his fly mask on numerous occasions, apparently he wasn't paying much attention to the actual fit.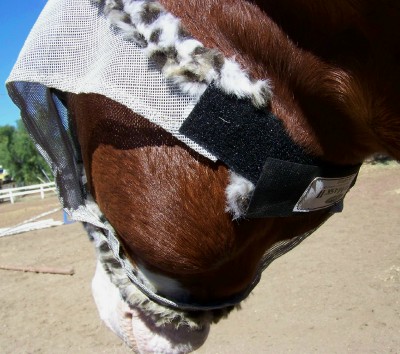 I do have to admire my husband for his inventive application of Velcro fasteners. But wouldn't you think that he'd have been tipped off by the upside down writing on the label?
Then, being the good wife (and not wanting to completely discourage Ron, lest he cease with the early morning feeding and mucking), I fixed the fly mask and gave Ron a big hug. And I made a mental note to scribble down some visual instructions next time. You know. Just in case.
Back to Life with Horses