For me, Christmas has always been closely associated with horses. If you read my short piece in the Horse Tales section of the December issue of Horse Illustrated, you'll understand why. In "Cantering to Christmas" I shared how I had spent many a year annoying every mall Santa I could find, asking him for a horse. Instead, my parents placated me with Breyer models, inexpensive cowgirl outfits and horse books. Lots of horse books. But a horse crazy girl can only read so much, so eventually I wore down "Santa" and I ended up with a silly little sorrel mare named Honeybee when I was 13.
Once I settled in to the world of horse ownership, Christmas took on a different meaning. The ornaments decorating the tree in my living room commemorated horses that had galloped through my life. Each year colorful glass doo-dads let me revisit Penny, Lexi, Hammy, Barbie and Joey, and re-introduce me to the holiday versions of Wally and Danny. You see, I either handmade ornaments or bought ones that resembled these horses and then scribbled their names on their backside.
But it's not like my entire Christmas tree is covered in horsey ornaments. Even I like a little variety. There are rainbow-hued birds, fish, bears, dogs and cats. They're sharing evergreen boughs with Santas, snowmen and nutcracker soldiers. It's a horrible mishmash of gaudy shiny, sparkly stuff. If it glitters and can hang on a tree, I buy it. Simple as that. There's no "theme" going on here.
Most of my Christmas tree ornaments do have a bit of whimsy to them. (How else can I explain a pig dressed as a ballerina?) One in particular is a little monkey holding a funky striped star. In my mind he's representative of my mom's half-witted warmblood mare, April. She's the final leftover from our days of breeding show horses, and she lives in retirement at the family ranch. Though April's gorgeous and easy to handle, she is a bit of a ditz-brain. And she's always busy. Busy with her mouth, busy with her head, busy with her feet, busy with her food, busy fidgeting with her water bucket, busy with…. Well, you get the idea. That's how she got the additional nickname of "Monkey." Back when I was riding and training her, during the lessons and when I showed her, she was very focused on her job. But the rest of the time? Busy, busy, busy. Like a little monkey.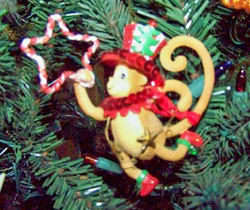 One year my mom and sister were Christmas shopping and they came upon a decorated display tree, covered in circus themed ornaments. They bought me the little monkey and presented it to me, laughing, saying I could now have an ornament representing Monkey on my tree. So now, each year that I decorate my Christmas tree, I find a special place for that silly monkey ornament. He's posed in mid-skip on a branch just above a frosted gold palomino (Penny) and a black fabric horse that's embellished with beads, tassels and metallic thread (Danny). At night, I switch on the twinkling lights, settle back, and allow myself to be mesmerized by the sweet melancholy of that beautiful tree. It's a swirl of colors and shapes, and I get to greet the horses I've known. They're all special to me and they're there, temporarily stabled next to tropical fish, dancing dogs and feathery parrots.
Back to Life with Horses