I realize most of you think that us horse folk in Southern California—indeed in much of the southwest—are a bunch of wintertime wusses. You're skidding around on frozen tundra on your way out to wave at your horses and we're wringing our hands over some rain. But in our defense, it's been raining a lot. And it's dang cold. Yes, I know that elsewhere in the country January temps in the 50s are considered downright tropical. But for us? We're bundled up in three layers of fleece and scavenging the aisles of our local Target for mittens.
All of this winter wetness leaves me no choice but to resort to my favorite idle time occupation: composing horsey haikus. For those of you unfamiliar with haiku, it's a Japanese form of expression consisting of three lines of descriptive prose. The first and third lines contain 5 syllables; the middle line, 7. Armed with my trusty camera, I ventured outside (between downpours and wind gusts) for some inspiration. I found it among simple, everyday barn stuff as well as in the way rain transforms my life.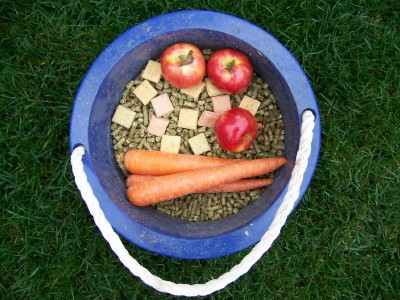 Wally's Treasure
Praise for blue bucket
First savor treats brought my way
Then chew on rope handle.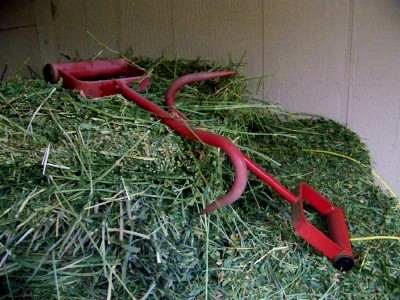 Lethal
Sharp hand extensions
Potential for barn mayhem
(Or pirate costume).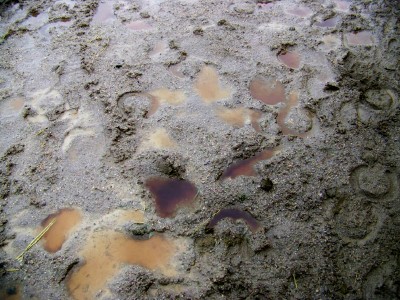 Mud
Rainwater in pen
Recalls primordial ooze
But with pungent smell.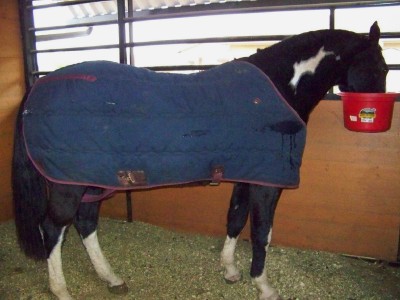 Shelter
Warm, dry, cozy stall
Posh horse condo with great view
Includes room service.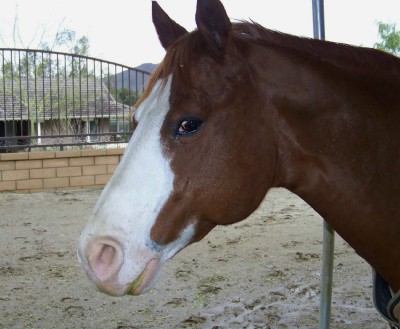 Aloof
Rain brings benefits:
More time for meditation
Less time with humans.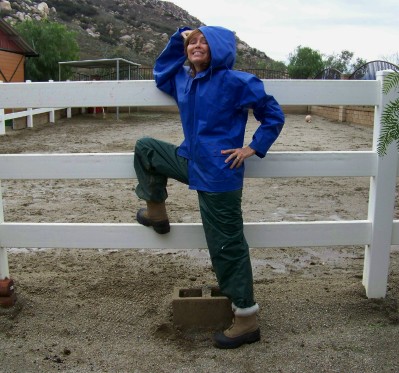 Flirtation
Wet weather fashion
Like birka for horsewoman
This screams sex appeal.
See? Something to do during inclement weather besides clean tack. Or, God forbid, do housework. Just grab a pen and annoy your friends, family and barn buddies with your own bad poetry! It'll help pass the time until the ground thaws and the puddles evaporate.
Back to Life with Horses