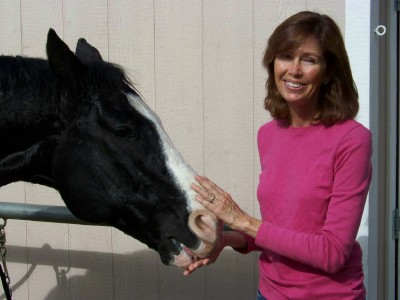 Eating an apple politely is one trait that helps make Danny a perfect gelding.
I am still utterly confounded over the fact that Danny, who I acquired in October, was a stallion until shortly before I bought him. I know that "some people" (note that I use quotation marks for eyebrow-raising effect) like to keep their male horses intact because they like a certain swagger to their horse's demeanor. But Danny was actually bred to mares! He sired at least a dozen registered Paint foals! And I'm told there are at least a half-dozen more unregistered ones galloping around somewhere! (Note that I use exclamation points for yet more eyebrow-raising effects).
It's not that I don't love Danny. I do. He's proven incredibly trustworthy under saddle despite encountering some rather challenging situations. And he's just a doll on the ground. But breeding material? Not so much. Sure, he's a black overo, a rare color and pattern combo that's prized. And he's tall with a long neck and a big stride. But none of his four feet match. In fact, he's a tidge club-footed on his left hind, a fault my farrier is working on to improve. Danny also has a longish back, a high tail set that looks a little Saddlebred-ish, movement that resembles the worst dressage horse I ever rode (yes, I'm talking about you, Dreamcatcher) and a lackadaisical attitude toward exercise. Such a deplorable work ethic is great for pleasure riding but it would lead to endless frustration in the performance horse world where, God forbid, a horse is expected to occasionally put forth some amount of profound physical effort.
In other words, who on earth thought that Danny—my Danny, the one who slobbers apple goobers on my arm, repeatedly rolls in poop and is never in any hurry to pick up the canter lest he break a sweat—would be a suitable sire? My mind, it boggles.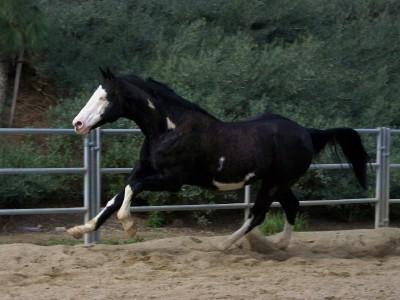 In a rare moment of unbridled enthusiasm, Danny breaks into a gallop. For a few strides, at least.
Maybe that's what makes the horse world go 'round. Everyone has their ideal vision of equine perfection, although I'd like to think that we can all agree on a few criteria that makes a horse a fine representative of its breed or type. For me, I think I know what Danny is. He's a flashy horse with a kind disposition and comfortable gaits. He won't win any prizes in the show ring, but he's a suitable backyard horse for recreational riding. In other words, he's the perfect GELDING. (Capital letters for resolute arm-folding/head nodding effect).
Back to Life with Horses