Last week my cousin came out for a ride. She's always been a horse lover but due to college and a new job she hasn't been able to keep up with her riding lessons. In other words, she's a tad rusty in the saddle. But I offered to let her take Wally down the trail while I rode Danny. Naturally, Wally's notorious past had her a wee bit wary of him. She thought Danny, the one snoozing at the hitching rail, looked more like her style. I assured her that Wally was a better choice for her.
Yet when we led our tacked-up horses out to the bridle path, she glanced over her shoulder at Wally, surmised his curled lips and his ears at half-mast, and said, "I don't know, Cindy, he looks pretty ticked off."
I had to convince her that no, Wally wasn't mad, he was just… Wally. Finally she climbed aboard and we ended up having a fun time. She had to admit that I'd put her on the right horse. I guess that's because I've gotten to know my two geldings pretty well. Like a couple of good friends, I appreciate both their good and bad qualities, as well as the little quirks that make them unique.
If you spend time with a horse you really come to realize how they're all individuals, just like us. To put a fun spin on this concept, I decided to make short profiles of my two geldings. See if they share any traits with a horse you know.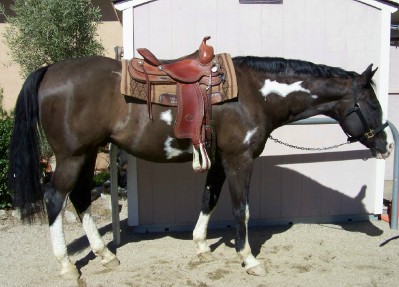 Name: Danny
Name He'd Choose for Himself: Buddy Boy
Most Endearing Trait: Big and flashy former stallion, but a big sweetheart
Best Part of the Ride: His long-strided, smooth walk
What Makes him Stop and Stare: Other horses, as if there might be a long-lost relative in the bunch
If he's Going to Spook, This Will do It: Something moving really fast that suddenly comes into his field of vision, thus disturbing his habit of nearly sleepwalking down the trail.
He has an Odd Fascination With: Llamas. He just can't figure them out.
In His Next Life, he'll Come Back as This: One of those tall, dark and handsome guys described as "everybody's buddy but nobody's baby." He dates dozens of girls yet when he breaks it off he does it so tactfully that no one's heart is broken. Eventually he'll settle down, raise the perfect family in the perfect house and gain the perfect reputation. Just the sort of person you figure either has a stash of bodies stored in the freezer out in the garage or lives a secret life as a government assassin. But he doesn't. He's just boringly normal. And incredibly nice.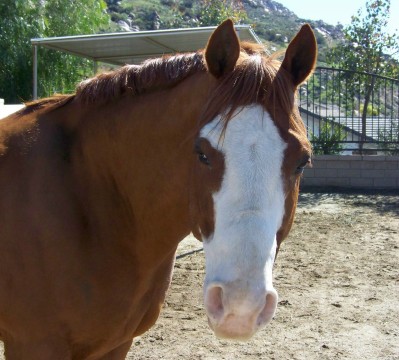 Name: Wally
Name He'd Choose For Himself: Gonzo
Most Endearing Trait: He always lets me know just how he feels
Best Part of the Ride: Despite being built like a mini-truck, he handles like a sports car.
What Makes him Stop and Stare: Signs. It's like he's trying to read them.
If he's Going to Spook, This Will do It: Chickens, especially if they're squawking and flapping their wings. Who knows? They could run up and peck him in the fetlock.
He has an Odd Fascination With: Garage sales. The more stuff strewn about, the better.
In His Next Life, he'll Come Back as This: He'll find fame as a notorious gangsta-rapper, but once he hits rock bottom he'll clean himself up and become a mild-mannered celebrity on various reality shows. Then he'll retire on the money he makes from writing a best-seller that reveals the sordid backstory of Hollywood. He's the guy everyone wants to hang out with, but nobody wants to be around if he happens to get really riled up over something.
Why don't you try making up profiles of your favorite horses? I'll bet you know them better than you think you do!
Back to Life with Horses