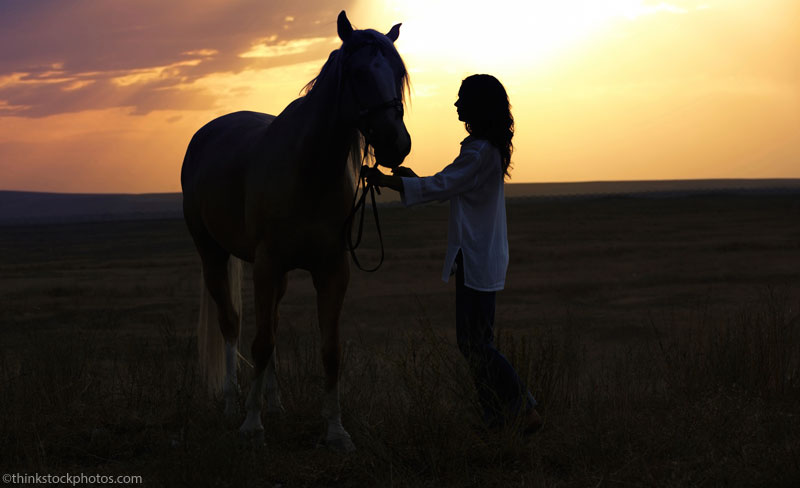 You guys write letters and emails, and I get to read some of them. As a contributing editor at Horse Illustrated and one of the writers here on HorseChannel, I'm frequently assigned to answer questions about basic horsemanship. One of the most memorable emails came from a woman—I'll call her Donna—who is struggling to overcome her fear of riding.
Donna described herself as a middle-aged woman who rode as a kid but whose career and family kept her away from horses for several decades. A few years ago she started taking lessons and credited a patient instructor with helping her re-discover her dream of riding. Though she now owns a couple of quiet, safe horses, and even boards several more on her property, her dream of being comfortable on the back of a horse eludes her. She's fine when it comes to haltering, grooming and handling horses, and she finds serenity in mundane tasks like mucking stalls and cleaning tack. But merely contemplating saddling up and going for a ride overwhelms her with apprehension. She describes the anxiety as "paralyzing."
Donna acknowledges that she'd gain more confidence if she rode more often. But a few sentences later she admits, "I keep finding excuses not to ride."
The excuses she cites include commitments to her family and a small business she runs, as well as the daily chores around the stable. Yet many of us make incredible sacrifices to find time to ride. So let's be honest. We all know what's halting Donna in her tracks, somewhere between tack room and box stall. It's fear.
Donna isn't alone. I know plenty of adult women who have a deep, passionate love for horses but when it comes to swinging a leg over the back of one of them, they're overcome with fear. In fact, when I worked as a riding instructor, about half of my clients were adult women who had been horse crazy girls and were coming back to riding after a long hiatus. Like Donna, they'd been fearless as kids, performing all sorts of hair-raising stunts on horseback. Yet their knees get wobbly and their face turns ashen when they pick up the reins and feel the tug of a 1,000-pound animal. Where's the fun in that? Just like Donna, many of them end up asking, "Can you love horses and not ride?"
My answer is, "Certainly."
I'm not sure I would have always answered that way. Riding—and pursuing the art of horsemanship—was such an obsession for so many years that I doubt I could've comprehended being a horsewoman without being an equestrian. Yet maybe my maturity (dare I say age?) has made me realize that I can also appreciate the beauty and presence of a horse when I'm on the ground, standing eye-to-eye.
As an analogy, I'll share that I once dreamed of being a ballerina. Those of you who've seen me in action, trying to ambulate through the aisles of my local Target store, will find humor in that revelation. I'm a klutz without a drop of physical grace. Nonetheless, I wanted to dance. My mom enrolled me in ballet lessons. I got a leotard and started saving my pennies for toe shoes. I sat for hours, mesmerized, and studied the more advanced dancers in the classes ahead of me. But, bottom line, I sucked at ballet.
Yet that doesn't prevent me from loving ballet and finding other ways to participate in it, like volunteering to promote community productions. You just won't see me in a tutu again. Ever.
I guess what I'd like to offer to Donna, and others like her, is that my ballet experience has taught me that we can't always live up to our dreams. That doesn't mean we have to abandon them. We just have to reshape them. You can interact with horses in more ways than just riding. Find a mentor who will help you fine-tune your horse-handling skills. You might even discover a talent for showing horses in halter or showmanship classes. Or channel your love of horses into altruistic endeavors: Volunteer at a therapeutic riding school, become a foster "mom" for an unwanted horse, or lend a hand at a horse rescue operation. And, if you truly don't want to sit on top of a horse, consider sitting behind one. Driving a horse (or pony) hitched to a cart is a blast, and worthy of any horse lover's interest.
To be sure, there is something special, almost spiritual, about a connection to horses. But if your fear can't be conquered by love, then find another way to express your devotion.
Back to Life with Horses