Not every horse can cut it as a trail horse in my town. And that's not just because most of our trails are set alongside neighborhood streets. Most horses, if ridden by a confident rider, can get used to cars, trucks and motorcycles. Even lawn mowers and leaf blowers become boring after a while. So what seems to cause psychotic breakdowns in otherwise lovely horses around here? It's the prevalence of what I call "zoo stock." These are animals that fit somewhere between typical farm livestock and exotic zoo creatures. I've written about some of these quirky characters before.
For example there's the lady down the street who has one corral filled with bison and another one containing zebras. Then there's the herd of hairy llamas that roam a rocky hillside behind my parents' ranch. I've also shared my interactions with Bert the camel, who's taken for weekly walkabouts by his owner, Nancy. Add this menagerie to the peacocks, pot-bellied pigs and gator-sized iguanas that populate some of the yards I ride past. Yet none of these critters seem to be as spook-inducing as the emu that lives in the backyard of an old farm house. I think every rider in town would like to just avoid the residence, but it's inconveniently located where several of the main trails intersect. As luck would have it, this isn't a shy emu, either. It's quite aggressive and seems to take delight in stalking the horses as they unwittingly approach, and then rushing the fence with its wings unfurled. Trust me; there are few things more exhilarating on horseback than being ambushed by an emu.
For those of you unfamiliar with the breathtaking beauty and refined elegance that is the common emu, I present this photographic image.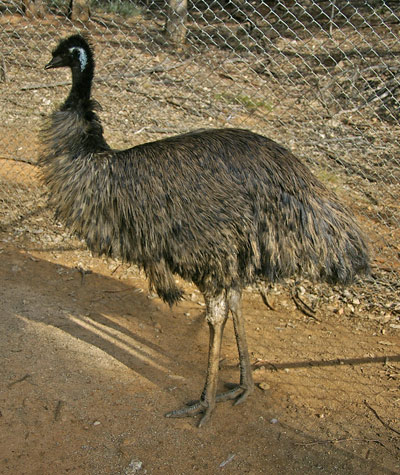 Lacking the fairytale coloring of the peacock or the pet-like charm of, say, a duck, the emu is remarkable for its mud-colored feathers resembling porcupine quills and a triangular beak that looks like a transplant from the world's meanest rooster on steroids. Emus are flightless birds, just like their cousin the ostrich. But why bother to fly when you can run 35 mph? That's about the speed of the average gallop. Maybe horses are instinctively aware of this disturbing piece of emu trivia.
Fortunately, after four years, Wally has accepted our town's zoo stock, although his initial emu encounter sent him fleeing in the opposite direction so fast that it literally gave me whiplash. Now he'll pass quietly by the emu house, though with some trepidation: His neck stiffens and his nostrils flare. I compromise, and allow him to give the emu a wide berth. Danny, on the other hand, is a much slower thinker than Wally. By the time he realizes he's come upon the emu house he's already past it. If I were to stop, show the emu to Danny, and make a big production over the frilly monstrosity, it'd be like telling Danny, "Hey, this is really something to be concerned about. SO LOOK AT IT. LOOK AT IT REALLY, REALLY GOOD, AND NOTICE HOW BIZARRE IT REALLY IS!"
Then Danny would see this staring face back at him, and that's probably not a good thing.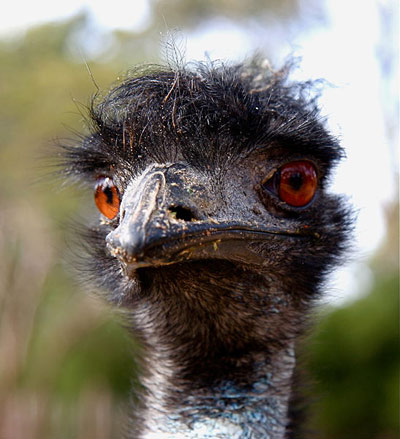 I'm sure I'm not the only one who has to deal with zoo stock. If you trail ride then you probably have some strange sights that you and your horse encounter, too. I suppose that's what makes riding outside of an arena both interesting and adventuresome. There's always some sort of challenge ahead, with or without emus.
Back to Life with Horses