*Disclaimer: The activities described in this blog, while truthful, are meant
for entertainment purposes only. Do not try these activities at home.
I am a big supporter of riding lessons for kids as well as adults. I think every rider can benefit from at least a basic introduction to safe horse handling and proper position in the saddle. While horseback riding is definitely one of those "learn by doing" sports, you can quite literally die or become permanently maimed during the educational process. That being said, when I got my first horse I was completely unsupervised. I was a feral child at the public boarding stable, left to figure out what worked—and what didn't—when it came to sticking on the back of a horse and coercing it to follow my commands. So in retrospect, the fact that I lived to tell about some of my escapades is amazing.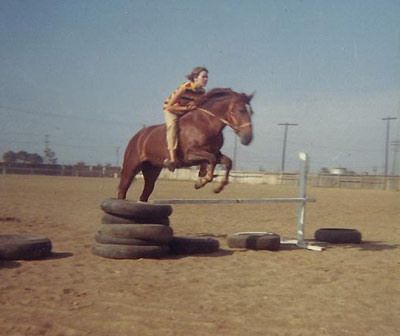 Photographic evidence of my misspent youth on horseback: No helmet, no saddle, no bridle and no instruction.
I'll skip past my brief flirtation with barrel racing, because it was fairly unremarkable. Though my little sorrel mare, Honeybee, was spirited and nimble, she was also short-strided and slow. Gymkhana was pointless. So it was only natural that, in my pursuit of some other adrenaline infused riding endeavor, I'd try jumping. True, I didn't have an English saddle or bridle. And I'd yet to take a single English riding lesson. But I did spend most of my afternoons riding Honeybee in the same arena as the professional hunter-jumper trainers and their students. And I observed carefully. Couldn't I just sort of learn through the process of osmosis? Like maybe just absorb their expertise? Well, kind of.
Every afternoon, by about 5:00, the arena would clear out and the trainers would go home. That's when my friends and I would scurry out to the arena like mice (or evil trolls, depending on your perspective) and re-arrange the jumps to our liking. Then we'd have our own free-for-all, leaping our half-broke horses over gaily painted poles and plywood boxes. To thwart these clandestine jumping derbies, the trainers would occasionally dismantle the jumps, wrap them in chains like hostages, and padlocked them together. But we'd simply improvise, creating jumps from salvaged obstacles like truck tires, hay bales and upturned wheelbarrows.
One time we found poles but nothing to support them. So we took turns functioning as human standards, cradling the poles in our hands while one of our cohorts, whose turn it was, galloped toward the suspended pole, aiming for the center in hopes of not trampling us. We'd raise the jump according to our anatomy. Connie, the eldest member of this wild bunch, gained great notoriety for riding her clunky bay gelding Bob, a horse she'd purchased for a few dollars from the rental stable, over a jump we held head-high. Fortunately, she was accurate and Bob was athletic, or I might've been decapitated.
If this wasn't silly, scary, insane and potentially tragic enough, I yearned for even more daring adventures. But about the time I convinced my school chum, Laurie, to hide behind the jumps and then dart out and spook Honeybee as I approached, one of the resident trainers took me aside. Whether it was a charitable effort to save my life or a self-serving notion to get some free barnyard help, I'm still not sure. But she saw in me potential and a deep love for horses, and tapped into it. Aware that my parents couldn't afford regular lessons, she offered to give me lessons in exchange for mucking stalls and longeing the school horses. I literally jumped at the chance.
In less than a year I was competing on the A-rated circuit and winning good ribbons in equitation. Some of the wealthy horse owners even let me show their fancy jumpers. My life with horses has been a series of adventures ever since. Without structured, professional guidance I probably wouldn't have discovered all the opportunities that horsemanship provides. But those first few wild years, where I was forced to develop a natural seat and respect the power of a horse, had importance, too. I'm just lucky I lived to tell about them.
Back to Life with Horses