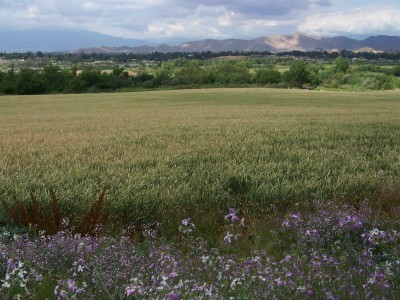 Every now and then an unwanted horse is set loose at this park.

There's an ugly side to living in a community where horsekeeping is allowed. Sure, we have bridle paths instead of sidewalks, hitching posts outside our fast-food joints and feed stores next to grocery stores. But just a few dusty streets from my house is a wide expanse of natural beauty where a river winds its way through meadows of wild oats and sunburned poppies. It's a haven for local trail riders. But the park, officially called the Hidden Valley Nature Preserve, has a more sullied reputation. It's the local dumping ground for unwanted horses.
Just a few days ago another horse was abandoned at the park, but this time the abusers were caught. According to the sheriff's report, witnesses spotted two men riding horses into the park just after sunset. They were leading a third horse. Later the witnesses saw the two men ride out, minus the third horse. They called the sheriff and the guys were apprehended and arrested on charges of felony animal abuse. After county animal services agents searched the park on foot, aided by a police helicopter hovering overhead, the abandoned horse was found and retrieved.
It was described as being in its 20s and "malnourished and blind in one eye."
These two guys thought it was okay to lead this skinny, half-blind equine senior citizen into the park, unfasten its halter and leave. I'm guessing they figured that there was plenty of free grass, shade and water for the horse. And I'm guessing they ignored the countless bogs and quicksand pits on the river's edge, the rattlesnakes and the packs of coyotes.
Sadly, this is not a rare occurrence. This year alone, more than 20 horses in my area have been declared "strays" by county animal services. That means they were turned loose, left to wander and fend for themselves. Not all have been abandoned at the river park. But that's the prime location.
While I'm well aware that horses are abused, neglected and abandoned throughout the country, when it happens so blatantly it's time for some organized outrage. Maybe we're too quick to encourage everyone who moves into horsekeeping property to slap together a pipe corral and buy a horse. Perhaps we put too much emphasis on all the fun aspects of horse ownership without also mentioning the less glamorous parts. We need to forewarn new horse owners about the unexpected vet bills, the rising cost of hay and the hard facts of manure disposal. Owning a horse is fun. But not always.
Responsible horse owners have a duty, I believe, to make sure newbies to our lifestyle understand that old, lame and ailing horses can't be discarded like broken toys. They'll be responsible for finding the horse a suitable home, surrendering it to an equine rescue facility, or paying a vet to humanely euthanize it. Turning an unwanted horse loose in the open countryside is not an option. In fact, it's downright shameful.
Back to Life with Horses