Unless you've been living under a muck bucket you know that it's tough in this economy to sell a horse. Competition to attract a buyer is fierce, and some of the advertising tactics seem to reflect that desperation. At least that's how I feel after rummaging around on Craigslist, which never seems to disappoint me with its minefield of peculiar horse ads.
I've discovered two trends that seem to be popular among sellers of modestly priced horses: "Horses as Bedroom Furniture" and "Baby Riders."
First let's start with "Horses as Bedroom Furniture." Apparently the ability to lie upon a horse's back without it catapulting you into the next county is a major selling point. And I'm not sure why this is so because, quite frankly, I intend to remain sitting upright when I'm aboard a horse.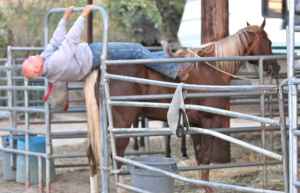 Am I to surmise that this horse is so reliable that this guy can not only lie upon its back but he can also perform pull-ups from the metal cross beam looming inches above his head? Or maybe he's about to do a whoop-tee-do dismount off the horse's tail end. Either way, I get a creepy feeling this photo will someday be followed by the comment, "Poor Uncle Roger was never the same after that skull fracture."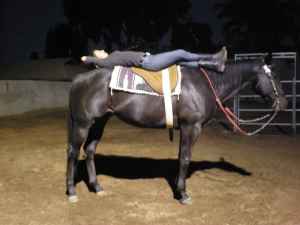 Since this photo was taken in the evening, I'm guessing it means that this horse not only allows people to lie on his back, but they can sleep on his back, too. This trait comes in handy for those unexpected overnight visitors. Just send them out to the barn where they can hunker down on top of Petey.
Adults that volunteer for ad duty are one thing. But I'm more than a little bothered when tiny kids get plunked onto the back of a horse like a lug sack of carrots. Take a look at two ads with baby riders.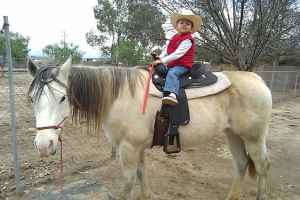 Successful sale ads promote the skills and talents of the horse. What does this photo say about this horse? Could it possibly hold the World Show title in Baby Cowboy Team Roping?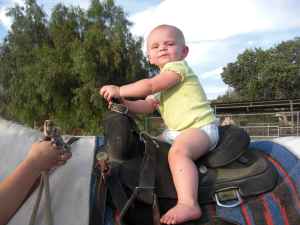 Not to be outdone, this seller takes the Baby Rider idea even further. I'm not sure which bothers me more: the diaper, the bare toes or the fact that it's A BABY SITTING ON THE BACK OF AN 800-POUND ANIMAL. Good grief. If this trend continues we'll soon see ads where the seller is holding an embryonic ultrasound image above the horse's back.
After viewing these ad photos, it's understandable why some people can't sell their horse. Sure the market's bad, but if the ads were composed better, the horse might have a better chance at finding a new home. Don't you agree?
Back to Life with Horses