In the September issue of Horse Illustrated there's an article I wrote that's a retrospective of riding apparel from the last few decades. According to my editor, I was the perfect choice for that assignment. Somehow during my years on the show circuit I earned a reputation as a hunt seat fashion diva. My sister and my longtime riding pals tell me this is so, as if my horse show wardrobe concerns were remarkably different than everyone else's.
Honestly, didn't everyone spend hours deliberating over which precise shade of tan breeches looked best with a navy blue coat? Wasn't everyone contemplating the ramifications inherent in selecting light fawn over willow bark or green-beige?
Maybe I was simply over-compensating for my humble start in the horse show world. As a kid I was absolutely impassioned about competing yet I lacked one thing: money. My parents could hardly afford the horse and a handful of bucks for some entry fees. Custom made shotgun chaps or a tailored hunt coat? Forget about it. I was forced to scrape together whatever clothes I could find that were remotely appropriate. For those of you who doubt I came from modest means, I offer you photographic proof.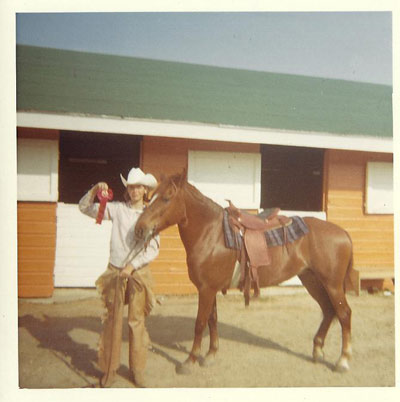 My first forays into the horse show world were western. I distinctly remember coloring my straw hat white by using a can of spray paint I found in the garage. Those stiff, too-short chaps were made from a fake leather fabric. I added the fringe by scissoring the excess material that overlapped the zipper. With all that effort put toward my appearance you'd think that I would've thought to tidy myself up by tucking in my shirt tails.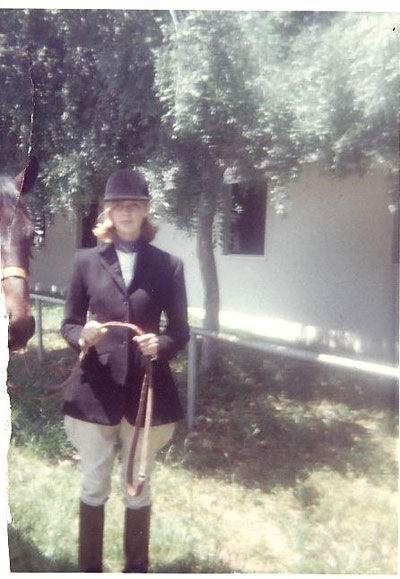 Once I discovered the daredevil possibilities of jumping, I was determined to switch to English riding. For my first few shows I had to borrow clothes from a friend of my mom's who belonged to an East Coast hunt club. I'm sure she dredged them out of an old, mothball-filled trunk, because they look horribly dated, even back then. By the way, don't I look like a petulant teenager? Yes, they had hairnets in those days, but apparently I was too cool to wear one.

Once I got out of college and started my career as a school teacher, I could finally afford some stylish outfits for showing. The term "hunter princess" didn't sound so disparaging anymore. But in my defense, at least I wasn't a mall zombie like a lot of women. I wasn't stalking the latest designer stiletto heels or amassing a closet full of designer handbags. No, I was drooling over the sale catalogs from Dover Saddlery.
Yet oddly enough, while I gained an appreciation for fineries like tropical weight wool hunt coats and show shirts made from Egyptian cotton, I never got past my compulsion to fiddle around with my riding apparel. Just as I painted my cowgirl hat I had to tinker with my English outfits. One time I bought grosgrain ribbon and used it to trim the cuffs of my long-sleeved show shirts. Then I went through a phase where I attached tiny silver charms to all of my spurs. Another impulsive act was buying several white show shirts and then bathing them in various hues of Ritz dye. The periwinkle blue experiment turned out lovely, but the yellow one was a bit… breathtaking. I wore it once to a show and several complete strangers said to me, "Wow, that's a really yellow shirt!"
So I never wore that one again.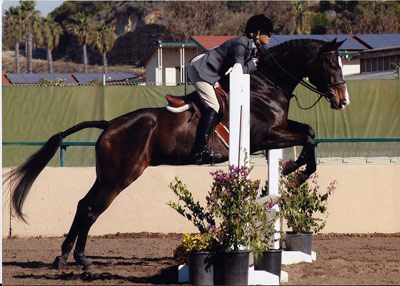 My transformation from waifish, horse show ragamuffin to fashionably attired hunt seat princess was complete long before this photo was taken of me competing at Del Mar in a hunter class. Yet don't look too closely. I'm sure that somewhere in that photo I'm wearing some sort of handmade or glue-gun embellished adornment.
Whether I was truly a hunt seat fashion diva or merely an artistic soul in need of a craft project, I'm not sure. But at least my tale should serve to reassure those of you who are also of humble beginnings. There's a snazzy riding outfit in your future, too, even if you do have to add a few of your own little details.
Back to Life with Horses