What goes through your horse's mind when it sees another horse pulling a wagon? My horses can't decide if they're mystified or terrified.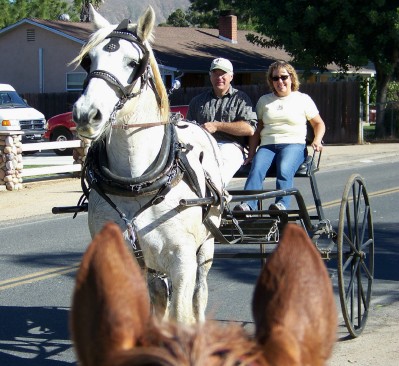 Thanks to some well planned introductions, it's no
longer the end of the world when Wally meets up with a wagon.

I swear Wally can spot an oncoming wagon half a mile away. He elevates his head and begins to strut, with his ears pricked so far forward that the tips almost touch. Fortunately, he maintains his composure once he ascertains that the harnessed horse is not being consumed by the wagon.
In contrast, Danny's first reaction is one of great concern. He interprets the wagon as some kind of predatory creature on the heels of the harnessed horse, and thus he'd prefer to leave the scene. If Danny could speak I'm sure he'd encourage the hitched-up horse to follow him. "Come on, Dude, run!" he'd exclaim. "Follow me and I'll lead the way to safety!"
Needless to say, I don't allow Danny to bolt off. I calmly keep him facing the wagon as it approaches. If he tries to whirl to the right (his favorite exit strategy), I pick up contact with my left rein, press into his side with my left leg, and bend him in a circle so he's momentarily distracted. And then he's once again facing the wagon. I focus on conveying a ho-hum mood toward the whole thing, and reassure Danny with several pats on his neck.
Despite their initial skepticism, both Danny and Wally are getting better about their encounters with wagons. That's a good thing because there are plenty of folks in my horsey community who drive horses. Breeds as varied as Clydesdales, Morgans and Friesians, as well as plenty of fancy ponies, strut their stuff on the two-lane streets and sandy bridle paths.
Want to know what's helped a lot to desensitize my geldings to wheeled wonders? Occasionally I'll politely ask a driver to stop for a moment so my horse can inspect their rig. Though they're timid at first, Wally and Danny are soon overcome with curiosity. Using all of their senses, especially touch and smell, they carefully investigate horse, harness, hitch and wagon. As I converse with the driver and any passengers, my horses relax even further, perhaps accepting this as yet one more working partnership between human and equine.
Another helpful suggestion came from a nice woman I met who was driving a Haflinger. She said I should first allow her wagon to pass me while I kept my horse off to the side. (Apparently it's not as threatening if my horse perceives the wagon as going away versus coming toward him). Next I was to ride my horse behind the wagon for a few minutes so he could become accustomed to the animated movement and unfamiliar sounds. Then she pulled her wagon to a stop. With my horse inquisitive rather than wary, he now readily approached the rig to meet and greet her horse in harness and check out the wagon.
Believe me, I'm not saying that Wally and Danny will never spook at a cart or wagon again. For example, I'm quite sure that the old fashioned trolley, pulled by a pair of Belgian draft mares, will provoke them into cavorting around their paddocks. During the Christmas season it cruises through our neighborhood nearly every evening, adorned with jingle bells and twinkling lights and filled with boisterous carolers. But the everyday sightings of horses in harness have become pretty uneventful. And thank goodness for that!
Back to Life with Horses